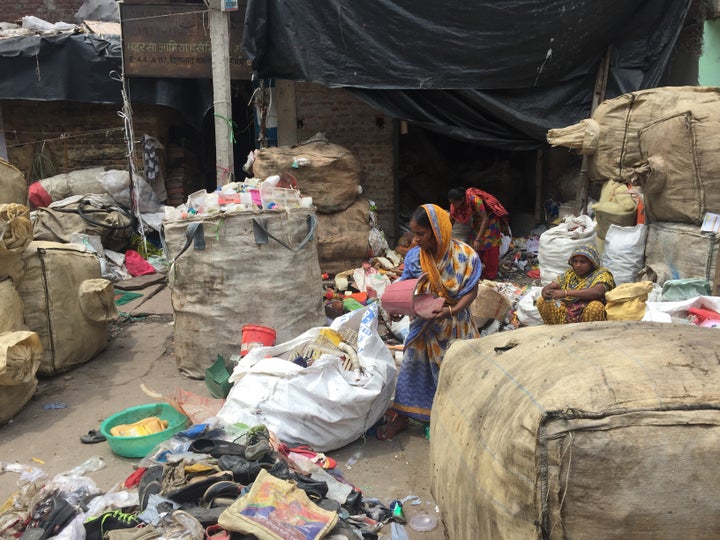 My eyes were drawn to the enormous white bulging bag that seemed to be riding a bicycle as it approached the dhalao (waste collection site) where I stood one steamy August Thursday. Almost invisible until I looked from another angle, I finally caught a glimpse of the "ragpicker" who was pushing the heavy load; a giant mass swelling with freshly collected garbage that would soon be sorted at this now controversial site.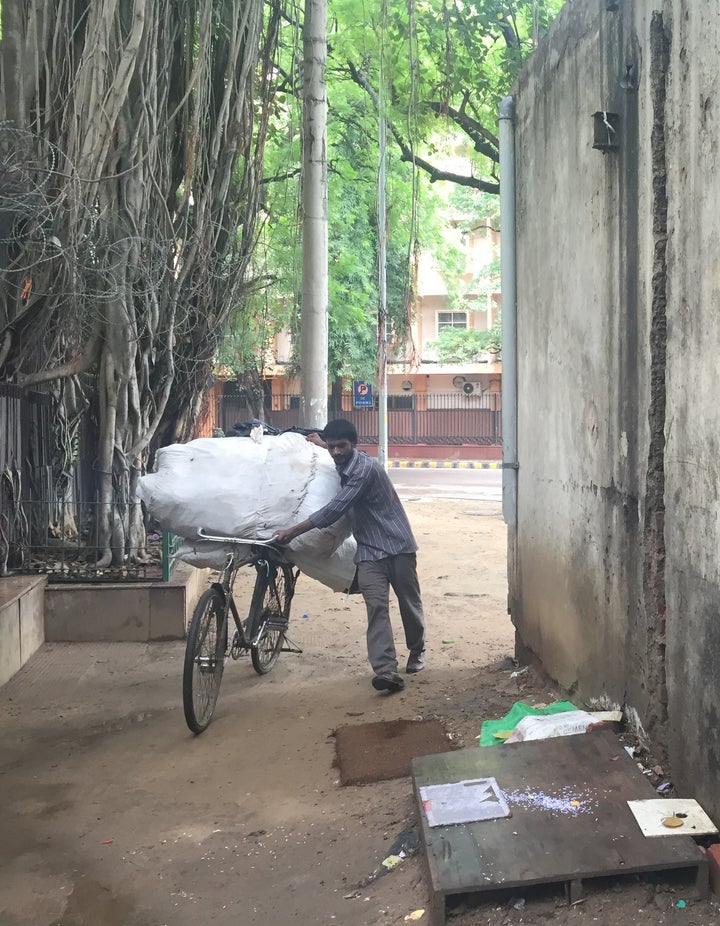 The NDMC (New Delhi Municipal Council) seems to want to demolish this small collection center along with many others (two were already demolished when I visited), in an effort to make room for public toilets as part of the Smart City Project.
Thanks to the passion and strong organizing work of Shashi Pandit and AIKMM (The All India Kabadi Mazdoor Mahasangh), this bicycle pusher and other hard-working waste-pickers now have a union and a collective voice to fight hard for their rights. In Delhi, the informal sector employs about 150,000 people who transport over 1000 tons per day of recyclable waste. AIKMM works in six states across north India, convening programs that focus on workers' rights to livelihood, safety, and health.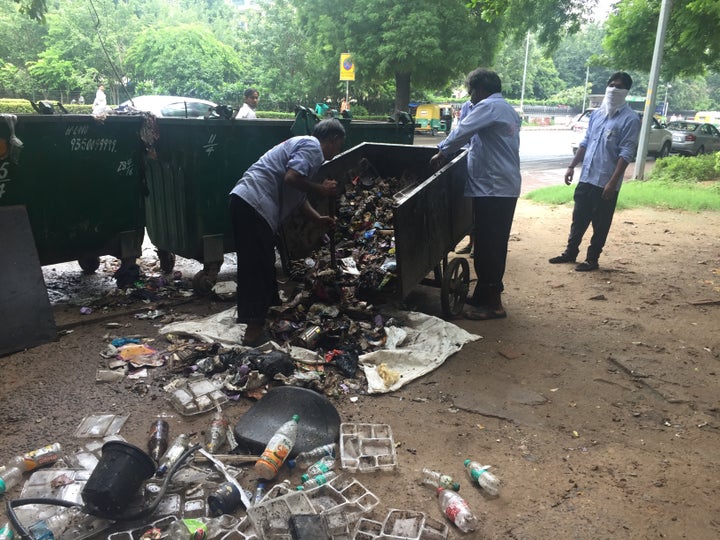 While public toilet complexes indeed seem like a worthwhile enterprise, the ragpickers are outraged by the un-formulated plan to build them on the very grounds they earn their livings, at collection sites that abide by the Ministry of the Environment's Solid Waste Management Rules of 2016. The rules emphasize "decentralized processing through dispersed facilities to maximize the processing of biodegradable waste and recovery of recyclables closest to the source of generation so as to minimize transportation of waste for processing or disposal."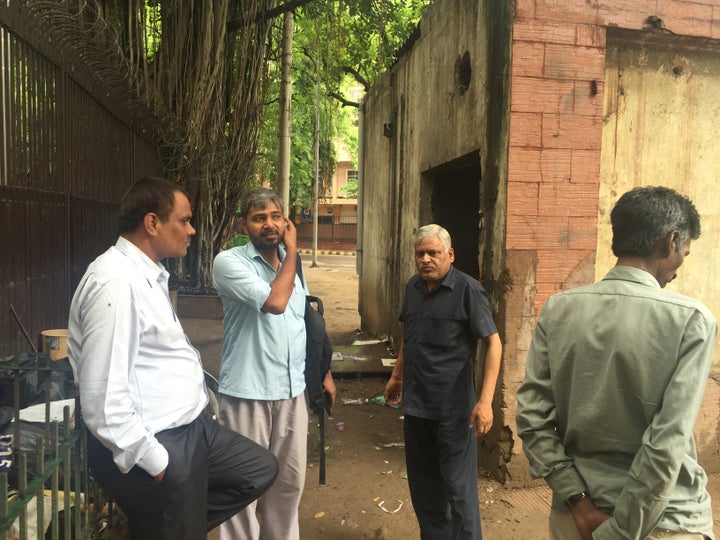 According to a Times of India article, one senior NDMC official said:
The dhalaos will be replaced by public toilet units, which will be on build, operate, transfer mode. We don't need dhalaos anymore. There are auto tippers to collect waste from homes and carry them to big compactors that will take it to the Okhla waste to energy plant and take the wet waste to the Okhla composting plant.
This plan is scary. Not only does it destroy existing waste-picker livelihoods, many fear there will be health implications too. "Waste-to-energy plants may have worked in the West because more than 70% is dry waste that can be incinerated but in India it's the opposite. Waste-pickers are opposed to this kind of technology that alienates them and is not eco-friendly," said Shashi Bhushan Pandit, General Secretary, AIKMM.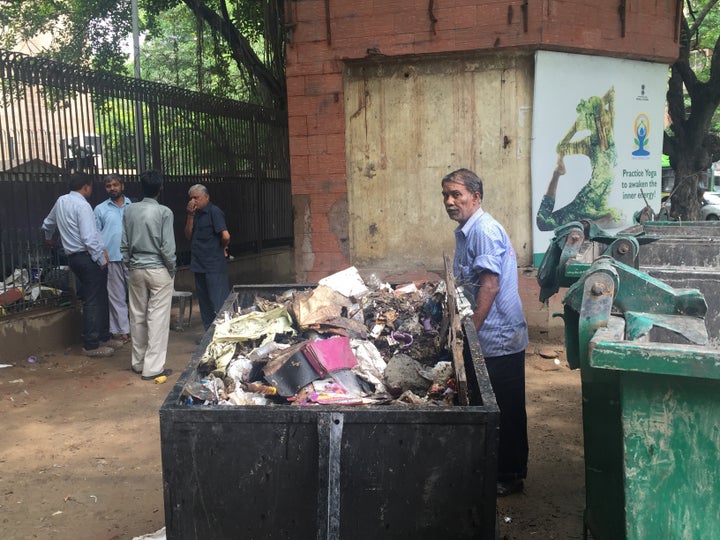 It seems the state wants to mechanize and privatize the industry, using machines rather than the people who have earned their livelihood doing this work for decades, as a constitutional right. With approximately 10,000 metric tons of garbage generated daily in Delhi and insufficient landfill space, the idea of burning it for energy with the risk of it not being properly separated is abhorrent. Some organizers joke that the government wants the people to eat all the waste, maybe not by mouth, but suggest it will be ingested in all sorts of other ways if it gets burned.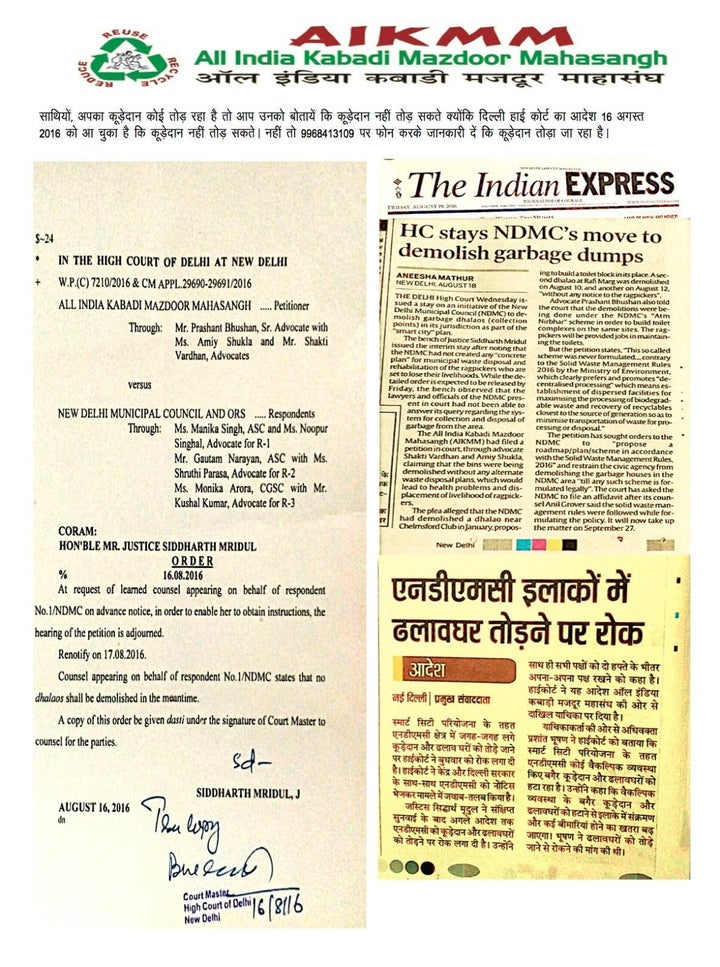 Shashi is indeed one of the best trash talkers of Delhi. I marched with him up the steps to Delhi High Court that day and listened to him express the ragpickers' case in a remarkably soft voice, with undeniable strength and determinism. As a result, Senior Advocate Shri Prasant Bhushan, together with advocates Shakti Vardhan and Amiy Shukla, filed a petition in court and subsequently, Justice Siddharth Mridul issued an interim stay after noting that the NDMC had not created any "concrete plan" for municipal waste disposal and rehabilitation of the ragpickers who are set to lose their livelihoods.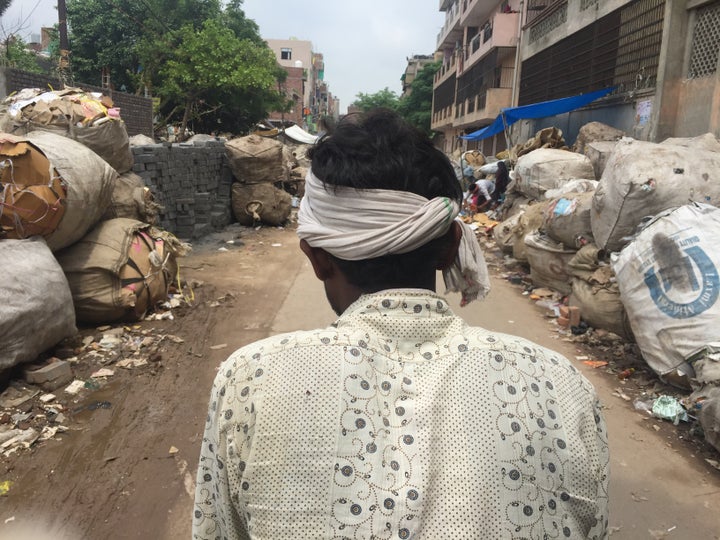 Shashi and I also visited the garbage-full streets of Seemapuri, where the adults sort, goats graze and kids play among mounds of rubbish. It felt like I was walking with the mayor, folks young and old greeting him with questions and updates.
Among the many re-use and recycle projects happening on the crowded streets of Seemapuri is Kabad Se Jugad, an all-women cooperative where stuff formally known as trash is transformed into innovative objects. Flowers blossom out of cans and bottle caps as the community of women embrace creative ways to earn money.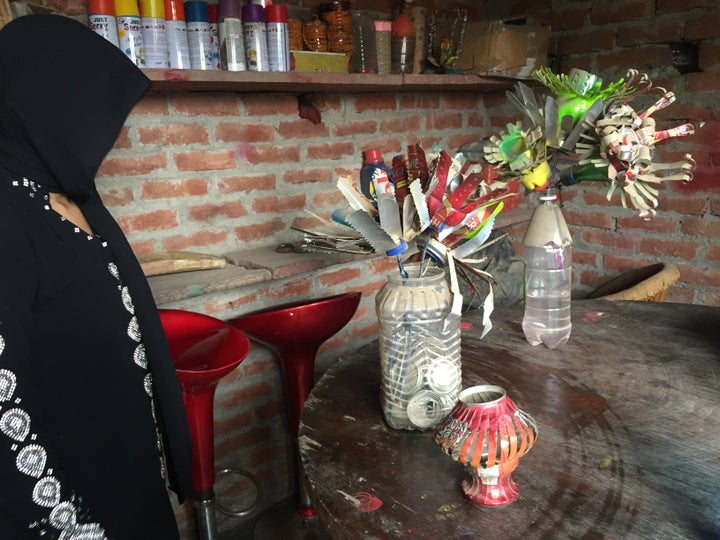 Trash is hardly invisible in India. And while there may be many folks talking trash, I wonder how many are asking and answering the difficult questions of who the trash belong to. The nation? Society? Companies?
Ragpickers have been officially recognized yet are now being challenged of their right to livelihood.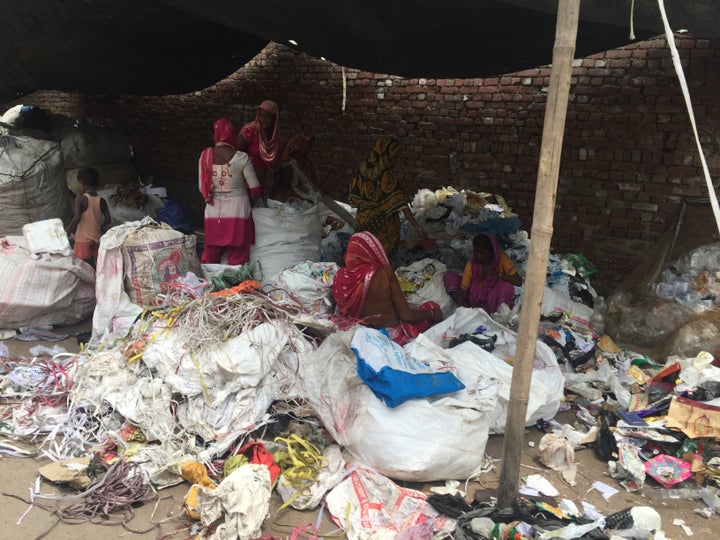 Since that hot August day, at least seven dhalaos (collection sites) have now been destroyed, even after the High Court issued a stay. While AIKMM and court advocates continue the fight on their behalf (the next hearing date is September 27), I am reminded of just how invisible the waste-picker behind the bicycle and enormous bulging bag of trash might actually be.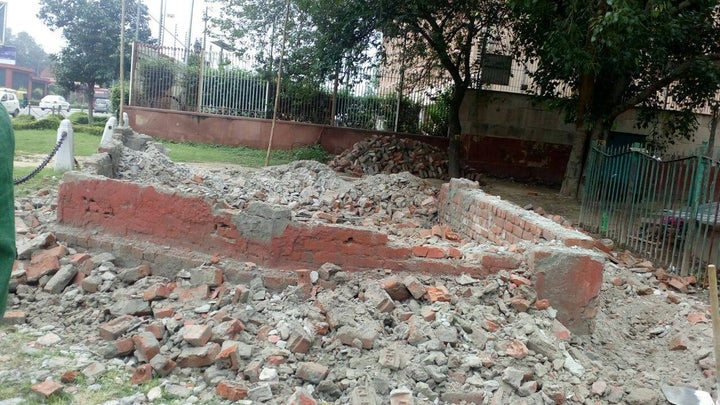 While we might not know all the answers and the issues might be confusing, perhaps it is time we all start learning about and talking a bit more trash.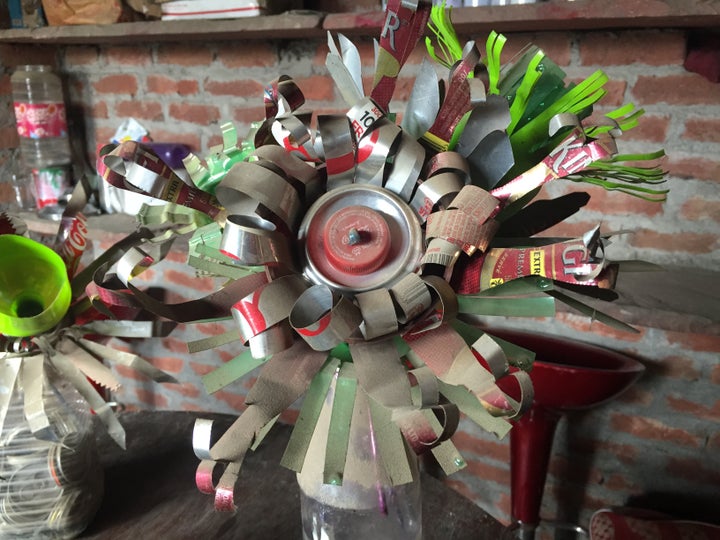 Related
Popular in the Community