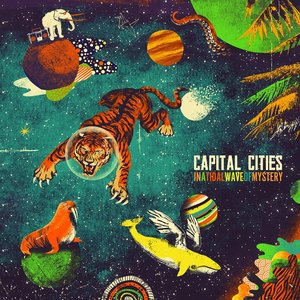 A Conversation with Capital Cities' Sebu Simonian
Mike Ragogna: Capital Cities is back with the single "One Minute More," from the deluxe version of In A Tidal Wave Of Mystery. Its deluxe tracklist has a lot more material on it, what made you go back and add to the album?
Sebu Simonian: Well, "One Minute More" is a song that we had written a while back, it was going to end up on the album as well, it was one of the contenders, but we hadn't really completed it exactly to our standards, I guess, so we put out the album. As time passed we kept revisiting the song and we felt like it was a strong song and this felt like a good opportunity to finish it up and include it on a deluxe version of the album alongside some other cool tracks and remixes as well.
MR: What do you feel about the impact of Capital Cities? "Safe And Sound" was huge, but how do you look at the growth Capital Cities's popularity in the United States so far?
SS: Well, I think from day one we've seen steady growth, of not just the single, but the album and the band itself in terms of reach and appeal, if you will. It started very gradually, but it started globally. It started outside of the states, in the blogosphere, and we just kept watching the popularity of particularly "Safe And Sound" but also the band has grown very organically all over the world. We also saw that there is an appeal to all different age groups, not just the twenty-somethings or the forty-somethings. We have seven year-olds that are die-hard fans, my grandparents are diehard fans as well. It's just been kind of thrilling to watch it grow steadily and organically, not necessarily overnight, but gradually. I feel like it's nonstop encouragement for us to just keep going and push the rest of the songs on the album as well.
MR: Why do you think "Safe And Sound" resonated in the US?
SS: I haven't really thought about it, to be honest with you. We were just doing what we do, which is make music and put it out there. We have been very proactive about connecting with our fans and whoever writes about us, we've always been in touch with all of the blogs and magazines and radio stations that have supported us. I think that continual engagement with our fans and our supporters has probably helped us keep the life of the song going.
MR: The album has other highlights such as "Kangaroo Court" and "I Sold My Bed, But Not My Stereo" though "Safe And Sound" was the killer track. Was there anything about that song's creative process that was different than the other songs?
SS: Not really. We just kind of throw out ideas and whatever sticks, we develop. If I like a melodic idea that Ryan [Merchant] has come up with I'll take it and maybe apply some different chords to it and change the melody up a little bit, so it's very much a fifty-fifty collaboration where we just riff off of each other's ideas and develop a song in that way. Every song has pretty much experienced the same kind of thing. Some songs are written practically overnight, some take years of going back and forth and fine tuning. We don't really have a set rule.
MR: Did any song on this album take a particularly long time?
MR: When you were creating the songs, was any one particularly more challenging than the others?
SS: Absolutely. I think maybe half the songs on the album took many months of just going back and forth, trial and error. We like to test out the songs live before we commit to it on the record, so we would play it and see how the crowds were responding to different parts of the song and then we'd go back and change them up if we felt like there were weak parts and we would highlight the stronger parts.
MR: How did you guys got together?
SS: I put out an ad on Craigslist as a music producer and Ryan was looking for one, so he responded by checking out my website. I guess he thought I had something to offer, so he called me up. He was actually the only person to call me from that ad, but it worked out.
MR: What was the first meeting like?
SS: First he sent me some music over the internet, and I liked what I heard, so I invited him over to my studio. He came over and we listened to some more music and kind of had a discussion about what our ambitions were and we felt like there was musical chemistry there so we started working on a bunch of different things including his project, and then I invited him to help me out with my solo project and we also started writing music for commercials together as a day job, and all that collaboration naturally lead to the forming of Capital Cities.
MR: Are you guys pals? Do you hang out?
SS: Absolutely! We tour all the time, so we don't really get to hang out outside of the band situation, but we're on the road experiencing the world together.
MR: When you play live, you have a band that accompanies you.
SS: They're all over the record, our drummer and trumpet player and bass player and we also have a guitar player named Nick Merwin, and they're recorded on the album.
MR: But Capital Cities is really Ryan and Sebu, that's the heart of it.
SS: In terms of the songwriting and production, yes.
MR: Where do you see Capital Cities in a couple of years?
SS: Well, we'll definitely be recording a second album, so two years from now there'll probably be a second album out. There'll be a lot more music videos; we're definitely enjoying the process of making music videos right now, we're working on one for "One Minute More," we're almost done working on one for "I Sold My Bed." There's going to be a lot more touring, and I think possibly more songwriting for other artists and collaborations with other artists.
MR: Nice. Have you guys had a lot of remix requests?
SS: To remix our stuff or have us remix other people?
SS: Yeah, absolutely, we get requests all the time.
MR: You talked about music videos before, "Kangaroo Court" is pretty wild, who came up with the plot for that one?
SS: That was basically a collaboration between myself and Ryan and a director, Carlos Lopez Estrada. We came up with the script in a brainstorming session, and that was myself and Ryan's co-directing debut. The vision was what you saw in the video, it was truly an amazing experience to be able to realize the vision in your head onscreen so exactly. It was really wonderful to experience that.
MR: Has anybody ever tried to emulate all of the dance routines in the "Safe And Sound" music video?
SS: Uh-huh. That song is all about different cultures getting together and collaborating in a positive way, so I'm glad people associate all kinds of dancing with that one song.
MR: What is your advice for new artists?
SS: Be very internet savvy and spread your music out as much as you can as free as you can. I think exposing the music is more important than making money off of downloads because once you get the exposure and the recognition, people will buy your music.
MR: Right. You guys are going to be experiencing a lot of Katy Perry in the near future, huh?
SS: This is correct. We're going on tour with her in the summer.
MR: Nice. Are there going to be any surprises?
SS: Yeah, we're going to have to up the production value in order to compete with a Katy Perry concert. We're going to absolutely bring it and give it our best.
MR: That's right, and by that time "One Minute More" will be a number one record and maybe the headlining will flip.
SS: [laughs] We'll see. I highly doubt it though.
In A Tidal Wave of Mystery Deluxe Edition Tracks:
1. Safe and Sound
2. Patience Gets Us Nowhere Fast
3. Kangaroo Court
4. I Sold My Bed, But Not My Stereo
5. Center Stage
6. Farrah Fawcett Hair
7. Chartreuse
8. Origami
9. Lazy Lies
10. Tell Me How To Live
11. Chasing You
12. Love Away
13. One Minute More
14. Patience Gets Us Nowhere Fast (Napoleon Remix)
15. Lazy Lies (CliffLight Remix)
16. Nothing Compares 2 U
17. Safe and Sound (Dzeko and Torres' Digital Dreamin Remix)

Capital Cities - Upcoming Tour Dates:

3/13 Austin, TX iTunes Festival at SXSW
3/14 Austin, TX Travis County Expo Center
3/29 Santiago, Chile Lollapalooza
4/1 Buenos Aires, Argentina Lollapalooza
4/3 Bogota, Chile Festival Estero Picnic
4/5 Sao Paulo, Brazil Lollapalooza
4/11 Greenville, SC Timmons Arena (CCT)
4/12 Indio, CA Coachella Valley Music & Arts Festival
4/13 Charlotte, NC Halton Arena (CCT)
4/19 Indio, CA Coachella Valley Music & Arts Festival
4/22 Carbondale, IL SIU Arena (CCT)
4/24 Kent, OH Kent State (CCT)
4/25 Carlisle, PA ATS Auditorium (CCT)
4/29 Orono, ME Collins Center for the Arts (CCT)
5/1 Middletown, NJ Collins Arena (CCT)
5/5 Worcester, MA Plourde Rec Center (CCT)
5/10 Columbia, MD Sweetlife Festival
5/12 Mexico City Vive Cuervo Salon
5/13 Guadalajara Teatro Estudio Cavaret
5/14 Monterrey Auditorio Banamex
5/18 Gulf Shores, AL Hangout Music Festival
6/13-15 Manchester, TN Bonnaroo Festival
7/26 Tulsa, OK Center of the Universe Festival

CCT = Campus Consciousness Tour

On Katy Perry's Prismatic World Tour:

6/22 Raleigh, NC PNC Arena
6/24 Washington, DC Verizon Center
6/25 Washington, DC Verizon Center
6/27 Nashville, TN Bridgestone Arena
6/28 Atlanta, GA Philips Arena
6/30 Tampa, FL Tampa Bay Times Forum
7/2 Sunrise, FL BB&T Center
7/3 Miami, FL American Airlines Arena
7/7 Uncasville, CT Mohegan Sun Arena
7/9 New York, NY Madison Square Garden
7/11 Newark, NJ Prudential Center
7/12 Newark, NJ Prudential Center
7/15 Montreal, QC Bell Centre
7/16 Ottawa, ON Canadian Tire Centre
7/18 Toronto, ON Air Canada Centre
7/19 Toronto, ON Air Canada Centre
7/21 Toronto, ON Air Canada Centre
7/22 Pittsburgh, PA CONSOL Energy Center
7/24 Brooklyn, NY Barclays Center
7/25 Brooklyn, NY Barclays Center
8/1 Boston, MA TD Garden
8/2 Boston, MA TD Garden
8/4 Philadelphia, PA Wells Fargo Center
8/5 Philadelphia, PA Wells Fargo Center
8/7 Chicago, IL United Center
8/8 Chicago, IL United Center
Transcribed By Galen Hawthorne
RE-EXPLORING THE WHO'S TOMMY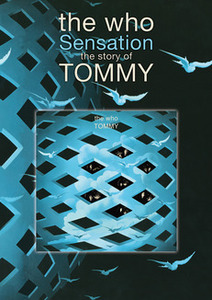 Think you remember The Who's Tommy? Well, you might just know more once you take a peek at this exquisite DVD/Blu-ray release of Sensation--The Story Of Tommy. The band is behind the Eagle Rock release that contains new interviews with Pete Townshend and Roger Daltrey, archived interviews with John Enwistle, the cultural significance of the project, artwork guru Mike McInnerney, etc. Originally broadcast on the BBC in August 2013, this release also includes untelevised additional material plus a 33-minute piece on their 1969 Beat Club appearance.
A Conversation with Michael Maguire
Mike Ragogna: You were a performer for many years but you've led other lives such as working on Wall Street and eventually becoming what you've lovingly been referred to as a "superlawyer" among your peers. How do you balance your artistic side with these other careers?
MM: The reference to "superlawyer" comes from the magazine of the same title where I have been voted a rising star for the years 2011, 2012, and 2013. While it's great to be recognized by my peers, it's far more important for me to be considered a superlawyer by my clients. With regards to balancing my artistic side with being a lawyer; that is one of the joys of practicing law. I find that in my law practice I can apply the creativity I have as an artist by finding creative ways to solve my client's problems. As a family lawyer, that is what I do. People come to me with their problems, whether it's the need to get divorced, the need to determine custody of their children, the need deal with support issues or to divide assets, etc., and then it's my job to find creative and cost-effective ways to help them solve those problems so they can move on with their lives. As an artist, I often experienced the joy of being able to move the audience when I sang. These days, I experience a different type of joy when I have the opportunity to positively affect someone's life by helping them get through a tough situation like a divorce.
MR: How does it all combine to make you who and what you are today?
MM: Aren't we all the sum of our experiences, whether good or bad? In my case, I am fortunate to have had a plethora of life experiences that combine to help me deal with the multitude of issues a family lawyer has to address. Before I went into theater, I was a broker on Wall Street for years and so I have an ease in dealing with money issues to a degree that surpasses most family law attorneys and often even many of the forensic accountants. Certainly, having been in theater gives me an ability to read people and to quickly understand the emotional underpinnings and desires that motivate them and the other parties and/or attorneys involved. Having an understanding of both the issues and the motivation puts me in a better position to help create solutions. Also, having gone through a difficult divorce myself, I am constantly aware of the pain and suffering that my client or the other party is going through and this drives me to help keep others from going through what I experienced.
I am very fortunate that, when I graduated from law school and began to practice, my first job was with a really great law firm. The firm specialized in dealing with very high asset/high conflict cases and I fit into that environment almost immediately. It was a great training ground and gave me the tools I needed to start my own practice dealing with the same issues and, often, the same type of clientele. I think my experience as a performer, both on Broadway and in Hollywood gives me a better understanding of the needs of celebrity clients as well since their domestic problems can negatively affect their careers if their domestic difficulties become public or are "spun" in the wrong way. There are many examples of a successful career being ruined or at least significantly damaged by tabloid divorce.
MR: What originally got you into music, specifically singing?
MM: I started singing when I was young, mostly in church in Virginia where I grew up. I started playing guitar and singing in high school and quickly noticed that when girls liked your music they would talk to you more. Of course, that encouraged me to continue practicing. Ultimately, I went to school to study music and went to Oberlin (in Ohio) where I studied at the Conservatory of Music and graduated with a bachelor's degree in voice. I went on to obtain a Master's degree in music from the University of Michigan in Ann Arbor. Also, being from Virginia, I was very fortunate because in my very first paying job as a musician, I was a strolling troubadour in Williamsburg, Virginia during the summers while I was in college. That job was particularly important because it brought me out of my shell and gave me the experience of talking to people from all walks of life all day long for months at a time. Overall, I have been very fortunate as a singer because my voice, the instrument itself, stuck out of the crowd and in many ways I feel as though my voice picked me up and carried me through life for many years.
MR: Did anyone inspire you creatively?
MM: Creatively, I have been drawn to the styles of various singers over the years but never to a degree where I would emulate or try to be like them. I recognized that my voice was unique and so, even when I was studying opera for example, I had an intrinsic awareness that my voice was destined to do something even though I did not know exactly what that was. As it turned out, my voice was perfectly suited for the more dramatic roles in musical theater.
I don't know if this counts as creative inspiration but I was always fascinated by the career of George Plimpton. I remember as a child seeing him attempt to do many types of jobs. In particular, I remember that he played on professional basketball, football, and baseball teams, was a writer and actor, etc. I thought to myself as a young child, what if I could do various things in life and not in the, "Jack of all trades, master of none" way but instead as a "Jack of all trades and master of all"? I suppose in that sense, I was also inspired by Thomas Jefferson who was an extremely well rounded Virginian inspired by the Renaissance. Of course, I fall far short of walking in those shoes.
MR: What are some of your favorite personal musical highlights?
MM: I am very fortunate to have had many musical experiences that could qualify as highlights. Certainly, winning the Tony award for Les Miserables on Broadway was a highlight as was having the opportunity to be in the 10th anniversary concert of the show at the Royal Albert Hall in England where I was one of the "Dream Cast" performers brought in from around the world. After performing in Les Miserables, I was able to form a whole new niche career for myself performing with symphonies. Working through John Such, a manager I know from New York, I began performing pops concerts and that quickly mushroomed into me performing with 35 to 45 symphonies each year. In that capacity, I've sung with almost every symphony in the United States and in a number of other countries as well.
MR: What made you change tracks when you were already a successful performer?
MM: It's funny; I don't consider what I've done to be a career change but rather a career evolution. I mean, I'm still singing although not as much as I did before but I still sing as well. I had always wanted to go to law school even during my time in New York and being on Broadway but I had such a great singing career that it didn't make sense to stop that while I was in my prime. But the thought of going to law school, the intellectual challenge of going to law school, was always in my mind. So, about 10 years ago, I decided that I had to go to law school.MR: When and how did the decision to follow law occur?
MM: Well, during the time I was singing with symphonies, most of that work was on the weekends so I had my weeks free. During the real estate boom of the '90s, I began buying and restoring old houses, doing mostly historic restoration. That was something I could do during the week and still be able to take care of my kids and get them to school. Around 2004, I owned one property in particular that needed a tremendous amount of work but it was a house that I did not really like very much. Instead of doing my normally intense restoration of the property, I just put it on the market in "as is" condition and, given the flurry of investors looking to flip houses because the real estate bubble was just peaking, I sold the place in just a few days for way more than I ever thought I would get for it. It was then that I decided to take the profit and use it to pay for law school. Within a few months, I prepared for and took the LSAT exam and was accepted into the SCALE program at Southwestern Law School. That program was, at the time, the country's only two-year law program and so, 25 months after beginning law school, I took and passed the California bar exam. I have to tell you that going back to school and studying law was one of the most gratifying periods of my life. I loved the challenge and loved learning.
MR: Family law is a surprise considering your musical background, why did you follow that?
MM: It guess it's natural to assume that I would go into entertainment law given my career in entertainment or maybe even into securities litigation, given my Wall Street background. Unfortunately for me, but fortunately for my clients, I went through a very ugly divorce of my own prior to going to law school. I saw the dark side of family law, which, when you think about it, in many ways could be more accurately called anti-family law. I saw how quickly a family's finances could be devastated by legal costs and also saw that the bitterness engendered by a high conflict family law dispute can have negative consequences on both parties as well as their children. So when I was in the middle of my own divorce, I made a promise to myself that, if I ever did go to law school, I would go into family law with the hope of making a difference in keeping other people from going through what I experienced. So that is why made that choice.
MR: Once you entered law, did you try to balance your performance career with your legal practice?
MM. Well, there is no way to balance a Broadway career or my symphony career with a full-time legal practice. In family law, there are way too many last-minute motions in what are very often swiftly changing circumstances. Because of that, I cannot make the long term commitments to symphonies since most book their concerts 1 to 3 years prior to the engagement. I am still able to do some concerts especially if they are on weekends but I only did three or four concerts last year as opposed to my earlier career of 35 to 45 a year. I still sing the National Anthem for the Dodgers once or twice a season and I also perform for various private events and charities that don't require much advance notice. Surprisingly, my voice still sounds the same even though I never practice.
MR: You did win a Tony, right?
MM: Yes. I also won a Drama Desk Award and a Theater World Award for my performance in Les Miserables.
MR: How does success in music plus having been being around many types of creative personalities help you in your practice?
MM: I believe my former careers have collectively prepared me to be a family lawyer in Beverly Hills/Los Angeles. I have met and interacted with people from every walk of life and have certainly spent a good part of my life as a celebrity although one could certainly argue as a minor celebrity. My experiences, however minor, help me understand the mentality of an artist or prominent actor, film director, a multi-billionaire, owner of a software company, practically anyone. Because of my background, I can understand and empathize with the struggles and the deep impact a high conflict divorce or child custody battle can have on a dynamic person. My job is to help guide my clients through that process in a way that does the least amount of damage possible although hardly anyone goes through a divorce unscathed. I often see myself as a boat man trying to get my client across very troubled waters. If I can do that quickly and efficiently, then I have helped a person make a correction in their life that hopefully will help them return to a path where they can find happiness and fulfillment.
MR: How do you maintain your marketability as an artist? How do you continue to satisfy your creative side?
MM: That's funny! I don't know if I have much marketability as an artist left since I have been practicing law for so long now. I am able to satisfy my creative side because in the practice of law, you can be very creative especially when you're dealing with the very fluid mix of personalities that are often thrown together in a family law situation. Of course, I love singing for the Dodgers and for private events and, as I said earlier, and I still have a voice that doesn't sound that much different than it did 30 years ago.
MR: What's the connection between your personal history and how you're helping clients these days?
MM: My primary goal is to help others avoid going through an ugly divorce or custody battle whenever possible. If that is not possible, then I have developed the skill set to fight very aggressively in order to ensure the best result for my client. Ideally, I can help the client make the right decisions regarding their property rights and also help them make the right decisions vis-à-vis their children in those situations where custody of the children is an issue. I feel very fortunate in that I can take the lemons that were thrown at me during my own divorce and, to some degree, turn that into lemonade for my clients.
When I was in the height of my acting and singing career, I knew and could feel that I had the power to move the audience during a song. Now, my ability to affect the life of another person has become much more personal and individualized. I'm dealing with a client and perhaps their children and, in truth, also dealing with the other party--the soon-to-be ex-spouse. So, in essence, my efforts can affect a person not only for a few minutes or a few hours like they did when I was a singer but can affect someone's entire life and even the lives of their children. That is a far greater responsibility than I ever had on stage and yet it is far more rewarding when I have done that to the best of my ability and know that I have helped someone correct their life's path. I don't have the reward of a big cheering audience like I used to, but the knowledge that I've helped one person is all that I need.
MR: You still sing the national anthem for the Dodgers?
MM. Of course, whenever I can. I think my record is something like 30 wins and five losses meaning they've only lost five times out of the 35 or so games that I've sung. I still have to pay for my Dodger Dogs though.
MR: How do you see your future?
MM: I believe my practice will continue to grow and I will continue to enjoy the law. I will probably throw in a concert here and there just as I do now but ultimately I hope to keep helping others through a difficult time in their lives. I find that if that is my focus, then the money will follow.
MR: What advice do you have for families in general?
MM: Most people should take more time before they get married. Often, both individuals are putting themselves out there in the best possible light and are not being honest with themselves or others about their shortcomings or foibles. Before getting married, I wish most people would ask themselves whether they really respect the other person as a friend. We don't screw over our friends do we? But, somehow, people don't think twice about screwing over their spouse or mate whether it's by cheating, taking most of the money, or poisoning the children against the other parent. Take the time to become friends.
In the event a marriage or family does need to dissolve or change, especially when there are children, do so with as little strife and animosity as possible. Even the best divorce is traumatic for children. Whenever possible, try to be fair with the other spouse regarding the division of assets and property. Don't get sucked into battles that are not worth fighting such as those instances where people spend $50,000 fighting over a $50 lamp. I've actually seen that happen--but not with a lamp of course! Try to step back and try to make business like decisions and not emotional ones. If you do, you'll save money and your sanity.
MR: What advice do you have for new artists?
MM: Follow your heart. Don't let anybody tell you "no" but also don't confuse your enjoyment of the art with your talent because there are tens of thousands of "artists" who spend their whole lives in poverty waiting for that big break (that, almost always, never comes). Try to create a balanced life for yourself that allows you to afford to be an artist. Of course, if you are a true artist, you will ignore this advice and do whatever the hell you want.
MR: What do you see as your continuing mission?
MM: To keep on helping the people, man...to just keep helping the people!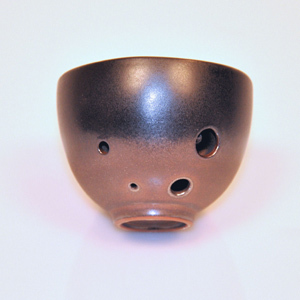 Okay, I drank from it it and my son messed around with its musicality for about an hour straight. So yeah, it's official, we love this odd little beastie that's described as, "...a combination pottery teacup and ocarina, allows you to play simple tunes between sips of your favorite tea or other hot drink." And what more can be said about it except for more info, check it out at this site: http://www.stlocarina.com/teacarina.html.
Here's some instruction on how to play it...
Popular in the Community