In a recent column in the Atlantic, Noah Smith from Stony Brook University, wrote that  "almost everything the Seattle protesters have warned us [in 1999 during the protests against the World Trade Organization] has come to pass, much of it a direct result of the WTO's actions in 2000. [...] they were right: a WTO-led globalization could have been implemented a lot better." 
Fast-forward 15 years later, it's like groundhog day: after going through the most serious economic recession since the great depression, the major WTO countries are now embarking on the most widespread liberalization spree, meeting behind closed doors, and worst, away from the WTO building itself keeping those pesky opponents like Brazil, South Africa or India away from the negotiating table. 
What's at stake this time around? The liberalization of services. 
Having efficient and solid services infrastructure is vital for any economy. But what a powerful group of countries is trying to do at the Trades in Services Agreement (TISA) talks, currently being negotiated in outside of WTO rules, goes beyond "just" trade issues. Current talks include the opening of important public policy issues like financial regulation, immigration, privacy and healthcare. 
It's the most ambitious and perhaps dangerous push on liberalizing services that we have seen since the entry into force of the General Agreement on Trade in Services (GATS) in 1995.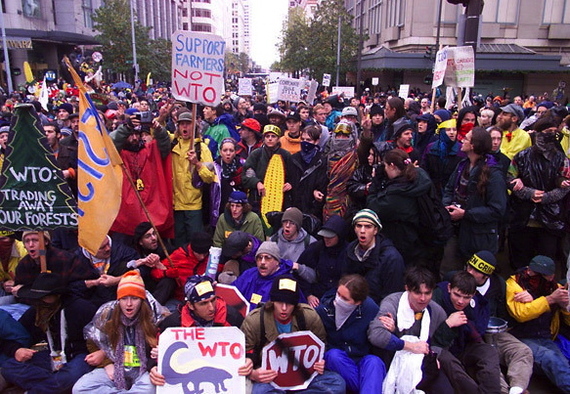 Seattle 1999. J Lott / The Seattle Times
A new report by Public Service International (PSI) details how the proposed agreement would lock in privatization of public services and restrict democratically elected governments' ability to regulate in the public interest.
Public services, the report continues, are designed to provide vital social and economic necessities - such as health care and education - affordably, universally and on the basis of need. Public services exist because markets will not produce these outcomes. 
Now a group of 50 countries have embarked on a mission to liberalize all services globally and excluding key international players like China, India, Brazil and South Africa for fears that those emerging countries would slow them down. The group has even labelled itself the "Really Good Friends of Services". 
Aside from a very corny name, here is a list of policies that the group is proposing in their current talks around the TISA:
- Even after the 2008 global financial crisis, the TISA includes talks to further deregulate financial markets, e.g. by diluting exceptions for prudential regulation.
- Despite disturbing revelations about spying and privacy, corporate interests have lobbied negotiators of the TISA to weaken national controls that protect data privacy.
- The TISA will prevent governments from returning public services to public hands when privatization fail. 
- Lastly, the TISA promotes the temporary movement of professionals and workers. This means that the TISA would eliminate the legal onus on employers to hire local workers if available.
Incredibly, in the aftermath of the global financial crisis, it is clear that the TISA seeks to further deregulate financial markets and to make matters worst, with such high stakes for people and our planet, talks are being held behind closed doors. 
Who in a democratic country will accept their government secretly agreeing to laws that so fundamentally shift power and wealth, bind future governments and restrict their nation's ability to provide for citizens?
These issues are too important to be left to trade negotiators to decide behind closed doors. If our governments have nothing to hide they should immediately release all text under negotiation. After the experience of the last 10 years the public will no longer accept being told that we should trust big business and government -- and not worry ourselves about what we don't know.  
These negotiations have been deliberately kept away from the public eye, but if our governments do not want a repeat of Seattle, they need to come clean with whats in the this agreement.
Calling all HuffPost superfans!
Sign up for membership to become a founding member and help shape HuffPost's next chapter