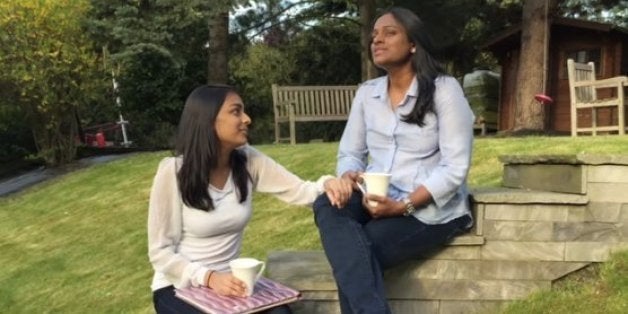 As a Huffington Post blogger, I was invited to participate in the video series #TalkToMe. The video series, a joint project between Facebook and HuffPost, is intended to spark meaningful conversations between parents and their children. I was asked to share an intergenerational conversation live on Facebook as a part of this series. The word "live" was a bit intimidating since none of us in the family had any professional video-graphing skills and we certainly didn't want to push out shoddy video clips on a platform like Facebook and HuffPost.
So, we chose to do a little post production edit with title slides and credits to also highlight the fact that the video was produced between me and my two young daughters -- one 15-year-old and another 10-year-old.
Our #TalkToMe video is a lighthearted yet authentic conversation between me and our older daughter, Isha -- a wise young lady. She chose the questions herself and gave me very limited time to prepare the answers (her way of ensuring that the answers came from my heart and weren't constructed for the video). In our conversation we share what home means to me/an expat, the best and worst parts of motherhood, things I miss about childhood and what Isha thinks is the best advice she has received so far.
A remarkable outcome of this little video production: Ivanna, the younger one, taking on the assigned role of a videographer with élan! I briefed her on what she needed to do by showing her published #TalkToMe videos done by professional videographers. She studied them with great attention and then carried out some mock recordings around our home to find a good spot to film. Throughout the filming she worked with the patience of a professional. When Isha put together the video clips she added Ivanna's name in the credits saying, "Mum, she deserves to be credited in the biggest font size possible!"
We hope you enjoy watching it. We are open to a conversation with you. Share your comments and remarks.
Uma together with Isha and Ivanna