This week the Huffington Post is launching "Talk to Me," a new video series featuring parents in conversation with their children. To help celebrate the launch, my mom kindly agreed to take questions!
In our #TalkToMe video, my mom tells me a little bit about her father's incredible journey out of WWII Poland -- and his return to Europe to fight with the allied forces in Normandy. Having never heard the story from her father himself, my mom has only recently learned about his amazing life.
In 1939, my grandfather fled Warsaw on his motorbike, with his wife riding in the sidecar. Along their way to Lithuania, his wife was killed in a bombstrike. He bravely returned to Warsaw to break the tragic news to her family before yet again making his way back down to Lithuania, this time alone to find safety outside of Poland.
In the summer of 1940, my grandfather had the great fortune of receiving one of 2,140 transit visas from Japanese Vice Consul Chiune Sugihara. Sugihara's actions were independent of his government. His conscience dictated that he help get the refugees, primarily Jews, out of Lithuania. Along with his cousin, my grandfather boarded the trans-Siberian train and made his way to Japan.
Once he arrived in Kobe, with nothing left to lose, my grandfather made the incredible decision to join the Polish army and return to Europe to fight with the allied forces in Normandy.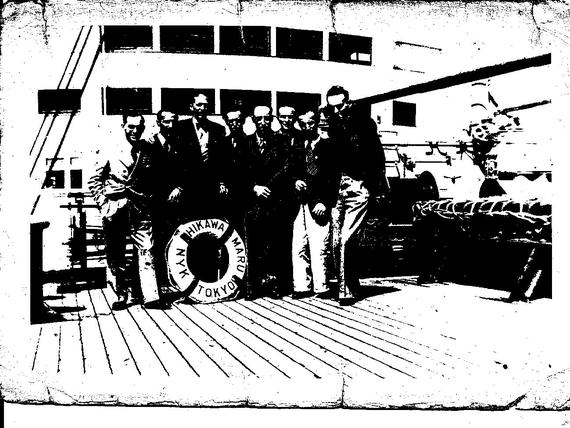 This photo shows my grandfather , Mietek Lampert (L), aboard the Hikawa Maru Ocean Liner which transported refugees from Japan to Canada and the United States
After suffering a bullet wound to the head at La Falaise, my grandfather recovered in London until the end of the war. There he met my grandmother (also a Polish refugee) and, in 1948, they made their final escape to North America.
In the video below, my mom tells me a bit about the grandfather I never knew.