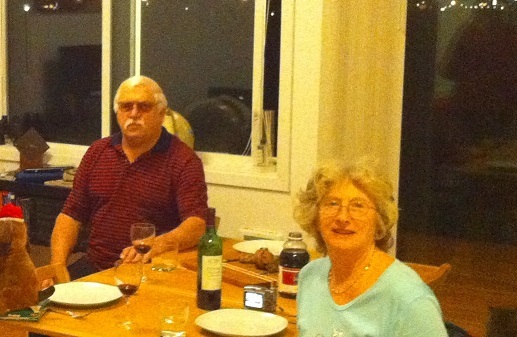 Ilona and Steven Gyurko near their 50th wedding anniversary a few years ago -- Photo by Zoltan Istvan
My mother and father illegally left communist Hungary in 1969 and came to America to start their lives afresh. Like hundreds of thousands of other Eastern Europeans living under the oppressive Soviet Union regime, my father wanted a better life. In America, he found what he was looking for and prospered.
Unfortunately, like billions of others, he has not been able to escape the ravages of aging. My father -- aged 71 -- has recently had his 4th heart attack, and he also contends with diabetes. Given his challenging health, I thought it was a good time to interview him on camera and get his thoughts on life -- especially as I have chosen to focus my career and 2016 US presidential campaign on the growing field of life extension science and transhumanism.
In the interview, part of the Huffington Post "Talk To Me" video series, my father reveals a powerful fact -- that the draw to come to America has much do with its promise of the American Dream. In the late 1960s, many Hungarians and people in communist countries found it amazing that the average American could own a car. At the time, such luxuries were deemed nearly impossible to Eastern Europeans except for the super rich. My father was always a lover of motorcycles, boats, recreational machines, and technology. He wanted his own car, and, of course, he got it in America -- many of them. In fact, I grew up in California riding and racing motorcycles, since one of my father's great passions was enduro riding.
Here's our 7-minute video interview where I ask my father about his personal journey, his projections of the future, and his thoughts on my presidential campaign.
Calling all HuffPost superfans!
Sign up for membership to become a founding member and help shape HuffPost's next chapter