The strong family bond that I am lucky enough to have with my very close-knit extended family is something that I treasure.
I am also a passionate believer in the power of relentless curiosity and storytelling to inspire and help us grow. Everyone has a story to tell - about their beliefs, their achievements, their adventures (or misadventures). What makes these stories spread magic is when they are shared with others, so that their story lives on and others learn from it, are inspired by it, or simply glean something new about someone dear to them.
So The Huffington Post's #TalkToMe campaign really struck a chord for me; a movement that aims to spark conversations between parents and children. To encourage the sharing of stories, knowledge and wisdom across generations, through the art of intentional conversation.
You might talk to your family every single day, but I can guarantee that there is much that is left unsaid, stories from childhood and early adulthood that have not been told, because the 'right' questions haven't been asked. Stories that will help you see how the older generation became the person that you see and love today.
I have never felt this more acutely than when I sit here in the wake of the very recent loss of my beloved Gramps. And I have never felt more thankful that I did take the time to talk to him several years ago (along with my other Grandparents) and ask the questions that could have left so many touching stories locked away.
Although I didn't video the session (as #TalkToMe is encouraging you to do), and I didn't directly ask some of the deeper questions - his biggest challenge in life, happiest moment - I think I gleaned some of that information anyway, and I learnt an awful lot about the boyhood rascal-ing that made my Gramps become the fun and mischievous grandparent I knew and loved (with a cheeky grin to match).
So, I thought I would share some snippets of my Grandpa's story with you, so that you can see how precious it is to say yes to indulging our family's stories.
Growing up as the middle child of three boys, with his brother's Sidney and John, Gramps set himself apart as the mischievous one of the bunch.
So abhorrent was the idea of attending school to him that his father had to carry him (kicking and screaming I suspect) to his first day at school, delivering him directly to the headmaster who got hold of him by the collar to prevent him from fleeing back home. With a glint of mischief in his eye, Gramps curtly informed Mr Gold that he required a glass of water. Upon receipt of said glass, he promptly tipped it over the headmaster's head. Luckily, it took more than a splash of water to enrage the headmaster. Taking Gramps to his classroom he showed him his cane, told him he didn't want to use it on him but he would need to behave to avoid such punishment. That was enough to deter Gramps and he made it through the rest of Primary school relatively unscathed.
In fact, when Gramps moved to Grammar school he quickly learnt that the charm offensive was much more effective in making school life a breeze. As luck would have it, the Headmistress at the Grammar School used to get her meat from the butchers shop run by Gramps' Uncle Bernard. One day, presumably when classroom tasks were running low, Gramps was sent on a mission to retrieve Miss White's meat order from his Uncle's shop - with strict instructions to be sure to get a bone for her dog Kimmy.
Ever the cunning soul, Gramps handpicked Kimmy's bone personally, ensuring that it was adorned with extra meat. Needless to say Kimmy was a fan of Gramps' selection and he earned himself a regular errand run and the brownie points to go with it (at this point in the conversation my Gran chimed in to say that he was in fact a bit of a teacher's pet with Miss White, which Gramps seemed rather proud of).
Miss White's affection seemed to come in handy when Gramps got himself into scrapes that led to him being kept after school. Such misdemeanours would mean him forfeiting his place on the bus and having to slum it on the train home instead. So, when this occurred he would sneakily slope off to Miss White to ask to borrow six pence to get on the train. When sombrely telling her that he was being relegated to the train because a pesky teacher was keeping him behind after school, she would duly lend him the 6 pence and promise to 'put the teacher right'.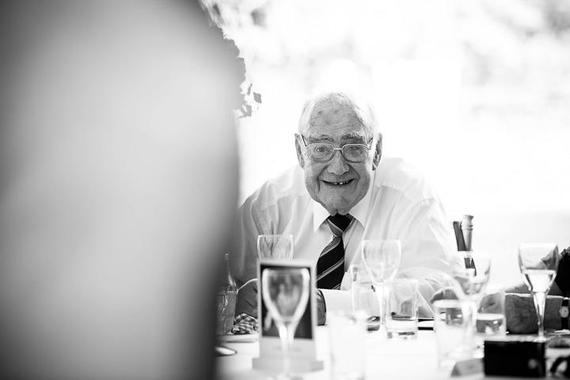 So that was Gramps 3, School 0, I believe. I suspect he notched up many more victories before he triumphantly left school at the age of 15.
It's really heart warming, particularly now, to have taken the time to hear my Grandpa's stories, I only wish I had done it more often. So I really encourage you to embrace the #TalkToME campaign. Be curious about others; ask for their story. Particularly your family.
The wisdom and humour that they share with you in these stories will stay with your forever, even where they physically cannot.
To hear more about my conversations with my Grandpa, head over to yearoftheyes.com/blog, where I am sharing the pivotal 'yes' in my Gran and Grandpa's love story.