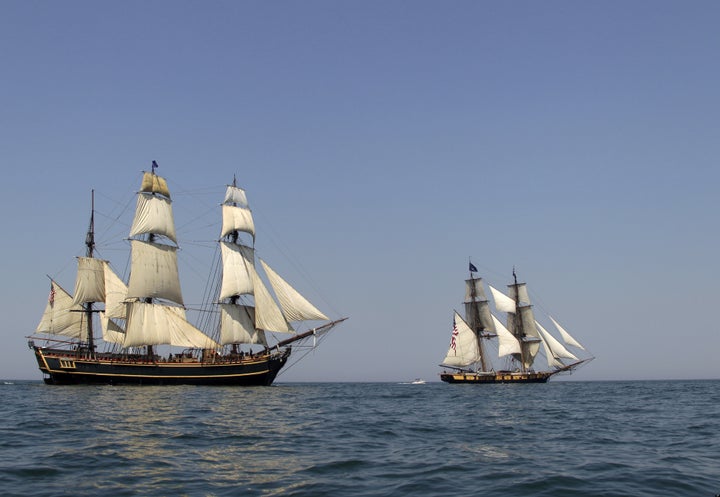 If you find yourself in downtown near the lake today, you might look out on the water and think you've gone back in time, or maybe that you're in an episode of "LOST." (Or both?)
But no, it's not "Transformers 4: 18th-Century Armada" filming in Chicago. It's the Tall Ships Festival, a collection of 20 traditionally-rigged sailing vessels cruising to Navy Pier this week.
Festivities will kicked off Tuesday afternoon with the Parade of Sail, where the ships' billowing sails will take advantage of lake effect winds to breeze around the downtown area. They'll serve as the backdrop for the Opening Ceremonies at the east end of Navy Pier.
Throughout the week, you can head down and learn about the barques, brigantines and schooners that will drop anchor along the Pier until Sunday. And, for the truly adventurous, take a ride on one of these classic vessels -- 60-minute and 90-minute voyages are available.
The event will wrap up Sunday at 6 p.m. Every night between now and then, there will be a fireworks display at 9 p.m. to celebrate the ships.
What: Tall Ships Chicago 2010
When: Tuesday, August 24th - Sunday, August 29th, 10:00 a.m. - 9:00 p.m.
Fireworks at 9 p.m. every night
Where: Navy Pier
600 E. Grand Ave., Chicago
Price: $15 for dockside viewing ($9 for children 3-12)
$20 for dockside boarding ($15 for children)
$44 for 60-minute sail, $54 for 90-minute sail
REAL LIFE. REAL NEWS. REAL VOICES.
Help us tell more of the stories that matter from voices that too often remain unheard.