Mary-Kate and Ashley, who? Back in the mid-nineties, it was all about "Sister, Sister", a television sitcom starring twin sisters Tia and Tamera Mowry. Tia and Tamera became overnight teen sensations, growing up in front of the cameras, so it seems only natural that the hysterical identical twins, both 33-years-old now, would find themselves in front of the cameras once more--only this time, the drama isn't scripted. Oh, snap!
"My sister and I are going through some of the most vulnerable moments in a woman's life," reveals Tamera Mowry in an interview with The Huffington Post. "I'm getting married and Tia is getting ready to have her first child, and these events are happening at the same time, so although we want to be in each other's lives, we can't all of the time, and this causes some frustration and a lot of tears."
And she's definitely not kidding about the tears and frustration. Between Tia's pregnancy hormones and Tamera's wedding jitters, these sisters don't always play nice. In one of the promo clips for "Tia & Tamera", Tia calls her older (by two minutes!) sister out for being a bridezilla, but as Tamera explains, it was just the hormones talking.
"If Tia wasn't pregnant, she wouldn't have said that," says Tamera. "The reason she called me a bridezilla is because she had left my wedding dress in her car for three days, and I got mad. She left my Carolina Herrera dress in her car for three days! Any normal bride would have gotten upset."
Yet her Carolina Herrera dress fiasco wasn't the only thing to go awry while planning her wedding. But as Tamera explains, that's to be expected. She even dishes out some advice for reality starlet Kim Kardashian, who will be walking down the aisle in less than two weeks.
"Just realize it's not going to be perfect. No matter how perfect you want it, oh honey, something will go wrong. Something did go wrong at my wedding, and they captured it. It's not really about your wedding, it's about you and your future husband coming together to celebrate your future life. She's gorgeous though, I can't wait to see her dress."
Having been married for almost three months now, Tamera says married life is like "a fun slumber party with your husband." This is especially true when you know everything about your significant other. Tamera dated FOX News correspondent, Adam Housley, for nearly eight years before the two said "I do," something that Tamera thinks more people should do. Hollywood, take note.
"I never wanted to be married in the infatuation stage," says Mrs. Mowry-Housley. "A lot of the time when people get married in the infatuation, it will go down. That is inevitable. The infatuation stage will not last forever. I'd rather marry my husband in the stage where I know what I'm getting into and what it's going to be like for our life together."
While part of their new Style Network show will focus on Tamera's wedding preparations, the docu-series will also focus on Tia's pregnancy. Tia recently gave birth to her son Cree Taylor on June 28, and it wasn't the easiest pregnancy, to say the least. Tia's baby was breech at one point, which meant Tia was having some serious labor pains--and shockingly, so was Tamera.
"I actually felt one of her contractions! I knew she was having some type of pain--I felt it. Not only that, but I was craving the things she was craving, like nachos! I don't even eat nachos."
Between the shared cravings for Mexican food and the labor pains, it's easy to see that Tia and Tamera are close--very close, in fact.
"Tia and I have twin telepathy," says Tamera. "I know exactly what she's thinking, I can feel her and I can sense her. All I have to do is look in her eyes and I can tell what she's thinking and visa versa."
So maybe all of that perfect comedic timing isn't so rehearsed after all.
At times, it's hard to recall pair of child stars who grew up to be completely normal. Seriously, can you think of even one? But Tia and Tamera defied the odds, skipped the "go to rehab" card and went directly to normalcy. That's almost unheard of nowadays.
Tamera credits the strong bond she has with her sister Tia and her supportive family for keeping her grounded at such a young age.
"I have to give all of the credit to our parents," says Mowry-Housley. "They're really proud of what we do, but they have no interest in Hollywood, so they weren't living vicariously through us, and they weren't trying to be our best friends. They were our parents. They taught us that you shouldn't identify yourself with Hollywood; identify yourself with yourself."
And that's a lesson she thinks a lot of young Hollywood can learn from. "They identify themselves as if they're working and if they're not working, and some have this pious 'I have this gift and I'm better than everyone else' kind of attitude. So when it all goes away, they have nothing left. Just remember that Hollywood is not your life."
Perhaps no one knows that better than Tamera. After "Sister, Sister" ended in 1999, Tamera took time to focus on herself, studying psychology, with her sister, at Pepperdine University. She often identifies herself as the more private twin--after all, she did keep her relationship with her now-husband out of the public eye for nearly eight years. So why would she decide to finally return to the small-screen?
"We have a huge fan base. They've been following us around for years, and because we've been so private, we felt like we owed it to them to let them know what our relationship is really like. Some will be really surprised because Tia and I don't get along all of the time."
However, she confesses, not everything has changed. It seems after more than a decade has passed, some things never get old.
"We hear the "Sister, Sister" theme song all of the time, practically everyday!"
"Tia & Tamera" airs tonight at 9 p.m. EST on The Style Network. Here's a sneak peek at tonight's premiere episode.
And check out some some photos from Tamera's bridal shower below.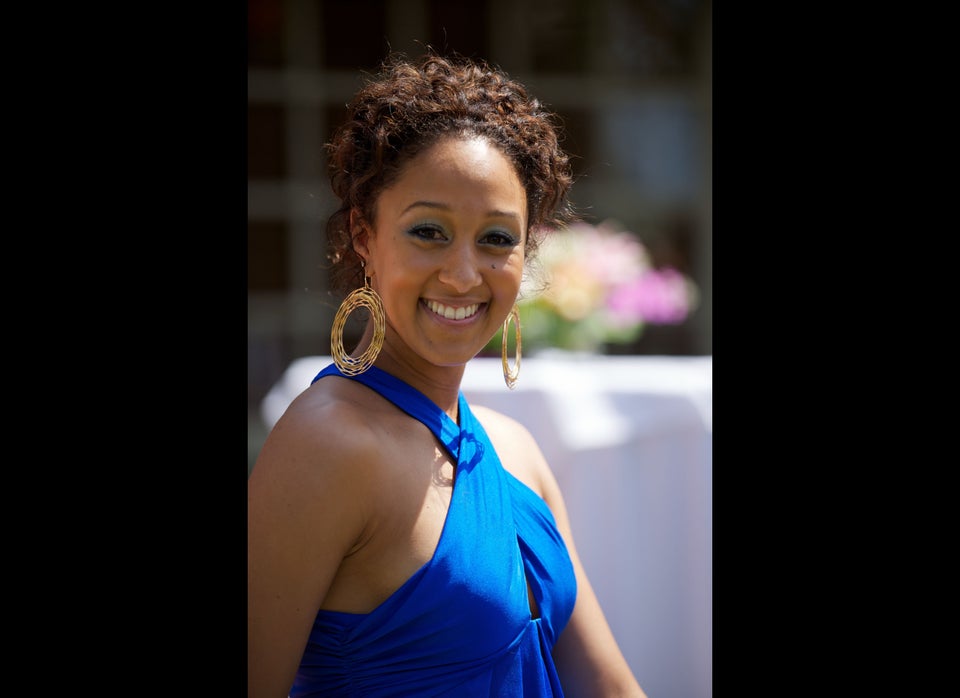 Popular in the Community