 In the days since two deadly bombs and the separate shootings that followed brought Boston to a standstill, the region's Muslim community has loudly condemned the violence and distanced itself from the suspects.
The reasons behind the explosions at the Boston Marathon Monday and the shootings in Cambridge and Watertown, Mass., Friday, which resulted in four deaths and more than 170 injuries, are still unknown. Investigators are working to uncover whether the suspects, Chechen-American Muslim brothers Dzhokhar Tsarnaev and Tamerlan Tsarnaev, were lone assailants or trained by a terrorist organization. It also is unclear whether their possible motives were related to politics, religion or, as some reports have suggested, struggles assimilating after immigrating to the United States nearly a decade ago.
But after 19-year-old Dzhokhar Tsarnaev's capture late Friday night, less than a day after his 26-year-old brother died in Friday's shootout, Muslim communities now face a vexing question: Do they accept the men as Muslims despite the allegations against them? If so, will they give Tamerlan Tsarnaev an Islamic burial?
Fearing retaliation, dozens of mosques and Islamic groups have distanced themselves from the brothers after friends and family described them as Muslims, and social media accounts registered in their names indicated they were interested in Islamic Chechen insurgency groups.
Tamerlan Tsarnaev, the older of the two, has been described as more attuned to radical Islamic movements in recent years. Federal authorities are investigating a six-month trip he took in 2012 to Chechnya and Dagestan, Muslim-majority regions in Russia's north Caucasus with militant separatist movements.
"I would not be willing to do a funeral for him," said Imam Talal Eid of the Islamic Institute of Boston, a community services organization that frequently arranges funeral prayers and burials in the region. "This is a person who deliberately killed people. There is no room for him as a Muslim. He already left the fold of Islam by doing that. In the Quran it says those who will kill innocent people, they will dwell in the hellfire."
Imam Suhaib Webb of the Islamic Society of Boston Cultural Center, the city's largest mosque, said he had not been contacted about a burial. A smaller mosque in Cambridge with the same owners, but a separate administration, the Islamic Society of Boston, confirmed in a statement Saturday that the suspects occasionally attended prayers there. But a representative from the Cambridge mosque said in an email it has had "no contacts or discussion" about a funeral.
"He should be buried according to the religious tradition he adheres to. His case is with God. We can judge him as best we can according to the savage and insane actions he has done, but in the end, his soul is going to be brought before God," said Webb. "I don't think I could ethically lead a prayer for him, but I would not stop people from praying upon him."
Islamic tradition dictates that the body of the deceased is tended to as soon as possible after death, preferably before sunset, with a ritual washing. The washing is often done by family members of the same-sex or a spouse, and is followed by shrouding in a white cloth, funeral prayer gathering and burial. Boston has at least two washing facilities for Islamic rites -- one at a general funeral home Watertown where Eid helps facilitate Islamic funeral services, and one at Al-Marhama, an organization that shares space with Webb's mosque.
"We have not discussed it," a representative from Al-Marhama said regarding a funeral for Tsarnaev.
In the U.S., few Islamic cemeteries exist, but Muslims often buy sections of cemeteries to reserve for Islamic burials. There are at least four such sections in Boston-area cemeteries, said Eid.
Tamerlan Tsarnaev died at a hospital after he was critically injured early Friday morning in Watertown, Mass., the city west of Boston where his younger brother was arrested while hiding in a backyard later that night. His body was turned over to the law enforcement for forensic experts, medical examiners and investigators seeking more details about his death and his actions.
It's unclear where the body is currently. A message left with the Massachusett's Medical Examiner's office was not returned, but experts in forensics and high-profile investigations say its release should be imminent if it hasn't happened already.
"If it's not ready for release now, it is probably going to be released as early as tomorrow," said Joseph Scott Morgan, a professor of criminal justice and forensics at North Georgia College and State University. "Evidence on bodies is very fragile, and people tend to go through the examination very quickly ... [looking for] trace evidence, blast evidence, relevant residue left behind from explosives or anything relative to trauma."
"In Boston, they deal with a large Muslim community, it's not something they have no experience with. Most medical examiner's offices in diverse communities will have clergy on call if they need to take special considerations when doing their work," said Morgan. "But the interests of the state trump everything else in this case."
The next-of-kin to take custody of Tamerlan Tsarnaev's body would be his wife, Katherine Russell, who grew up in North Kingstown, R.I. Russell is the mother of Tsarnaev's 3-year-old daughter, Zahara, and reportedly converted after meeting Tsarnaev while at Suffolk University in Boston. Her parents released a statement this week saying they were "sickened by the knowledge of the horror (Tamerlan) has inflicted." The Russells did not respond to a voicemail asking about a funeral.
"Nobody has asked me, nobody has called me," said a man who answered the phone at Masjid Al-Hoda in Kingston, a Muslim community center about a 20-minute drive southwest of the Russell home.
Abdula Hameed, the imam of Masjid Al-Kareem in Providence, said he wasn't sure if the mosque would be open to a funeral. "I'd have to talk to our board members," he said.
Imam Ikram ul Haq, of Masjid Al-Islam North Smithfield, is listed as a contact for funeral prayer requests on the Rhode Island Council for Muslim Advancement website. He said he has not received a funeral request and questioned if the suspects would be seen as truly Muslim considering the accusations against them.
"We have to confirm if (Tamerlan) was a Muslim. If that was confirmed through reliable sources, that he lived a Muslim and died as one, then we (would be allowed) to do a funeral for that person," said ul Haq, emphasizing that he did not support the killings in Boston.
Anzor Tsarnaev, the father of the suspects who has said they were framed, told CNN on Saturday that he would travel to the U.S. from his home in Makhachkala, Dagestan, but did not say if his plans included a funeral.
Even if a mosque steps forward to conduct a funeral for Tsarnaev, Webb said that Islamic law still could place restrictions on the service.
"In fiqh (Islamic jurisprudence), for somebody who has committed a major atrocity, it is recommended that the imam does not pray over him, but that someone else does. It's meant to somehow symbolize that there is some grieving with the victims of the person's actions," he said.
"In Islam, if someone is alive and has committed a crime, their opportunity to repent is open until they die," said Webb, referring to Dzhokhar Tsarnaev, who is being treated at Boston's Beth Israel Deaconess Medical Center. "We hope this man would be guided first of all to help the investigation and seek the forgiveness of family members and all people he has harmed."
Support HuffPost
The Stakes Have Never Been Higher
Related
Before You Go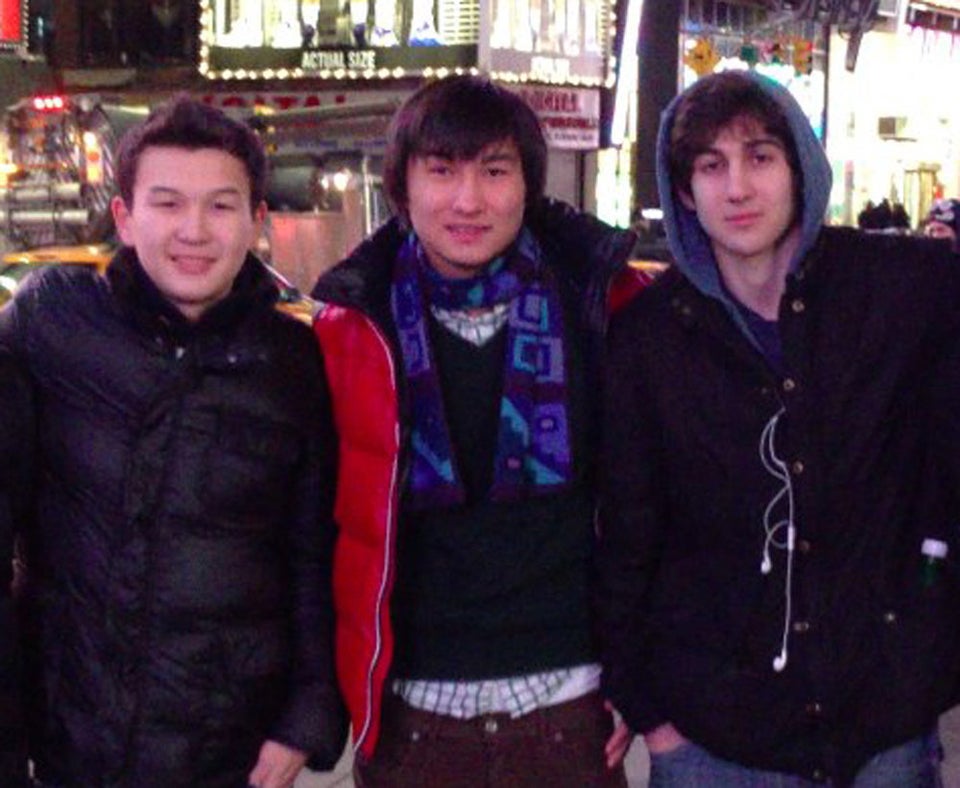 Dzhokhar Tsarnaev
Popular in the Community