I have to say, when Tami Stronach agreed to an interview I was nervous and completely overwhelmed with joy. Mostly because she brought back so many memories of my family and I crowding on the couch to watch her as The Childlike Empress in The Neverending Story (1984). Since then she has not stopped being awesome. Today Stronach is the artistic director of Tami Stronach Dance, and the cofounder of the family entertainment company, Paper Canoe. She is also an educator and a public speaker dedicated to inspiring others to keep their creative life alive, to exercise the imagination, and build community and empathy through art.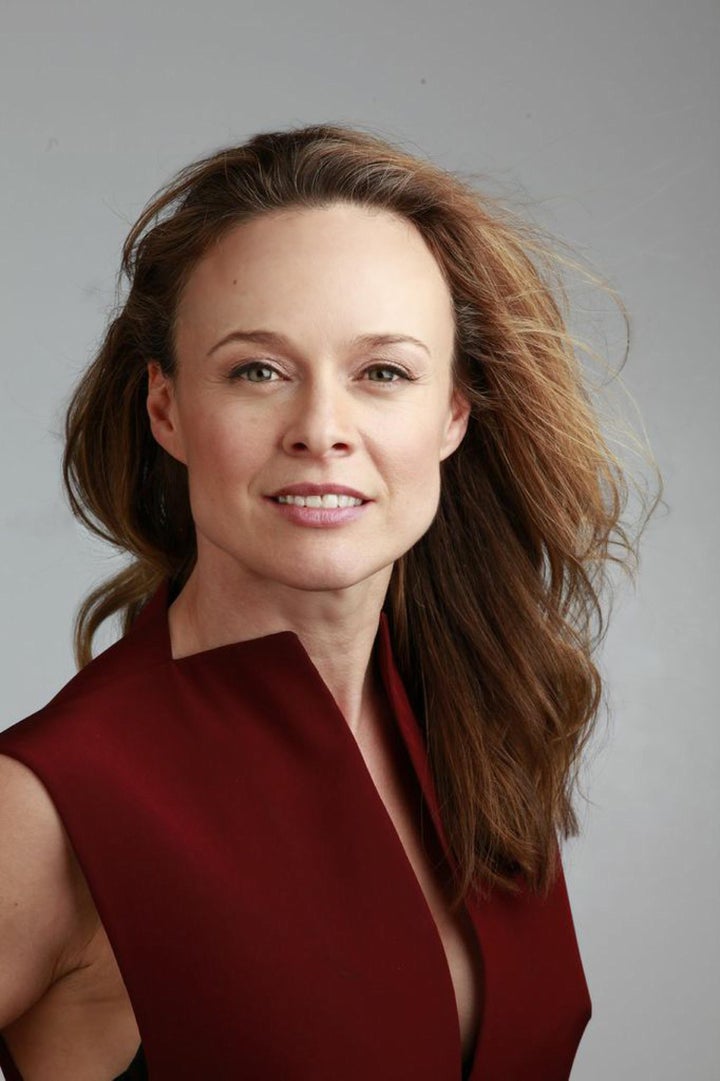 Loren Kleinman (LK): I'm a BIG fan of The Neverending Story. I remember watching the movie between the ages of 9 and 10 in my parents' low lit living room and eating sandwiches under the covers like Bastian. I actually just wanted the movie again a few weeks ago. How has the film encouraged your own child-like wonder? How has your background as The Child-like Empress from The Neverending Story inspired Paper Canoe?
Tami Stronach (TS): Being a part of The Neverending Story took childlike wonder and put it on steroids. As a kid I always gravitated towards theater and dance and any kind of fictional/make believe/story world. But the experience of being inside of these vast sets and mingling with the army of creatives who brought Fantasia to life definitely took my sense of wonder to a new level. Also, the message of the film is to keep that childlike part of us alive, and I took that message to heart. The Childlike Empress was trying to get Bastian to value his imagination and to convince him that one little boy has the capacity to make a difference. That's a great message for kids of course, but it's also a great message frankly for adults. One of the cool things about the movie is that as a kid, you watch it and it makes you feel important. That you are the creative energy that just might be the thing that saves the universe. That's powerful.
As an adult, you watch the film and it reminds you that you still have that capacity to be as imaginative and creative as you were when you were ten. I mean, no one wants to be Bastian's dad! In other words, it makes kids feel like grown ups and makes grown-ups feel like kids. To me that is the key to a great piece of storytelling. The very best stories we have do that. They work on one level for kids and on a different level for their grown ups. Part of why it's so important to do both is that then the family can actually enjoy the story together. Story time then becomes more than just a distraction from family life, it becomes central to it. As a mom there is stuff I feel good about watching with my kid, and stuff that she likes that is really the story equivalent of fast food. I don't enjoy that kind of content, and to be honest, she can take it or leave it as well. But a well made story, with the right ingredients, we can both devour together. And do. The Neverending Story meets that test. People all over the world reach out to me to tell me they are watching it again with their kids. So it's was hugely influential in that sense. I still want to spin that kind of magic.
LK: Can you talk about the mission of Paper Canoe? How do you "[create] stories that make kids feel like grown ups and make grown ups feel like kids"?
TS: Kids are smarter, more aware, and generally more open and curious than much of the material that is crafted for them allows. Having a daughter who asks me deep, complicated questions and has a wicked sense of humor made me want to invest in creating stories that would not talk down to children. Part of that is just the quality of the art direction that goes into our projects. It matters. I want to bring high aesthetic values to our productions because kids deserve that. That's how we make kids feel like adults. Put them in front of things that look and feel artful and virtuosic creatively, rather than cheap and corporate. On the flip side, adults are often forced to juggle so many mundane worries, that they forget how to play or they just feel too tired to try connect with their little ones in that way. Kids can feel when parents check out and jump on their phones to do email during a story, and when the work is 'just for the kids' that's pretty tempting, so all of Paper Canoe Productions have jokes and concepts that are directed towards an adult audience while entertaining and engaging children. Many of our stories also subtly critique an adult world that has lost its desire to strive for something better, so we like to assure little ones that they should take the reins and move everyone forward. My favorite feedback from a dad, which I got from a parent about our Beanstalk Jack album, was that he ended up uploading the album to his playlist, and now listens to it without his kids around too. For me, that is the most satisfying outcome.
LK: What inspired the Beanstalk Jack, A Folk Rock Opera? What was the creative process like from start to finish?
TS: My husband, Greg Steinbruner, is one of those hyper creative kind of people, with an essentially endless list of stories he wants to tell. He grew up really idolizing the American folk scene of Pete Seeger and Arlo and Woodie Guthrie that had a lot of story in the music and a strong political point of view. He wanted to create a folk rock album around the story of Jack and the Beanstalk. He had a song or two that he'd shared with me, but he's a lyricist not a musician, and he was kind of stuck for a while with it. I put him in touch with my friend, Jacob Silver, and the two of them just clicked. Jacob totally got what Greg was going for. He had actually played bass once for Pete Seeger on Letterman! So it was kind of a perfect creative match. Jake brought in some of the best Brooklyn indie-folk musicians to sit in and after the first studio session it was pretty clear this was not going to sound like 'cute' kids songs. This was going to tell a story and the musician-ship and production were going to be far beyond what we had originally hoped for.
LK: What was your role in updating this classic?
TS: I weighed in on the style and tone of the project so that it made sense for modern audiences. Some sources say the original story dates back to 5,000 years ago and there have been many different versions of Jack in the Beanstalk over the years. The story is kind of weird, in some ways. Traditionally Jack is kind of a feckless kid who steals the giant's stuff, tricks the giant's wife and in the end, murders the giant. Let just say that's kind of "medieval" for what we wanted so we had some work to do on the story. Greg was trying to write a song for the giant's wife originally, and this was going to be 'my' song, but something wasn't clicking about it. It kept feeling to us like Jack was Dustin Hoffman in the Graduate and I was Mrs. Robinson, which is hilarious, but not what we were going for. But we made a little tweak and the whole concept of the story clicked into place. Jack was a poor boy with a six string from the country.
The world at the top of the Beanstalk was like 'the big city' Nashville or LA, and the giant was like a big shot mogul type, and rather than having Jack run away with the giants expensive stuff he was going to do the most horrible thing a poor young fellow can do to Mogul like that: run off with the giant's daughter. So we gave the giant a daughter instead of a wife named Harmony and when Jack and her it's love at first sight. We imagined her like one of those awesome rock divas of the 70s or 80s. She's a star looking for a band stuck in a lonely expensive mansion with a greedy, nasty giant father. Jack steals her heart and they decide to run away together become a great touring band…so, Romeo and Juliette meets Jack and the Beanstalk…with a way happier ending. Once we had our 'twist' we really fell in love with this project.
LK: Can you talk more about the music?
TS: It was really fun to decide what style of music would bring each chapter of the story to life. When we first meet Jack as a poor country boy, it felt right to start in that old-timey American tradition. There's bluegrassy fiddle, by the amazing Stephanie Coleman, and incredible accordion by Sam Reider to capture that world. When Jack climbs up the Beanstalk, we wanted it to feel like the Wizard of Oz where you suddenly go into Technicolor. Like Dylan 'plugging in' at the folk fest. So the second half of the album we move from an acoustic sound to a tour through rock styles of 60s, 70s and 80s. As a child of the 80s, I couldn't help but want to reference iconic music figures I grew up with. Our giant sounds like Tom Waits and Harmony is a 16-year-old version of Patty Smith meets Blondie. We've been playing it around town as a concert and the next steip is to turn the concert into a "visual album," maybe like homage to those amazing concept tours of classic rock. A 'show.' We're playing with video elements, and maybe puppets, so my experience as a choreographer is now being rerouted to explore stop animation and other techniques for bringing 2D images to life and that's a really interesting challenge. So the project is actually still in development so we are looking forward our spring shows when we can add some theatrical bells and whistles.
After 20 years of being a choreographer in contemporary dance it feels slightly mad to just dive into all this new terrain—but something people may not know is that I released an album right after The Neverending Story called Faerie Queen, which actually did pretty well in Europe! So as crazy as it is, I'm actually going back to my roots and it is really fun. At the end of the day, the project has reminded us that music is actually just a unique kind of story telling. No one is making narrative albums any more. You're not supposed to do that. You're supposed to make singles because everyone is streaming and shuffling playlists etc. But I've never been so into following the rules of what you are 'supposed' to do. Greg and Jake and I dreamed this. And we're doing it.
LK: Your team also performs puppetry. How difficult is it to portray story through puppets, to develop characters, and to inspire emotion from an audience?
TS: Our first foray to puppetry was to create a show called Asock's Fables, based on Aesop's fables. Certainly there is a whole technique to puppetry that we needed to study and learn about as we built this vaudevillian sock puppet show for families. But as a dancer I spent many years thinking about how to physically communicate information. The precision of dance, the attention to rhythm and dynamics helped me when choreographing, blocking and operating the puppets. This show was geared to little ones ages three to five and what's amazing about this age group is they kind of believe the puppet is alive. Its like you have done the most amazing alchemical magic trick and actually turned a sock into a living character, in a jungle, facing a roaring lion who happens to be made out of a leg warmer. Watching their faces is priceless. Also kids that age talk to the puppets and they aren't shy about expressing fear or joy. Its this wonderful moment when fantasy and reality are actually fused together, and so they get very emotional because they allow themselves to be swept up in the story…Its later that kids start to really differentiate what's real from what isn't and to be more skeptical of make believe. But I love puppets because they take all of us back to that pre-skeptical place that's still inside us.
LK: What are your favorite children's books? Why?
TS: I loved Amelia Bedelia because it was funny for her to take literally her employers' figures of speech. I was raised tri-lingual and I frequently made grammatical mistakes in all three languages. So for example I would say in Hebrew "I'm going to take a shower" to which most people would reply "Don't take it too far from the house we still need it." I still enjoy language puns. My daughter and I are homonym hunters—when we find a homonym we stop and sing our very own made up homonym song (to the exasperation of onlookers).
My father grew up in England, so I loved Winnie the Pooh. I like how gentle he is. I liked the sweet dialogues Pooh and Piglett and other characters had about the weather and tea between adventures. I would read the book with my dad and together we talked in many different British accents, bringing the characters to life. There is something really satisfying about the archetypal characters in that story. Eeyore was tragically sad, Piglet was tragically nervous, Owl was tragically pompous, Tigger was insanely enthusiastic, Rabbit was ridiculously pragmatic, and Pooh was blissfully oblivious--maybe zen. I enjoy stories where all of our human flaws and character traits can be distilled into these recognizable stock characters. It's a great way to laugh at humanity.
As a kid, I loved the Hobbit. What an epic sweeping adventure. You really felt like you were entering a whole universe that had been imagined down to the last detail. As a little girl, I did wish there were more female characters in the story though.
LK: What book is currently on your nightstand?
TS: I just read Neal DeGrasse Tyson's book Astrophysics For People In a Hurry. I was feeling rather depressed about what is happening on planet earth, the decimation of the environment, the violence all around us, the erosion of women's rights, the racist and xenophobic turn US culture is taking. I needed to be transported to OUTER space, where we are just a speck and forces beyond our understanding and vistas too great for our imaginations exist and dance. Astrophysics gives new perspective to all our earthly problems…somehow zooming out makes what's happening on the ground more manageable –like this too will pass while the universe will keep expanding for Billions of years. Wonder where it will all end up?
This week, I'm revisiting a book I read in high school, Ursula K. Le Guin's book The Wind's Twelve Quarters. I just loved her books when I was a teen, and so it feels useful to revisit what made those stories so immersive. Its just such elegant Sci-fi.
With my daughter, I am reading the fabulous book Where The Mountain Meets The Moon by Grace Lin. This is the third time we are reading it. It's wonderful. Its got a female protagonist and a dragon and magic and its epic and there are some very bad people, but the goodies win.
LK: Just for fun, if you could ride Falkor the Luckdragon to work every day, would you? What would be the benefits?
TS: Of course I would. While the rushing, grumpy, sea of humanity on the L train in Brooklyn does have its charm, who could turn down a faster commute, no parking hassles, plush seating and extra luck for the day? Funny story, it was actually passing a massive Falkor billboard that was painted as a Spotify ad next to my house that inspired me to finally start a Twitter and Instagram account and find out if there were still actually fans of The Neverending Story out there…it turns out, there are! It's funny, it may be more popular now even than it was in the 80s. I'm grateful for that. It has actually reminded me how important it is for me personally to keep "doing what I dream."
Related
Popular in the Community