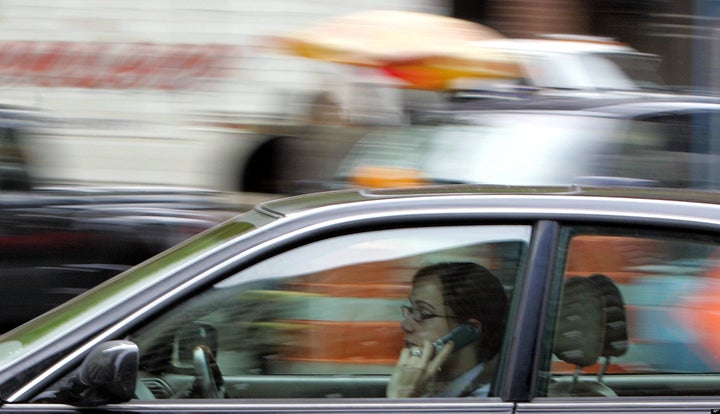 The first time you see the intersection, it's a shock. You're walking through a quiet Brooklyn neighborhood of brownstones, bodegas, and storefront churches, when suddenly you hit an eight-lane highway with cars and trucks roaring by.
This stretch of Atlantic Avenue looks more like the Jersey Turnpike than something you're supposed to cross on foot. But there's plenty of foot traffic: the burgeoning neighborhoods of Prospect Heights and Clinton Hill meet here, and the A/C subway stop is just a block away.
The danger zone is a five-spoke intersection where Washington, Underhill, and Atlantic Avenues all meet. Traffic accidents are so common here that the stoplight has been knocked down twice in last decade. According to crashstat.org, more than 40 pedestrians and cyclists were struck here in that time span.
But salvation may be at hand. Community activists are working with Council Member Letitia James to urge the Department of Transportation to make some much needed changes. The proposed plan uses curb extensions and bollards to create an easier and safer crossing for pedestrians.
Curb extensions are bulges in the sidewalk. In this case, the sidewalk would extend into the parking lanes on both sides of Atlantic Avenue, making the crosswalk two lanes shorter--a tremendous pedestrian benefit--without hampering traffic flow. This latter point is critical to the DOT, since Atlantic Avenue is a main artery to downtown Brooklyn. Curb extensions have been successfully implemented throughout the city and have a proven track record for safety and efficacy.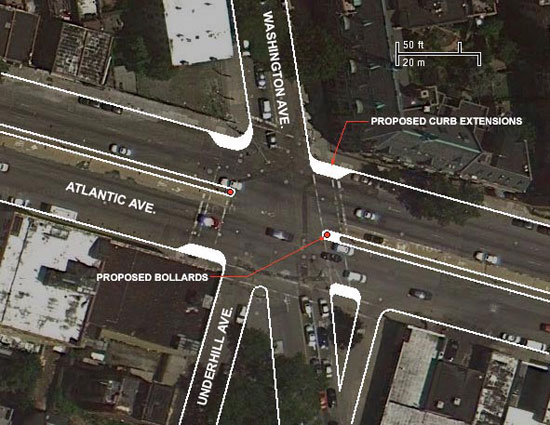 Bollards are short, strong posts, which would be installed at the ends of the Atlantic Avenue medians. The goal is to protect both pedestrians caught mid-avenue and the latest stoplight.
The first meeting with the DOT is slated for November 17. To cast your vote of support, add your name to the online petition here.
Jeff Sherman is an architect and co-founder of the Brooklyn firm Delson or Sherman Architects pc. He lives in Prospect Heights and instigated the plan to fix this intersection.
Related
Popular in the Community