Lawyers for the family of a 12-year-old boy fatally shot by a Cleveland police officer called for a federal investigation into his death because they say the local prosecutor has been biased in favor of law enforcement. 
In a letter to Attorney General Loretta Lynch that was released on Tuesday, the legal team for Tamir Rice's mother and sister complained about the unusual measures taken by the Cuyahoga County prosecutor's office in reviewing the 2014 shooting. 
"We write to request that your office launch an independent investigation into Tamir's death because the local prosecutor has abdicated his responsibility to conduct a fair and impartial investigation and has severely compromised the grand-jury process," attorneys for the Rice family wrote. 
Among a variety of complaints, the letter describes a bizarre moment when a prosecutor allegedly shoved a toy gun in the face of a police expert testifying to the grand jury that the shooting of Tamir was unjustified.
The family has long believed that charges should be leveled against Officer Timothy Loehman, who shot Tamir at a Cleveland playground on Nov. 23, 2014. Loehman, who is white, and his partner had received a report that a black male was waving a gun there. In fact, Tamir had a pellet gun that lacked the brightly colored tip that usually distinguishes such toys from real firearms.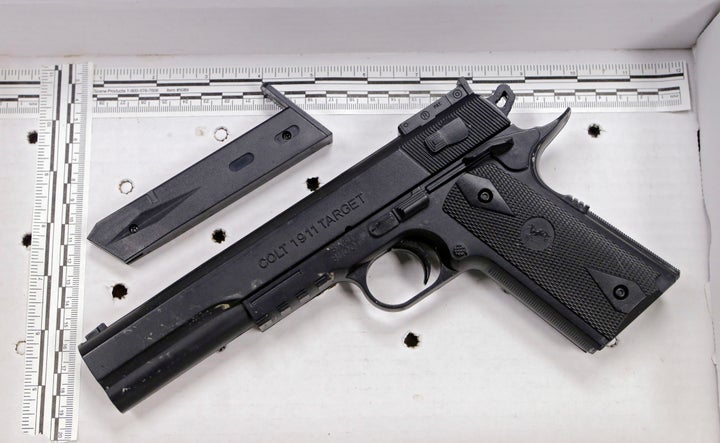 But the letter to Lynch shows that the family's frustrations have widened under prosecutor Timothy McGinty's oversight. The family's lawyers allege that he has manipulated the investigation and grand jury proceedings to benefit the officers.
(Read the full letter below.)
This month, McGinty allowed Loehman and Officer Frank Garmback, who drove the squad car to the playground, to read prepared statements to the grand jury, but then allowed them to invoke the Fifth Amendment to avoid questioning by lawyers.
An individual cannot selectively use Fifth Amendment protections against self-incrimination after giving some testimony under oath, the Rice family attorneys said. 
Joseph Frolik, a spokesman for the prosecutor's office, said, "Suffice to say that the veteran prosecutors presenting the case understand the Fifth Amendment." He also pointed out that the lawyers who wrote the letter were not present for anything that happened in front of the grand jury.
Normally, grand jury proceedings take place in secrecy. But the Tamir Rice case has been full of unusual developments. Earlier this fall, McGinty was criticized for releasing evidence from experts who wrote the Tamir's shooting was "tragic" but "reasonable." Those experts have been criticized as being overtly pro-police.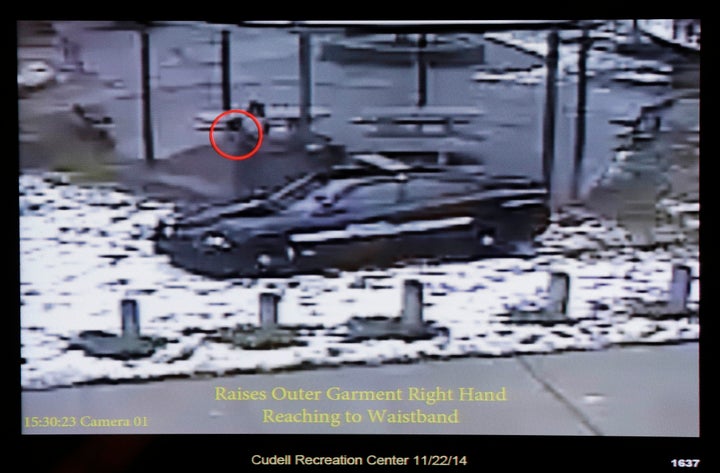 The lawyers for Tamir's family acknowledge in their letter that it is often improper to expose the grand jury proceedings, but said the extent of McGinty's misdeeds forced them to speak out. 
"It is clear that a grave miscarriage of justice is underway and that federal intervention is called for," attorneys Jonathan Abady, Earl Ward and Zoe Salman wrote. 
In October, another lawyer for Rice's family told HuffPost that Tamir's mother wanted the Department of Justice to intervene, but this letter represents a more formal request for the feds to get involved. 
The letter also alleges that McGinty's office, in another unusual move, asked Rice's family to gather evidence on its own for the grand jury. Experts rounded up by attorneys for Rice's family were then subjected to perverse questioning by prosecutors last week, the letter alleged.
In one instance, a prosecutor removed a toy gun from his pants and pointed it in the face of an expert during his testimony, according to the letter. The letter says the surprise use of a prop in court was an exaggerated reference to the threat Loehman allegedly felt when encountering Tamir. 
The expert was Roger Clark, a 27-year veteran of the Los Angeles County Sheriff's department. He was one of two experts with law enforcement backgrounds who'd been retained by Tamir's family and wrote reports that concluded the killing was unjustified. HuffPost has been unable to reach Clark for comment.
McGinty, citing the privacy of grand jury hearings, refused to respond directly to allegations that his office mistreated Clark and Jeffrey Noble, the other expert found by Rice's family.
"These plaintiffs attorneys have spent months trying to inflame the media and the public with repeated, often inaccurate statements lobbying for their desired outcome," McGinty said on Tuesday. "As prosecutors, we are not permitted to discuss the testimony given to any Grand Jury. This means the news media can receive a one-sided version of the story from lawyers who were not there. Any witness who appears before any Grand Jury is treated with respect but should expect thorough questioning from prosecutors and the grand jurors themselves."
In a statement to investigators, Loehman said he opened fire after he and his partner yelled at Tamir to put up his hands. 
The lawyers for Tamir's family, like other critics, disputed Loehman's account. Tamir could not have heard any commands, because the windows on the patrol car were rolled up, the lawyers wrote. Video showed Loehman open fire within two seconds of exiting the vehicle. 
Loehman said that Tamir was reaching for his waistband, but the family's lawyers contend that he overreacted because the "toy gun" was not visible. 
Read the full letter from the family's lawyers:
This story has been updated to include comments from McGinty and Frolick. 
Calling all HuffPost superfans!
Sign up for membership to become a founding member and help shape HuffPost's next chapter