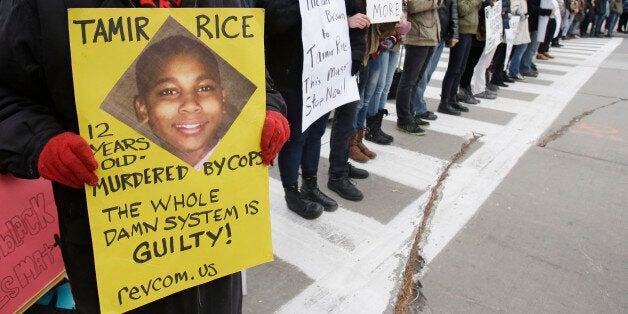 Last weekend, 12-year-old Tamir Rice was killed by a Cleveland police officer responding to a 911 call. The caller was concerned about the young black boy who appeared to be handling a gun at a park. The firearm, it turned out, was only an Airsoft pellet gun -- and although the orange plastic ring indicating it wasn't an actual weapon had been removed, the caller did say the gun was "probably fake." But that detail was apparently not relayed to responding officers, who shot Tamir twice in the torso just seconds after they arrived at the scene. Tamir died later at a hospital.

Hours before the public was to see a video of Tamir's last moments, editors at the Northeast Ohio Media Group decided that it was important to point out that Tamir's father and mother both have criminal records. While the domestic violence charges against Tamir's father are indeed disturbing, it's hard to see what they have to do with the death of an innocent black child at the hands of a police officer.
This coverage was criticized by many as an attempt to smear the victims' characters and distract from the issue of police violence -- and, more subtly, to suggest that the killing of young black men is somehow acceptable or unsurprising. And it succeeded -- these stories were used by some people to explain why Martin and Brown deserved to die, or how they may have somehow invited their own deaths.
Brandon Blackwell, the author of the story about Tamir's father, was the subject of heavy critique on Twitter once the piece went live. He told one critic that he's also planning to report on the officer who killed Tamir.
Blackwell didn't immediately respond to HuffPost's request for comment. Mark Naymik, a reporter at the Northeast Ohio Media Group, offered an explanation that reflects a disappointingly common attitude in situations like this.
Rather than asking why police officers were so quick to exercise lethal force on a 12-year-old boy playing with a toy gun, as 12-year-old boys everywhere do, some people are asking instead how Tamir's parents could have allowed their child to get his hands on a fake weapon in the first place. Instead of focusing on how young black males face a far greater risk of being killed by police than their white peers, they blame the grieving parents -- a mother and father who, whatever their legal history, will be going to sleep tonight without their son.
UPDATE: 11/28 -- After receiving criticism for their original story on Rice's father, the Northeast Ohio Media Group added an update to "give insight into the motivation to investigate the parents' background," claiming that "People from across the region have been asking whether Rice grew up around violence." Chris Quinn, vice president of content for the Northeast Ohio Media Group, then defended the decision to run the story in a column published Thursday.
One way to stop police from killing any more 12-year-olds might be to understand the forces that lead children to undertake behavior that could put them in the sights of police guns.

So our reporters at NEOMG have been looking into Tamir's background, to see if he lived a life exposed to violence that could explain why it might be normal for him to randomly aim what looks like a real gun in a public place. They have pursued tips about his life from Cleveland to Strongsville and continue to investigate.
Others still appear offended by the Northeast Ohio Media Group's apparent belief that it must explore aspects of Rice's past that might be used to suggest the 12-year-old's death was somehow his own fault. An employee with the Cleveland Plain Dealer recently sent an email to to all Plain Dealer and Northeast Ohio Media Group staff calling the outlet's justification "borderline insulting."
CLARIFICATION: This story has been updated to clarify Mark Naymik's position as a reporter at the Northeast Ohio Media Group.
Popular in the Community