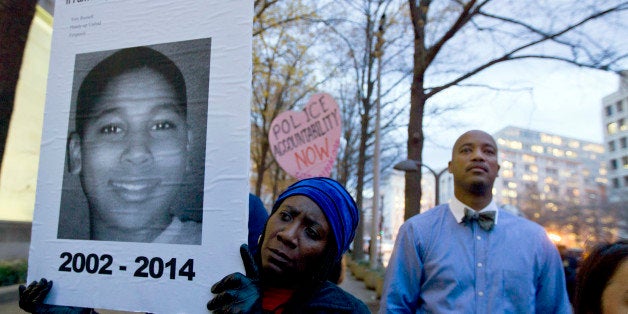 On January 23rd New York Times columnist, Nicholas Kristoff offered guidance to #BlackLivesMatter activists suggesting focusing on the killing of 18-year-old Michael Brown is less impactful than the killing of 12-year-old Tamir Rice.
As an activist committed to the movement that has developed in the aftermath of Mike Brown's killing, my visceral reaction to Kristoff's tweet was, "Who was checking for you?" His unsolicited and unwelcomed advice reeked of white male privilege rearing its triggering head into spaces we have purposefully constructed centering humanity of blackness and void of respectability politics. In a world where blacks face systemic denial of human rights, we cannot afford to fight only for perfect victims - nor should we have to.
The narrative of Mike Brown's killing suffered extensively of attempts to co-opt and demonize his life and death from the media to the St. Louis County Police Department. While Tamir Rice's tragic killing by Cleveland Police Department has seen less attempts to dehumanize him from mainstream media, that has not stopped some people for blaming the 12-year-old for his own death. St. Louis County Police simply could not resist vilifying the pre-teen who was shot down for simply playing with a toy gun in the park. It is also worth noting in December 2014, the Department of Justice published its findings of a 20-month investigation into the practice the Cleveland Police Department. Al Jazeera America states the report found "the city's police officers use excessive and unnecessary force far too often, are poorly trained in using firearms and endanger the public and their fellow officers with their recklessness."
There is certainly one thing that Nicholas Kristoff was on to; Tamir's death deserves our attention. As does every victim of systemic oppression and American terrorism.
In the extended 30-minute video of Tamir's killing, it is painfully clear that the child did not have the toy gun raised at the time of the officer's arrival. Cleveland Police Department admitted the officer shot Tamir within 1 ½ and 2 seconds of arriving on the scene, leaving virtually no amount of time to communicate with the child prior to shooting. Also an excruciating four minutes pass without either officer administering first aid to Tamir's riddled body.
And then, two of the most heart retching things occur on the shooting footage.
First, Tamir's sister arrives in agony shrieking out for her baby brother and Cleveland Police immediately tackle, handcuff, and place her in the back of a squad car. Not just any squad car, the same one that sat right next to Tamir's bloody and motionless 12-year-old body. There she sat criminalized for mourning her brother in the very car that the officer stepped out of as he shot Tamir down.
Second, Tamir's mother arrives to the playground and she is then forced to choose to either tend to her arrested daughter or her son's bloody body on the ground.
I cannot begin to fathom the level of torture Tamir's mother experienced compounding in her soul during those moments. She was forced to reconcile state sectioned violence from people sworn to protect and serve her family who have just killed her son for playing with a toy and penalized her daughter for expressions of anguish.
Perhaps Tamir's story is more marketable to Nicholas Kristoff than Mike Brown who was shot and killed while unarmed. Mike was vilified in Darren Wilson's grand jury testimony that more closely resembled the script of Blaxploitation film in which claimed Mike called him a "pussy" while reaching for the officer's gun. Wilson demonized Mike Brown by literally comparing the look in his eyes to that of "demon" and his stature to that of a "gigantic hulk" while the two were the same height.
Nicholas Kristoff hopelessly fails to realize is that Mike Brown was someone's child.
Aiyanna Jones
Eric Garner
Ezell Ford
John Crawford
Malissa Williams
Ranisha McBride
Rekia Boyd
Tamir Rice
Tanisha Anderson
Timothy Russel
Each of them was someone's child.
Dishearteningly, there are too many stolen lives to name in entirety. We cannot wait for perfect victims -- they do not exist. And we will not watch as our lives are ripped from our bodies and then be told some of us were not worth saving to begin with. We are human. We should not have to vie for recognition of our worthiness -- it is inherent in our breath, in our existence.
Despite Kristoff and other like-minded misguided people, we will not be shamed out of fighting in the name of Mike Brown or any other "un-perfect" victim. We will not be shamed out of mourning their deaths. Just as Tamir Rice's sister should have not been admonished for mourning her brother. We will mourn each of them equally at the top of our lungs forcing this country to face its hateful history and racist realities.
We will not be disparaged for demanding treatment worthy of our humanity and freedom fit for citizens. And, is that really too much to ask for?
"All we wanna do is be free." - J. Cole
This post is part of the "28 Black Lives That Matter" series produced by The Huffington Post for Black History Month. Each day in February, this series will shine a spotlight on one African-American individual who made headlines in 2014 -- mostly in circumstances we all wished had not taken place. This series will pay tribute to these individuals and address the underlying circumstances that led to their unfortunate outcomes. To follow the conversation on Twitter, view #28BlackLives -- and to see all the posts as part of our Black History Month coverage, read here.
REAL LIFE. REAL NEWS. REAL VOICES.
Help us tell more of the stories that matter from voices that too often remain unheard.