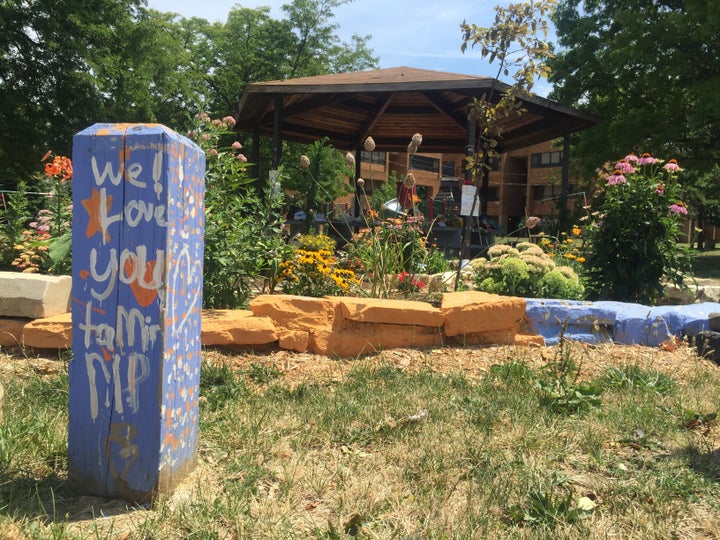 CLEVELAND ― The snow has long melted. The police car's muddy tracks are gone. There's a colorful new garden. Kids play at a water park around the corner, a few dozens teens are playing basketball inside the gym and some children watch adults wearing tie-die lab coats conduct an experiment with liquid nitrogen. A toy red Nerf Rival Apollo Blaster that shoots small yellow foam balls lays in the grass near the pavilion, a few feet from some wooden crosses. A pile of stuffed animals ― teddy bears, Snoopy, a turtle ― sit on a table near the spot where a Cleveland police office shot and killed 12-year-old Tamir Rice less than two seconds after he encountered him at a playground on Nov. 22, 2014.
A short car ride away, at the Quicken Loans Arena, Donald Trump became the Republican presidential nominee on Thursday. People in militia gear carrying semi-automatic rifles posed for photos with onlookers near the arena this week, as police on bikes focused on keeping the religious extremists and the anarchists apart. Inside, a massive crowd chanted "All Lives Matter," a guy in a Trump hat carried around a sign that said "ISIS Lives Don't Matter," and a sheriff who has become a fixture in the conservative media drew thunderous applause by declaring that "Blue Lives Matter." This is amid one of the safest times to be a police officer in recorded history in a country where the government pours billions of dollars into supporting cops and protecting their valued lives. Trump's message of safety seemed aimed at a particular audience and not necessarily families that look like look like Tamir's, as Charles M. Blow pointed out in The New York Times this week.
During his lengthy acceptance speech, the former reality TV personality painted a picture of an America in crisis, where violent crime was spiking (it isn't) and proclaimed himself to be the only man who could fix it.Those I spoke with on the floor of the Republican National Convention were convinced that America was getting more dangerous. This is despite violent crime rate data showing that every year of the Obama administration has been safer than any year during the presidency of George W. Bush. But people didn't feel that fact was true. Trump's own campaign manager even suggested that the FBI ― currently run by a former Bush administration official who had been registered as Republican and donated to GOP campaigns ― must be cooking the books on crime to make President Barack Obama look better.
When I sat down at the bench under the pavilion at the Cudell Recreation Center that appeared in the video of Tamir's death, I realized I too may have created a false narrative in my own mind based on, videos and media reports. Much like the violent country Trump created before an audience of millions on Thursday night, the tough neighborhood I'd created in my head to fill in the world outside the limited scope of the surveillance camera that captured Tamir's final moments did not exist. Take away the handful of reporters and cameras that stopped by and the members of the communist Progressive Labor Party who came to recruit and the park where Tamir was killed looked a lot like one I would visit with my own young daughter.
It's tough for an out-of-town journalist to drop into a neighborhood in a city he's never visited before for a few hours and walk away with anything meaningful to say, and I won't pretend to do so here. But nearly two years ago, when I arrived in Ferguson, Missouri, a few days after the police shooting death of Michael Brown, I was struck by how little the area and the situation resembled the narrative I had formed in my mind based on what I had pieced together from news coverage and social media. When I saw heavily armored officers pointing weapons during demonstrations ― a part of me assumed there had to be some sort of legitimate threat behind the camera, when that was often not the case.
This time, however, working with The Huffington Post's RYOT team, I had the ability to allow readers to see a fuller, 360-degree picture of what I saw when I visited the park where Tamir was shot. It gives a much fuller view of the location beyond grainy surveillance footage.
Among those I met was Robert Hargrove, a 66-year-old man who lives in the neighborhood. He was watching his grandchildren play in the park and told me he often went there. (Indeed, he spoke with a reporter from Gawker at the park the previous day). After his four-year-old grandson pointed to the location where Tamir was shot (or at least the spot where he knew something significant had happened), Hargrove told me he knew from the beginning that nothing would happen to the officers involved in the boy's shooting. Indeed, a grand jury declined to indict an officer for Tamir's death in December. After the City of Cleveland agreed in April to pay his family more than $6 million while admitting no wrongdoing, a police union official then suggested the money should go toward educating children on the dangers of real and replica weapons.
"I knew they wasn't gonna do nothing to him. But after looking at the film, they should've did something. I don't know what they see that I didn't see," Hargrove said. "I don't trust them," he said, referring to police officers. "I don't trust them around my kids, I don't trust them near my kids."
Hargrove said he's no Trump supporter, calling him a "trickster" who was dividing the country. "He's being very, very honest, and its scares me," Hargrove said. "It should scare a lot of us."
He pointed out that the former reality TV personality is "talking about alienating Mexicans, blacks, Hispanics."
"Until they do something about the racism, and this country finally really does something, it's going to be the same," Hargrove added. He's "hopeful" that the presumptive Democratic candidate Hillary Clinton ― who has earned the endorsement of parents whose children police have killed, though not Tamir's mother ― can bring about some change.
"I'm so hopeful, I'm not even listening to the Republican convention," Hargrove said. "I'm not going to play off into that rhetoric. What does he know about being president? About as much as I know about being president. He's a billionaire, but that don't mean he knows how to run a country."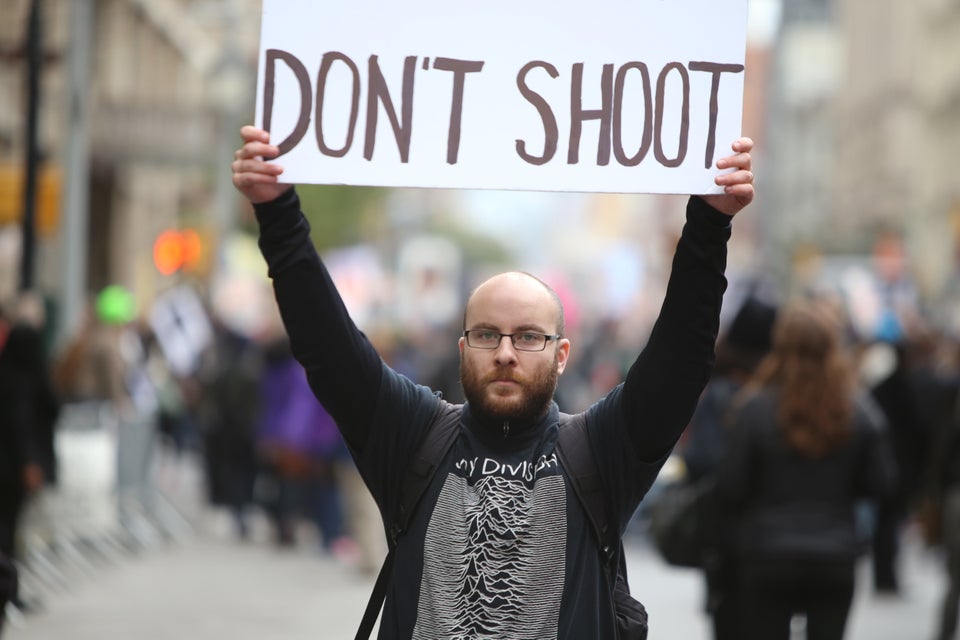 Police Brutality
Popular in the Community