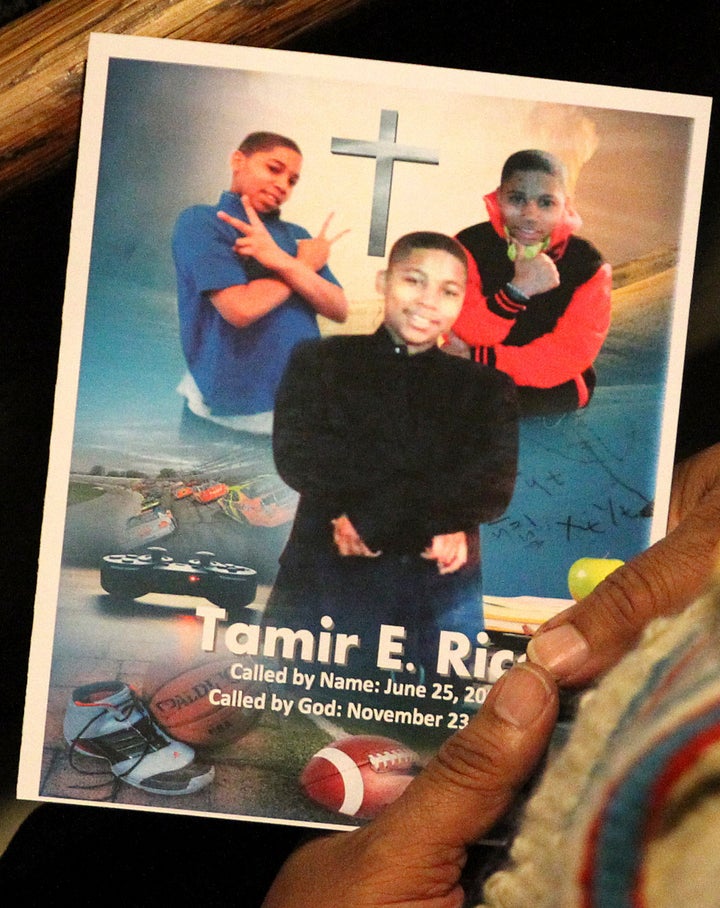 A Cleveland police officer involved in the November 2014 fatal shooting of 12-year-old Tamir Rice has been fired from the department, city officials announced Tuesday. A second officer involved has been suspended. 
The department fired Timothy Loehmann, who was a rookie cop at the time of the shooting, and issued a 10-day suspension to veteran officer Frank Garmback, his partner on the scene. Both officers had been on restricted duty while the department conducted an internal review related to the incident. 
Garmback's suspension without pay was related to the shooting ― investigators determined that he had violated safety protocol when he pulled his cruiser too close to Tamir. Loehmann was fired, however, for lying on his application to the Cleveland Police Department.
Loehmann, who was still a probationary officer at the time of the incident, did not disclose on his application the nature of his tenure at the police department in Independence, Ohio. 
He had been allowed to resign from that department after six months. His supervisors deemed him immature, distracted, "weepy" and altogether unfit for police work. "I do not believe time, nor training, will be able to change or correct the deficiencies," the department's deputy chief wrote in a letter regarding Loehmann's employment. 
Loehmann's firing "only added insult to the pain and grief of the Rice family," a spokesperson for Tamir's relatives said. They called the Tuesday announcement "deeply disappointing." 
"Loehmann has been fired because he should never have been a police officer in the first place — but he should have been fired for shooting my son in less than one second, not just for lying on his application," Tamir's mother, Samaria Rice, said in a statement.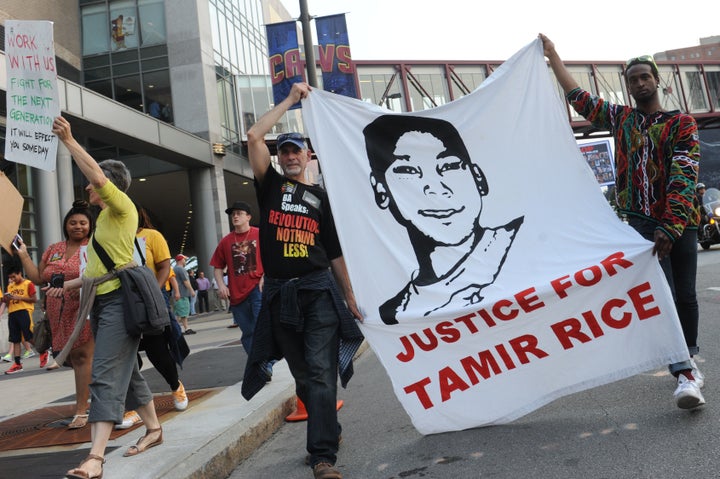 On Nov. 22, 2014, Loehmann and Garmback were dispatched to investigate 911 calls about a "guy with a gun." The caller said the person was pulling a weapon from his waistband and pointing it at people. 
The officers skidded their patrol car near the boy and were on the scene less than three seconds before Loehmann opened fire, killing the boy. It was later determined that Tamir had been playing with an airsoft toy gun in the Cudell Recreation Center near his home.
An investigator hired by the since-ousted Cuyahoga County prosecutor, Timothy McGinty, declared Tamir's killing to be "tragic" but "objectively reasonable." That investigation was widely criticized for being sympathetic to the police and not being led by an independent prosecutor.
Ken Katsaris, an expert in police use of force, conceded that the 911 dispatcher erred by not relaying certain information to officers ― including that the caller repeatedly said "the guy with a gun" was "probably a juvenile" and that the gun was "probably fake." The dispatcher was later given an eight-day suspension for failing to follow protocol. 
The city of Cleveland paid $6 million to Tamir's family in 2016 to settle a lawsuit without admitting wrongdoing. 
This article has been updated with comment from the Rice family. 
Calling all HuffPost superfans!
Sign up for membership to become a founding member and help shape HuffPost's next chapter
BEFORE YOU GO
PHOTO GALLERY
Powerful Black Lives Matter March In Washington