An expert commissioned by the Ohio prosecutor investigating last year's fatal police shooting of 12-year-old Tamir Rice called the killing "objectively reasonable" in a report issued Thursday.
The report -- the third expert opinion justifying Cleveland, Ohio, police actions in the killing -- said a toy gun that Tamir brandished gave Officer Timothy Loehmann "only one split second" to decide whether to open fire.
"This unquestionably was a tragic loss of life, but to compound the tragedy by labeling the officer's conduct as anything but objectively reasonable would also be a tragedy, albeit not carrying with it the consequences of the loss of life, only the possibility of loss of career," Ken Katsaris, a police expert from Florida, wrote in the report.
The Cuyahoga County Prosecutor's Office on Thursday released the report and new surveillance footage from Tamir's Nov. 22 confrontation with police as the child played with the toy gun in a park. The report is the third commissioned by Cuyahoga County Prosecutor Timothy J. McGinty, who continues to investigate the shooting. The two previous reports also concluded that Loehmann's actions were "reasonable" under the circumstances.
Loehmann, who has not been charged in the boy's killing, and his partner, Officer Frank Garmback, were dispatched to investigate a "guy with a gun" pulling a weapon from his waistband and pointing it at people. The gun was later determined to be an airsoft pellet gun.
Katsaris wrote that the police dispatcher should have broadcast details given by a 911 caller, including the caller's repeated observations that "the guy with a gun" is "probably a juvenile" and that the gun was "probably fake."
But given the nature of the perceived threat, Katsaris said those details ultimately would have been "irrelevant to the deadly force decision."
The situation "provided only one split second choice for Officer Loehmann under what is clearly a tense and rapidly evolving situation that required the application of deadly force to protect both or either of the officers," Katsaris wrote.
"This decision, in my opinion, was clearly objectively reasonable, given the totality of the circumstances," he added.
"He's sitting on a swing right now, but he keeps pulling it in and out of his pants,and pointing it at people. He's probably a juvenile, you know?"
Katsaris was among experts who testified at the trial of Michael Brelo, a Cleveland police officer who fired 15 shots into the car of two unarmed black motorists in an unrelated incident.
The expert opinions notwithstanding, Cleveland Municipal Judge Ronald Adrine in June found there was enough evidence to charge Loehmann with murder. Adrine's non-binding opinion was in response to a court motion filed by activists and doesn't compel the prosecutor to file charges.
McGinty said his comments weren't about Tamir, but rather were meant as "a response to a civil attorney's inflammatory attacks on the grand jury process."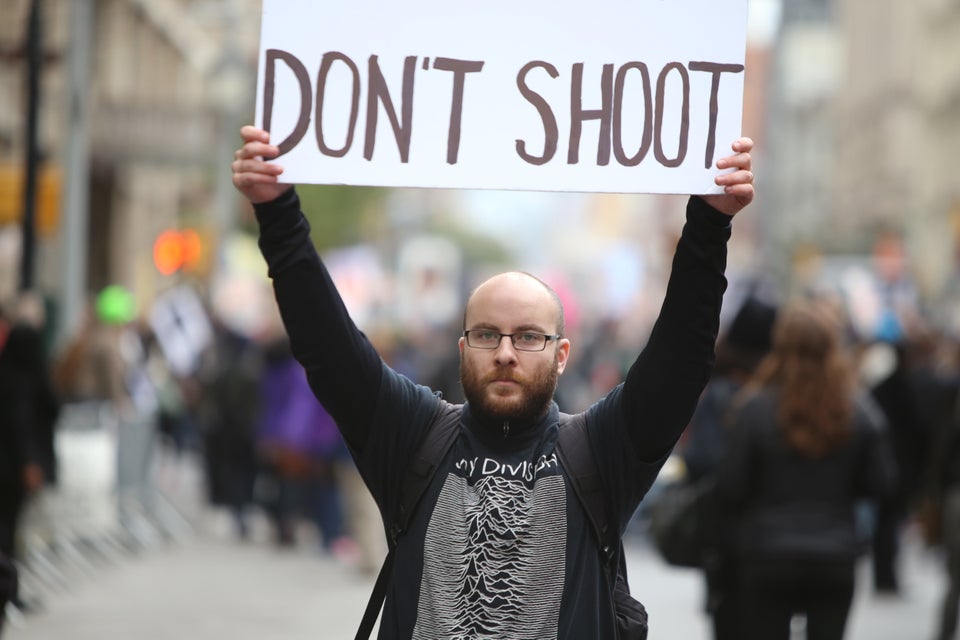 Police Brutality
Related
Popular in the Community