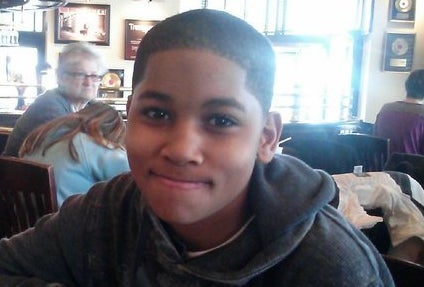 As most Americans celebrated with their families over the Thanksgiving holiday, they likely missed the three-year anniversary of Tamir Rice's senseless killing at the hands of police for playing with a toy gun in Cleveland, Ohio. Each time the anniversary passes, I can't help but think of my own son, who was 11 and as full of life as Tamir was when he was killed. He's now 14.
As a mother and a lawyer, I still struggle to explain how officials, at every step, robbed Tamir of his innocence to justify his killing. And how the rule of law, with all its virtues, still couldn't protect Tamir or offer justice for those who loved him. If law enforcement and the justice system failed him so profoundly, they could fail any child in Tamir's shoes. My own child.
A Black child's innocence in the eyes of the law is almost dead on arrival. From the moment the bullets rang out, one of the officers at the scene described Tamir as a grown man: "Shots fired, male down," said the officer. "Black male, maybe 20, black revolver, black handgun by him. Send E.M.S. this way, and a roadblock."
Tamir's death, the city's lawyers would later write in an infamous court filing, was "directly and proximately caused by" the child's own failure "to exercise due care to avoid injury." Another section of the filing, lodged in response to a civil rights lawsuit by Tamir's family, said that "the acts" by Tamir in the park that day essentially led to his own demise. The city, days later, felt compelled to apologize for such craven language.
And during a news conference to announce that there'd be no criminal accountability for Tamir's death, Timothy McGinty, the county prosecutor, noted that the boy's "size made him look much older" — which in turn fed the fear that so gripped Timothy Loehmann, the troubled officer with an undisclosed forced resignation under his belt who was too scared to engage Tamir and instead pulled the trigger mere seconds upon arriving on the scene. In other words, Tamir made him do it.
In words that now ring hollow, McGinty exhorted the public to "put ourselves in the victim's shoes." Instead, he managed to twist the grand jury process in ways that made it plain to everyone he was putting himself in the officer's shoes. Under the law, Loehmann's conduct was "reasonable," McGinty declared, simply because an officer's split-second judgment always wins against his victim: "It would be irresponsible and unreasonable if law required a police officer to wait and see if the gun was real."
Never mind that Ohio is a traditional open-carry state — which means that grown-ups, as Ohio officials presumed Tamir to be, may carry firearms in public. That the boy wasn't given the benefit of the doubt underscores how even those rights the Supreme Court has enshrined as fundamental, such as the right to keep and bear arms—even in the face of mounting mass carnage—apply with less force when black people try to assert them. (The untold history of the Second Amendment, before it was weaponized by special interests, is how the Black Panther movement first championed a robust reading of the right to gun ownership.)
The fix was in. The Obama Department of Justice, in its review of the Cleveland Police Department's history of unconstitutional policing practices, found that cops policing cops have a tendency to side with their own: "Deeply troubling to us was that some of the specially-trained investigators who are charged with conducting unbiased reviews of officers' use of deadly force admitted to us that they conduct their investigations with the goal of casting the accused officer in the most positive light possible."
When I consider all these failings, all the instances where neither the law nor its enforcers did much to shield Tamir from a needless death, I am acutely aware that, at a moment's notice, any Black or Brown child could be next. Reflecting on how to best explain to her son the spate of black deaths in the wake of the events in Ferguson, Missouri, Michelle Alexander may have put it best: "It's much easier telling the truth about race and justice in America to strangers than to my son, who will soon be forced to live it."
And the truth we must tell could not be more urgent in light of this Administration's hostile stance toward civil rights, the lagging momentum for policing reform it ushered in, and the rapid expansion of local police departments it is subsidizing with $98.5 million in grants. If the justice system's failings toward Tamir show nothing else, they show that local prosecutors matter, data collection on police officers matters, reform of the legal standards governing police excessive use of force matters, and perceptions of Black innocence matter. These issues are central to the NAACP Legal Defense and Educational Fund's Policing Reform Campaign formed in direct response to the destruction of Black lives at the hands of law enforcement.
Now I can only send prayers to the family that could not give thanks for another year of Tamir's life and vow to pursue the systemic changes that will allow other Black children, including my own, to fully claim their birthright of innocence without the threat of law enforcement suffocating it or the legal system ignoring it.
Popular in the Community