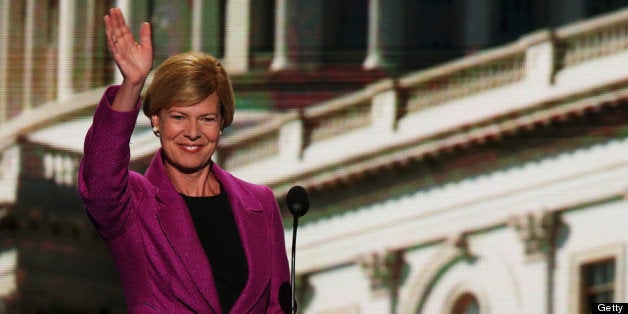 WASHINGTON -- As the Senate prepares to take up legislation that would bar workplace discrimination on the basis of sexual orientation and gender identity, Sen. Tammy Baldwin (D-Wis.) finds herself in a unique position as the only openly gay member of the chamber. And in the coming weeks, she will be meeting with colleagues on both sides of the aisle to try to get them to support the Employment Non-Discrimination Act.
"It really is an opportunity to talk one-on-one and answer questions," she said.
Baldwin played a similar role in the House of Representatives, where she led the whip organization for the Equality Caucus and got her fellow lawmakers to back pro-LGBT bills.
In a Thursday interview with The Huffington Post, she said a Democratic senator approached her earlier in the day to ask her to explain ENDA in more detail and clarify some of the provisions.
"I said, 'Absolutely, we can sit down and do that anytime,'" said Baldwin. "I'll be having those same conversations with my colleagues on the other side of the aisle too."
Only three Democratic senators have not signed on to cosponsor ENDA: Joe Manchin (W.Va.), Bill Nelson (Fla.) and Mark Pryor (Ark.). Sens. Susan Collins (Maine) and Mark Kirk (Ill.) are the only Republican senators supporting it so far.
The push in the Senate is being led by Sen. Jeff Merkley (D-Ore.), who is the lead sponsor of the bill. He has been meeting one-on-one with his colleagues and having floor conversations between votes in an effort to get them to join him.
So far, Republicans haven't shown much eagerness to back ENDA. Most seem to be either unaware of the legislation or concerned it will lead to excessive litigation against businesses and hurt religious organizations.
In response, Baldwin pointed to the fact so many states and localities have already passed non-discrimination ordinances, and they haven't led to excessive litigation.
"In fact, often it's provided the tools to work these [cases] out without having to resort to filing lawsuits," she said. "When people learn, for example, that there is a law at the local level, that they've violated it, there's often an effort to address the situation in many different ways. So we have examples we can point to to when someone says that the sky is falling. It's not. The sky isn't falling."
Many LGBT activists have been frustrated that President Barack Obama has refused to issue an executive order barring discrimination by federal contractors based on sexual orientation or gender identity while ENDA remains stuck in Congress.
Baldwin said she would like to see Obama sign such an order.
"I certainly encourage the president to go ahead and do that," she said. "Just as I was indicating earlier, the more localities, the more private sector organizations and companies that have such policies, the more Americans are protected by those. And the stronger the arguments that I can make with my colleagues of, 'Look, let's be leaders here because right now, the private sector is ahead of us, and we need to make sure we catch up and make sure every American has access to the opportunity to work and reach for the American dream.'"
According to the Human Rights Campaign, 21 states and the District of Columbia have passed laws barring workplace discrimination on the basis of sexual orientation, and 16 states and D.C. also prohibit discrimination based on gender identity.
Senate Majority Leader Harry Reid (D-Nev.) recently said he believes the chamber will "soon" take up the legislation. Merkley's office expects a committee markup on ENDA soon after Congress reconvenes following the July 4 recess.
Before You Go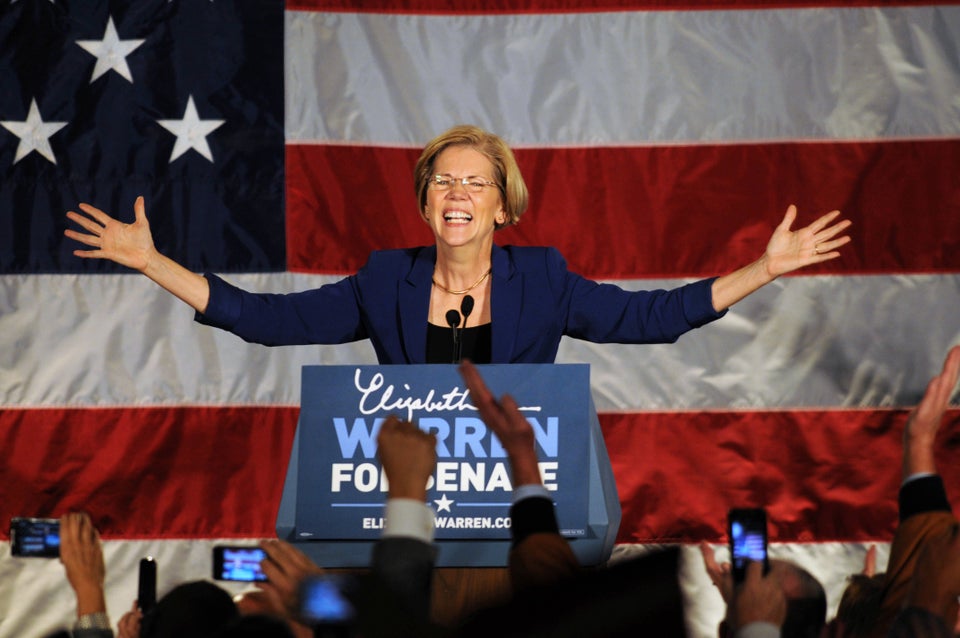 Women In The U.S. Senate
Popular in the Community