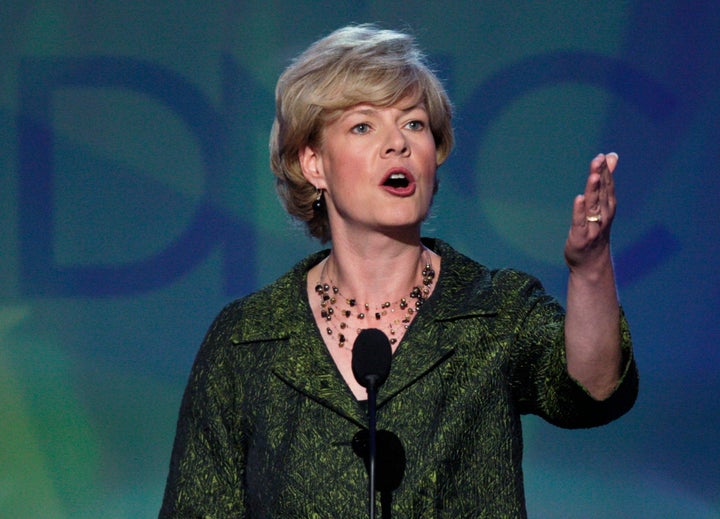 WASHINGTON -- After the bombshell announcement that a Waukesha County clerk forgot to report thousands of votes in Wisconsin's Supreme Court election, Rep. Tammy Baldwin (D-Wis.) is asking U.S. Attorney General Eric Holder to involve the federal government in the ongoing investigation.
Last Tuesday's election, which pitted conservative incumbent David Prosser against progressive candidate JoAnne Kloppenburg, appeared to end with Kloppenburg winning by a razor-thin margin, with initial results showing her just a couple of hundred votes ahead. But on Thursday, Waukesha County Clerk Kathy Nickolaus held a dramatic press conference and admitted that she had forgotten to report the votes of the city of Brookfield. The adjusted total gave Prosser a 7,500-vote advantage.
On Friday evening, Baldwin sent a letter to Holder, saying that many of her constituents had expressed concern about the announcement. She requested that the Department of Justice's Public Integrity Section, which oversees the federal prosecution of election crimes, investigate the handling of Waukesha County's vote records.
"For our democracy to endure, we, the people, must have faith in its laws and system of justice, including faith that our elections for public office are fair and free from any manipulating or tampering," wrote Baldwin. "Following this week's election for the Wisconsin Supreme Court, numerous constituents have contacted me expressing serious doubt that this election was a free and fair one. They fear, as I do, that political interests are manipulating the results."
A Justice Department spokesperson told The Huffington Post that they had received the letter and are reviewing the matter.
Prosser has not yet declared victory, telling WKOW 27 News that he will wait until a canvass of all vote totals and certification of votes are submitted. He also called the idea of a federal probe "preposterous."
But Baldwin and her constituents weren't alone in their concerns. Other groups immediately raised questions about Nickolaus' revelation. The Wisconsin Policy Research Institute's Christian Schneider, who broke the news in the National Review, pointed out that prior to the election, Nickolaus "was heavily criticized for her decision to keep the county results on an antiquated personal computer, rather than upgrade to a new data system being utilized statewide."
On the day of Nickolaus' press conference, the group Citizen Action of Wisconsin called for an immediate federal investigation and impoundment of all computer equipment, ballots, and other relevant evidence for fair vote count in Waukesha County.
In her letter to Holder, Baldwin cited many of the past controversies surrounding Nickolaus, as well as the fact that Prosser was essentially Nickolaus' boss while she was a data analyst and computer specialist for the Wisconsin Assembly Republican Caucus. Nickolaus worked for the caucus for 13 years. During some of that time, Prosser was either Speaker or Minority Leader.
On election night, Brookfield Patch reporters Joe Petrie and Lisa Sink reported that Prosser received 10,859 votes from city residents and Kloppenburg received 3,456 -- totals that exactly match what Nickolaus claimed she forgot to report when submitting totals for the county. HuffPost Pollster's Mark Blumenthal said it was perhaps "the most convincing evidence so far that human error explains the initial omission of Brookfield's results."
Many observers also pointed to the fact that Ramona Kitzinger, a Democratic member of the Waukesha County canvass board, stood with Nickolaus and attested that there was no foul play. But on Monday, Kitzinger herself raised questions, wondering why Nickolaus -- who said she discovered that she had not properly saved the Brookfield data on Wednesday -- didn't admit her error until Thursday.
"As I told Kathy when I was called into the room, I am 80 years old and I don't understand anything about computers," she wrote. "I don't know where the numbers Kathy was showing me ultimately came from, but they seemed to add up. I am still very, very confused about why the canvass was finalized before I was informed of the Brookfield error and it wasn't even until the press conference was happening that I learned it was this enormous mistake that could swing the whole election. I was never shown anything that would verify Kathy's statement about the missing vote, and with how events unfolded and people citing me as an authority on this now, I feel like I must speak up."
Support HuffPost
The Stakes Have Never Been Higher
Popular in the Community