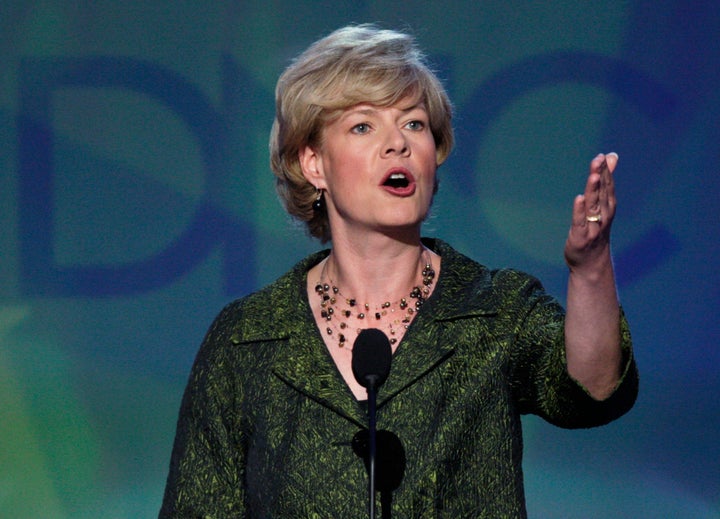 WASHINGTON -- Rep. Tammy Baldwin (D-Wis.) is set to introduce a resolution in Congress this week calling on the Obama administration and state attorneys general to ensure that any deal reached with the nation's biggest banks on foreclosure abuses includes full investigations into what happened, awards proper compensation to victims and provides no immunity for potential wrongdoing.
U.S. Attorney General Eric Holder and the state AGs have been working with the nation's five largest mortgage firms -- Ally Financial, Bank of America, Citigroup, JPMorgan Chase and Wells Fargo -- to settle disputes over potentially illegal foreclosure practices, such as the so-called robo-signing of foreclosure documents.
Baldwin's resolution states that any settlement should follow three guidelines: 1) Banks that engaged in fraudulent behavior "should not be granted criminal or civil immunity for potential wrongdoing related to illegal mortgage and foreclosure practices," 2) the federal government and state AGs should "proceed with full investigations into claims of fraudulent behavior by mortgage servicers" and 3) any monetary sum paid by the banks should "appropriately compensate for, and accurately reflect, the extent of harm to all victims."
"We have to do the best we can to make innocent victims whole. But secondly, especially in light of the taxpayer bailout of the biggest banks, we owe taxpayers a solemn effort to do everything we can do to uncover what went wrong and whether laws were broken," Baldwin said in an interview with The Huffington Post. "Part of that is to make certain this won't happen again. That, to me, is one of the most basic responsibilities we have."
According to news reports of a possible settlement between the parties, banks would pay around $20-25 billion in return for immunity from state lawsuits.
"While I can't discuss the details of our negotiations, I will say that we are negotiating a limited -- not a broad -- civil liability release. We are discussing additional ways to help homeowners while still holding the banks accountable," said Geoff Greenwood, spokesman for lead negotiator Iowa Attorney General Tom Miller.
Baldwin's resolution follows a letter she wrote to Holder on Nov. 1, in which she argued that the low sum being discussed in settlement talks would be insufficient to help underwater homeowners. Twenty-four of her colleagues in the House of Representatives joined her on the letter.
"These underwater homeowners owe roughly $750 billion more than their homes are currently worth," she wrote. "This $750 billion stands in contrast to reports of a $20 billion settlement with mortgage servicers. We are concerned that this $20 billion will provide little help to the estimated 14.6 million struggling homeowners who are underwater. Indeed, many of these families have been victims of outright fraud, and they deserve justice and just compensation."
Obama administration officials, such as Housing and Urban Development Secretary Shaun Donovan and Treasury Secretary Timothy Geithner, have repeatedly said they would like to see a quick resolution to the mortgage probe.
When asked why there is such a push for a settlement amongst some of the members involved in the probe, Baldwin replied, "What I've read is that there's an interest in resolving this prior to the next set of elections."
But, she cautioned, such a strategy could backfire. "I do fear that a settlement that is just a tiny drop in the bucket, given all the devastation that's occurred because of this, would have strong political ramifications," she said.
The negotiations originally involved AGs from all 50 states, but a handful of them have pulled out due to concerns reflected in Baldwin's resolution.
Congress is not directly involved in the negotiations, but Baldwin said it was important for the administration and the state AGs to hear from the people's representatives.
"I get a lot of constituents calling my office who are underwater in their mortgages, who are paid up but can't refinance, can't get lower interest rates. They're struggling financially because of the economy," said Baldwin. "Their calls aren't even responded to by the big banks. They'll call [my office] and say, 'How am I supposed to talk about these federal programs that are out there for refinancing and help for homeowners who are underwater, if my bank won't even call me back?'"
Baldwin is running for the U.S. Senate seat in Wisconsin being vacated by Sen. Herb Kohl (D) and currently has no Democratic primary challenger. The GOP field is more crowded: former governor Tommy Thompson, Wisconsin state Assembly Speaker Jeff Fitzgerald and former congressman Mark Neumann are all running.
Popular in the Community