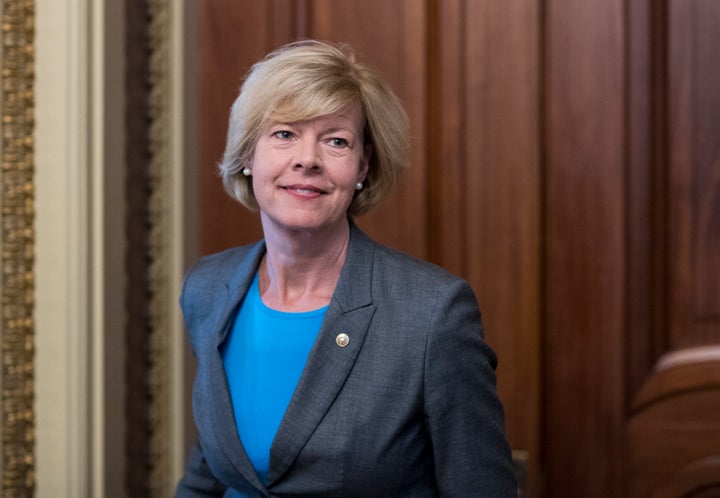 Senator Tammy Baldwin (D-WI), the only openly lesbian or gay U.S. senator, is voting "no" on three upcoming confirmation votes for anti-LGBTQ Donald Trump cabinet nominees.
"[There have been] a rampant number of instances of discrimination and hate crimes experienced by the LGBT community — and given Sen. Sessions record, both prior to his time in the senate and as a senator, opposing the expansion of hate crimes law, it gives me great concern," she said. "It's at a time when I believe we actually need to increase resources and focus on that part of the department of justice."
You can listen to the full interview here:
Baldwin is also concerned about how Sessions might investigate and prosecute hate crimes such as the massacre at the Pulse nightclub in Orlando last June, which left 49 people dead, most of them queer Latinx.
"The aftermath of the massacre at the Pulse nightclub that targeted LGBT Americans, Latinos was a hate crime where we saw at that moment, that tragic, tragic moment, we saw people unwilling to speak of it as a hate crime, and to acknowledge that it was a crime that was perpetrated against the LGBT community, the Latino community," she said. "It just says to me: we need to be increasing resources for prevention of hate crimes and enforcement of our hate crimes laws."
Though she is voting against Sessions, Baldwin said, "if he indeed is confirmed by the Senate ― and it is certainly a probability that he will be ― it is up to all of us to do our best to keep him accountable."
Sessions, whose confirmation vote was delayed by Senate Democrats but is now scheduled for Tuesday, has been opposed to just about every pro-LGBTQ measure during his tenure in the Senate, from the "don't ask, don't tell" repeal to job protections for LGBTQ people.
During his confirmation hearing, Sessions deflected from his own record and avoided speaking about LGBTQ equality by saying he would, as attorney general, "ensure that anti-discrimination 'statutes' for 'the LGBT community' are 'fully enforced'" ― though there are no federal statutes that protect LGBTQ people against discrimination in housing, employment and public accommodations.
REAL LIFE. REAL NEWS. REAL VOICES.
Help us tell more of the stories that matter from voices that too often remain unheard.
BEFORE YOU GO