 WASHINGTON -- It's been nearly 40 years since Pam Bin-Rella has flown on an airplane. But she broke with her routine in order to be in Washington, D.C. on Thursday to see her daughter, Tammy Baldwin, sworn in as the new Democratic U.S. senator from the state of Wisconsin.
"I'm thrilled. She's going to be so wonderful. I'm so proud of her," said Bin-Rella, who is in a wheelchair, at a reception in the Russell Senate Office Building for Baldwin's family and friends.
Baldwin takes the place of a Wisconsin institution, Herb Kohl, who served in the Senate since 1989, and follows in the footsteps of the legendary progressive Bob LaFollette, who also once held that seat.
But Baldwin herself has already made her mark. During the campaign, she tried to keep her message focused squarely on the economy and fighting special interests. Her election would be historic, but that wasn't why she was running. On Thursday, though, she took a moment to bask in her victory.
"I am proud to have the honor to have been sworn in just ... an hour or so ago as the first woman from the state of Wisconsin and as the first openly gay member to serve in the United States Senate in our nation's history," said Baldwin at her reception, to loud, sustained applause.
While Wisconsin has been known lately for its fractious political battles, differences were pushed aside on Thursday.
Sen. Ron Johnson (R-Wis.) escorted Baldwin into the chamber to take the oath of office, along with Kohl. Immediately after being sworn in and walking off the Senate floor, Baldwin ran into Rep. Paul Ryan (R-Wis.) near the elevators. The two gave each other a big hug, and the former GOP vice presidential nominee told the new senator, "Congratulations!"
While Ryan had campaigned for Baldwin's Republican opponent, Tommy Thompson, he and Baldwin were both elected to the House of Representatives in 1998 and have remained on friendly terms. He said he had just come from her reception and there were "lots of people" waiting for her there.
Ryan was a hit with Baldwin's family and friends at the reception, where people lined up to speak with him. Also at the gathering were Sens. Max Baucus (D-Mont.), Al Franken (D-Minn.), Amy Klobuchar (D-Minn.), Barbara Mikulski (D-Md.), Kirsten Gillibrand (D-N.Y.) and Chuck Schumer (D-N.Y.); Kohl; Obama adviser David Axelrod; Wisconsin Democratic Party Chairman Mike Tate; Human Rights Campaign President Chad Griffin and a host of former staffers who have worked for Baldwin over the years on campaigns and in office.
Baldwin was glowing on the walk over from the U.S. Capitol, chatting about a bet she and Johnson had made with Franken and Klobuchar about the upcoming Packers-Vikings football game.
When she finally arrived at her reception, two of her friends greeted her in the hallway, clapping and yelling, "Woooo!"
"I have relatives in all the branches of the family tree [here], and it's just so wonderful to see folks," Baldwin told The Huffington Post. "Twenty-plus relatives came in from all over the country. I also have my friend that I met on the first day of first grade at Shorewood Elementary School and friends from elementary school, middle school, high school, college. It's just wonderful."
When asked what she was going to do the rest of the day, the new senator said she would be celebrating with all the Wisconsinites who made the trip to Washington, but that it wouldn't be all fun and games: "We'll give a few media interviews also."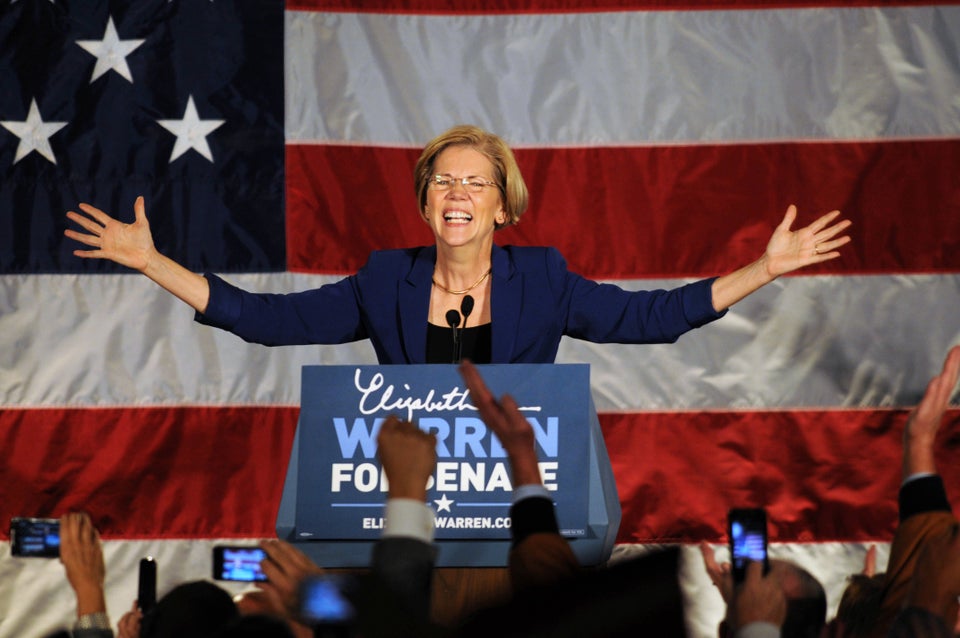 Women In The U.S. Senate
Popular in the Community