WASHINGTON -- For awhile, Wisconsin seemed to be getting redder and redder. In 2010, Republicans took over the governor's seat, and Ron Johnson denied progressive champion Russ Feingold another term in the U.S. Senate. While Democrats had a bit of success in recalling a couple of state senators and temporarily gaining control of that chamber, they ultimately lost out on the biggest prize: recalling Gov. Scott Walker (R). And with Rep. Paul Ryan (R-Wis.) chosen to be Mitt Romney's vice presidential running mate and former Wisconsin GOP chair Reince Priebus leading the Republican National Committee, the state's Republicans were riding high.
"We know what it takes to win on the ground here in Wisconsin," Priebus said at an early voting rally in Wausau last month. "I don't know how many times we need to win for the media to figure out that we're pretty good at winning here lately in Wisconsin."
"It's going to be by an inch ... but we're going to win here in Wisconsin," Walker predicted one day before the presidential election.
Republicans, however, did not win the two biggest races in Wisconsin. They lost both the presidential race and the U.S. Senate race, although they did hold on to the state Assembly and retake the state Senate.
While Democratic presidential candidates have won the Badger State since 1984, Republicans thought that with Ryan on the ticket, they had a chance of expanding the map and picking it up for Romney. Republican Tommy Thompson, a popular former governor and mentor to many young Republicans in the state, was presumed to be the frontrunner in his Senate race against Rep. Tammy Baldwin (D-Wis.).
President Barack Obama beat Romney by about seven percentage points in the state, and Baldwin won by approximately six points.
"We made this campaign and this race about the people of Wisconsin, and not a contest between two personalities or two parties," Baldwin said in an interview with The Huffington Post on Friday. "This was a fight for hard-working, middle-class families, for seniors, to protect Medicare and Social Security, for veterans, for people to have a strong voice and a fighter in Washington, D.C. on their behalf."
"All that, in combination with the fact that there are these enormous economic issues facing the country, where people were squarely focused on those," she added. "I think that's the biggest explanation of what happened in terms of Wisconsin coming out for President Obama and for me."
When asked whether those arguments were different than the ones Democrats were making in the recall elections, Baldwin replied, "I think the answer, in some cases, is yes."
While Ryan won reelection to his congressional seat on Tuesday, he did so by a smaller margin than in any of his previous races. His hometown of Janesville voted against him, supporting Obama in the presidential race and Democrat Rob Zerban in the congressional race.
As Craig Gilbert at the Milwaukee Journal Sentinel explained, "Ryan's huge national profile in a highly partisan role made for a more polarizing re-election race, costing Ryan some independent and Democratic votes that he won in the past."
On the presidential level, noted Patch's Lisa Sink, "neither Romney's gains nor Obama's losses were deep enough to change the outcome of the election." While Romney was able to pick up some more votes in Wisconsin than Sen. John McCain (R-Ariz.) did four years ago, they just weren't enough.
State Sen. Alberta Darling told WISN 12's Mike Gousha on Sunday that if Wisconsin's voter ID law hadn't been blocked for the 2012 elections, Romney may have won the state. Darling was a co-chair of the Romney campaign in Wisconsin.
"Absolutely. I think so," said Darling when Gousha asked whether voter ID would have "made a difference in the outcome" of the election. "We're looking at all sorts of different precincts and all sorts of same-day registrations. I know people will go, 'We don't have fraud and abuse in our elections.' But why can't we have voter I.D. when the majority of our people in Wisconsin wanted it? We passed it, the governor signed it. Why should one judge in Dane County be able to hold it up?"
GOP legislatures and governors pushed voter ID laws nationwide, although most of them were blocked ahead of the election. Democrats argued that Republicans were advocating for these laws because they would disproportionately suppress the vote of Democratic-leaning constituencies, such as students and minorities.
In 2014, Wisconsin Republicans will defend one of their biggest gains, the governor's office. Two years later, Johnson will be up for reelection. Baldwin said that in order for Democrats to have a shot at winning the seats back, they need to show that they can work across the aisle.
"Another lesson from this past Tuesday has been a rejection of gridlock, and a rejection of folks who go to Washington and put partisanship ahead of getting the people's business done," she said. "I think that as we move forward in these next couple of years, there will be scrutiny about who in the U.S. Senate and the House of Representatives remain the obstructionists, the ones preventing our country and our economy moving forward. And what will probably be the narrative of the next Wisconsin U.S. Senate race."
Before You Go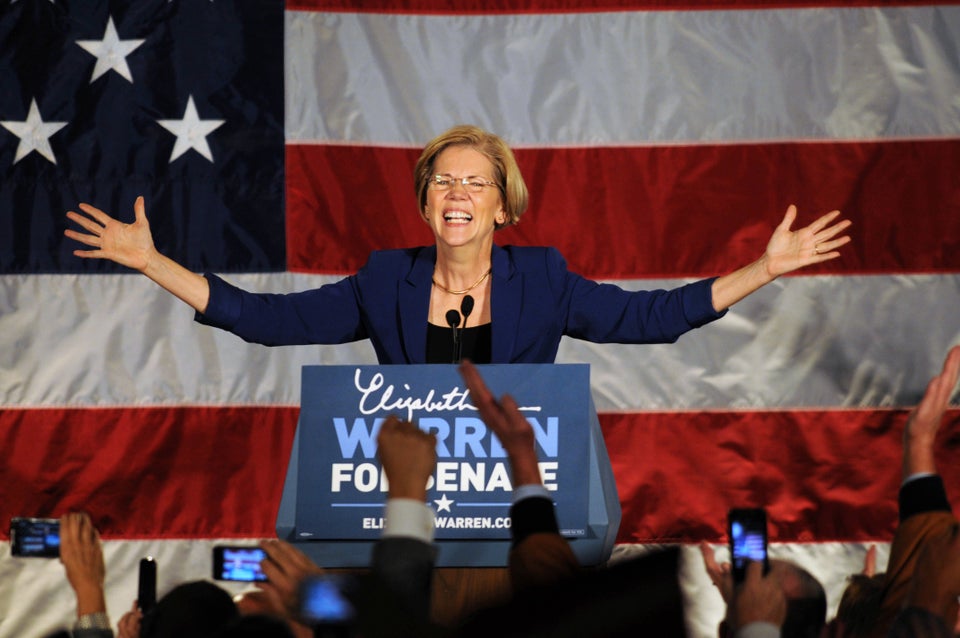 Women In The U.S. Senate
Popular in the Community