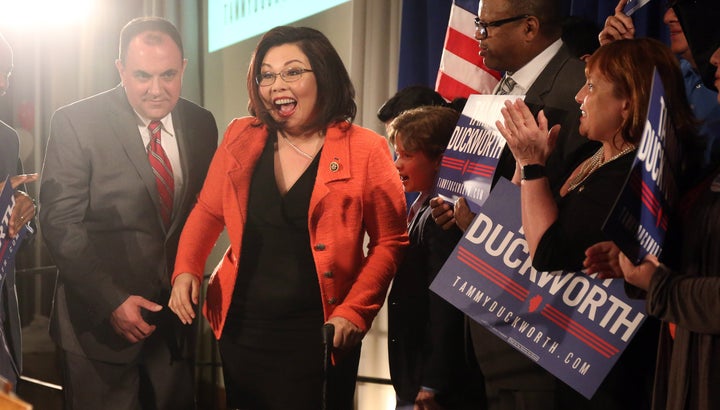 WASHINGTON -- Rep. Tammy Duckworth (D-Ill.) was greeted by a few dozen African-American protesters outside a Monday gathering in Chicago. They held up handwritten signs accusing the Senate candidate of ignoring their community and chanted that it was time for her to go.
But when they started talking to the press, something was off.
One demonstrator asked a Chicago Tribune reporter "whether Duckworth is a Democrat or a Republican" and said he was being paid "by the man who sponsored" the protest. Before he could say more, other demonstrators nearby told him to stop talking. The group then refused to answer questions about why they were there or if they were supporters of Sen. Mark Kirk (R-Ill.), whom Duckworth is trying to unseat in November.
Blue Nation Review, a progressive blog, reported that an attendee at Duckworth's event recognized some of the protesters as residents of a local homeless shelter. Demonstrators were also fine with accepting food from Duckworth's campaign. The Chicago Sun-Times observed that staffers brought out bacon and eggs after the event ended, and protesters munched away.
So who was leading these protesters, and were they being paid?
Sean Savett, a spokesman for the Illinois Democratic Party, passed along a video of the Kirk campaign's field director, Matthew Custardo, offering coffee and donuts to those demonstrating against Duckworth. Savett said a Democratic colleague who was at the event witnessed Custardo "organizing and encouraging the protesters."
Kirk campaign spokesman Kevin Artl said the campaign didn't organize the protesters or pay them. He confirmed that Custardo was there, but said he wasn't directing operations. Artl said Custardo was there as a tracker, filming the scene outside Duckworth's "unity breakfast" with local black leaders. Some Democratic state officials had planned to boycott the event because they didn't think Duckworth had done enough to prioritize the black community.
"We don't have a large staff, so the only one we assigned to track that event from our campaign was Matt," Artl said in an email. "We were trying to get a good idea of who was attending the breakfast and who was boycotting."
But Savett noted that former Kirk campaign staffer Jeff Coleman, who previously did urban outreach for the senator, was mixed in with the protesters. Savett also pointed to a second person in another video who he claimed comes to Duckworth events "all the time" to track activities for Kirk. That individual, who Savett said works for the conservative group America Rising, appears to be carrying a camera at Monday's event.
Artl emphasized that that tracker "is not on our campaign" and said it is "totally inaccurate" to say that Custardo was there to do anything but document people going in and out of the meeting. He also said there was nothing unusual about Custardo mingling with protesters and offering them coffee.
"There were 60 people outside protesting Tammy Duckworth -- you better believe we were going to talk to them, and I have no qualms about buying them a cup of coffee either," Artl said.
A Duckworth campaign spokesman did not respond to a request for comment.
This isn't the first time that things have looked sketchy in the Kirk-Duckworth race. In November, Kirk supporters were caught using a fake minimum wage petition to put his name on the ballot. The Kirk campaign denied any involvement.
The Illinois Senate race is shaping up to be one of the closest and most expensive races of the year. Polling from last summer showed Duckworth with a slight lead, and she raised more money in the last quarter of 2015 -- $1.6 million to Kirk's $1 million.
Calling all HuffPost superfans!
Sign up for membership to become a founding member and help shape HuffPost's next chapter
BEFORE YOU GO
PHOTO GALLERY
Women In The U.S. Senate