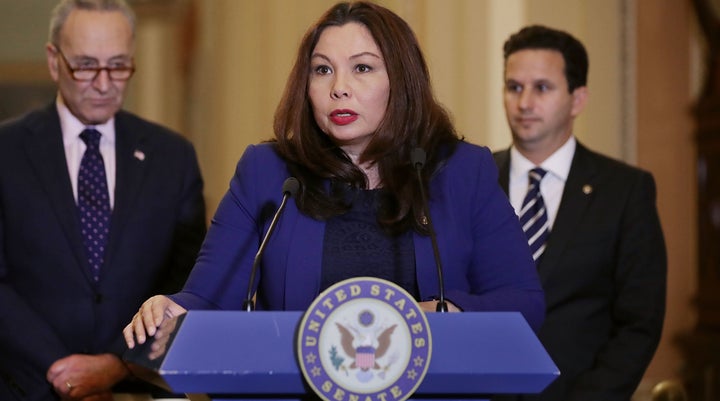 UPDATE: 7 p.m. ― The Senate unanimously agreed Wednesday to change its rules to allow senators to bring their infant children onto the chamber floor during floor votes, for which a lawmaker must be present in person.
Sen. Tammy Duckworth (D-Ill.), who became the first sitting senator to give birth while in office earlier this month, applauded the move, saying that the Senate was "leading by example" and that making accommodations for new parents was "a common-sense economic issue."
"I would like to thank my colleagues ... for helping bring the Senate into the 21st Century by recognizing that sometimes new parents also have responsibilities at work," Duckworth said in a statement. "By ensuring that no Senator will be prevented from performing their constitutional responsibilities simply because they have a young child, the Senate is leading by example and sending the important message that working parents everywhere deserve family-friendly workplace policies. These policies aren't just a women's issue, they are a common-sense economic issue."
Sen. Roy Blunt (R-Mo.), chairman of the Senate Rules Committee, said he was "glad we were able to get this done." He had expressed support for the change earlier in the week alongside the committee's ranking member, Sen. Amy Klobuchar (D-Minn.).
"Being a parent is a difficult job, and the Senate rules shouldn't make it any harder," Blunt said in a statement.
Previously: Sen. Tammy Duckworth (D-Ill.) made history earlier this month when she became the first sitting senator to give birth while in office. She wants to make history again by doing away with the archaic chamber rule that newborns are not allowed onto the Senate floor.
Her effort has gained what's become a rarity in Congress ― bipartisan support.
The Iraq War veteran submitted a resolution this week that would allow senators to bring children under the age of one onto the Senate floor. The resolution needs to pass the Senate Rules Committee and then be approved by the full chamber. If passed quickly, Duckworth would be able to vote with her daughter by next week. 
"As leaders of the Senate Rules Committee, we support Senator Duckworth's resolution and intend to move it swiftly through our committee," Senate Rules Committee Chairman Sen. Roy Blunt (R-Mo.) and Sen. Amy Klobuchar (D-Minn.) said in a joint statement on Tuesday, according to CNN. 
Politico reported that Senate leaders are ready to have the full chamber act on the request once the Rules Committee approves it. 
Duckworth told Politico in February that she couldn't "technically" take maternity leave because senators are required to appear in person to vote. 
"If I have to vote, and I'm breastfeeding my child, especially during my maternity leave period, what do I do? Leave her sitting outside?" Duckworth asked in the interview.
In a recent essay for Elle Magazine, she discussed how exhausting it can be to always be the "first."
"I have won historic elections, but it feels like these 'firsts' are so overdue," she said. "I never set out to be the first in anything, and with a lot of these 'firsts,' it really makes me wonder how it's taken so long. It also underscores how much farther we have to go to have representation in our government."
Calling all HuffPost superfans!
Sign up for membership to become a founding member and help shape HuffPost's next chapter