What would Calvin do without Hobbes?
After losing his own tiger plush toy at the airport, 6-year-old Owen Lake found himself asking the same question. But when the stuffed animal, who shares the name of the beloved comic strip character, Hobbes, was found, it was taken on an adventure around the airport by staff before being returned to its family, FOX 13 reported. When Owen's family retrieved Hobbes, they were presented with a photo album of all the tiger's escapes.
"It was very, very sweet," Owen's mother, Amanda Lake, told the news outlet. "We already told [Owen] over and over that Hobbes was on an adventure so it was nice to get back and show him that Hobbes really had been on an adventure."
Hobbes was left behind at Tampa International Airport when Owen was traveling with his family to Texas, Tampa Bay Times reported. Noticing the toy was missing after they'd already left Florida, Lake called the airport to report the stuffed animal.
"When Owen asked for Hobbes on the plane, my husband and I looked at each other and our hearts sunk," Lake said to the news outlet. "We knew he was left behind."
"I pitched this idea a couple of months ago after I saw a similar idea where someone took a stuffed lion around a museum," D'Aiuto said in a statement released by the airport. "This seemed like the perfect opportunity."
The plush toy stopped by the airport gym, information desk, bought some gelato, rode the luggage cart and even visited the control tower and fire department. When Owen and his family touched down in Tampa on Thursday evening, they were greeted with a hardcover book of all of Hobbes' adventures.
"Hobbes is one of a kind," Lake told Tampa Bay Times. "Owen really loves him. He's special, and we are so thankful for the airport and what they did."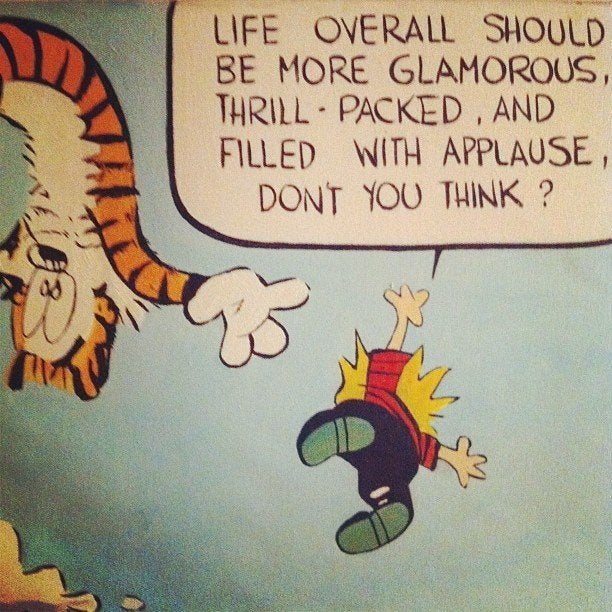 Wise Words From Calvin And Hobbes