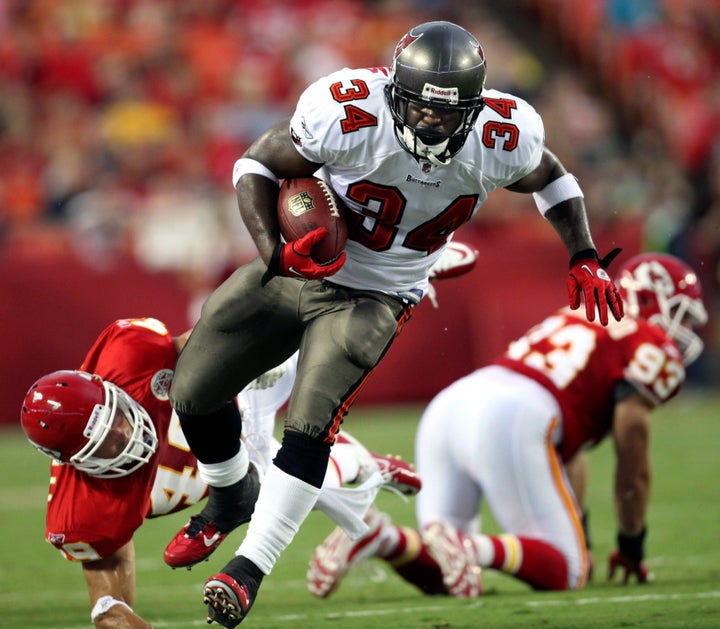 We Bucs fans were collectively biting our fingernails, I know, when the team was down late in the fourth quarter, but good ol' Josh Freeman saved the day!
When are we going to get a pass rush, folks? Am I right?
How about that Ronde Barber, ladies and gents?
Can someone stop the run already?! Michael Turner is only human!
Sorry, I had this post all prepared before the game. It seemed like such a sure thing.
Well, one out of four ain't bad.
Because, folks, Ronde Barber is en fuego. Seriously, that guy can play some football. Not only is he the player with the longest current streak of games started (since Peyton Manning's injury), but the guy is still a star on defense at the ripe old age of 36. Ronde had one interception this game (for 41 in his career) and had a second bounce off his fingertips. He also recovered a fumble and had 4 solo tackles.
But you know who else had a great game? The rest of the defense. I can hardly believe the words I am typing right now, but Dominik's build-through-the-draft strategy seems to finally be paying off. Rookie Mason Foster, in his first game as the official leader of the defense --with the headset and all -- had 3 solo tackles and 2 assisted tackles, a sack, and a hit on Atlanta QB Matt Ryan. And, hey, while we're talking about Matty Ice, the Bucs had a total of 4 sacks on the day and 4 hits on the QB. And now I shall pause. To let that sink in.
And who was responsible for those sacks? Rookie Adrian Clayborn, second-year Brian Price (who looked like a beast-and he's not even 100 percent healthy), and second-year Dekoda Watson, who was starting in place of injured Quincy Black.
So, the Bucs got pressure on the QB (and then some), but you know that sieve-like run defense these Bucs have been prone to in recent years? Not this time. Atlanta's star running back Michael Turner ran for only 20 yards on 11 carries.
The only really bad news on the defense (well, besides the one Atlanta series in which they marched 60 yards down the field in 2 plays for a touchdown, but all is forgiven since we won) was that Buc safety Cody Grimm and linebacker Geno Hayes were both injured on one play. Grimm's injury was grim (sorry, too easy), and he will be out for the remainder of the season with an ACL injury. Hayes suffered a concussion in the play, and there has been no news yet on his return next week.
The not-so-good news: Josh Freeman had an off day. To be fair, he did score his first ever rushing TD in the Atlanta game. (Though, seriously, how was that his first rushing TD?) And he threw for an acceptable 22/32 for 180 yards. But he also threw for 2 interceptions and missed quite a few open targets. It was a very un-Josh-like game. Maybe he works better from a deficit, as the Bucs were ahead the entire game. On the bright side, it's nice to know that Freeman doesn't always have to carry the team on his back.
Especially when the running game is healthy. LeGarrette Blount rushed for 81 yards on 24 carries. And what's more, when the Falcons tried to tackle Blount, he just kept his legs moving and pounded it out. And I know what you're saying, Blount is an enormous guy, of course he ran through the tacklers. But last year, Blount lept over tacklers; he had great difficulty running through them. So this was a great sign. Also a great sign? That offensive coordinator Greg Olson handed the ball to Blount 24 times. Blount it and wins will come. (That was supposed to be a Field of Dreams reference. Was it a stretch? It was, right?)
So what does this win mean? That the Bucs will win out their season, obvi.
Ok, no, it's not really anything more than a single notch in the W column, but my sense is that for young players even more than their older counterparts, winning begets wins. And a win against not just a division rival, but a division rival that confounded them the year before? Well, it certainly doesn't hurt.
Calling all HuffPost superfans!
Sign up for membership to become a founding member and help shape HuffPost's next chapter