 TAMPA, Fla. -- On Sunday, Tiffany Johnson and her boyfriend were trying to sleep in a downtown park when they were rousted by Tampa police. The cops gave them a stern wake-up call: Not only were they barred from the park, but they were not welcome anywhere near the Republican National Convention. In other words, they had to start walking.
"We had to get our stuff, and then we had to go a mile away or whatever from the facility, the area that was having the convention," Johnson, 30, told The Huffington Post in an interview outside Trinity Cafe, a Tampa soup kitchen. "I really didn't approve of it. We didn't have nowhere else to go."
In the Trinity lunch line, homeless residents rattled off a similar set of warnings that have been passed around by word of mouth: You can't wear a backpack. You can't be caught walking around deep within the sprawling security zone. The out-of-town cops brought in for the convention might be OK, but you have to watch out for the Tampa police. The cops are handing out trespassing charges like free water. You can only sleep north of the I-275 overpass. You can't sleep under the overpass.
For his part, Timothy Cory, 52, said police harassment of the homeless is just rumor. "It's more talk than facts," he said, adding that he's had nothing but cordial relations with the police since the convention started.
The Tampa Police Department did not return a request for comment.
Deputy Steve Donaldson, a homeless recovery officer with the Hillsborough County Sheriff's Department, said he has heard of no directive to clear the homeless from downtown. "There hasn't been a single order to bum-rush the homeless out of downtown," he insisted. "And there never has been."
But other homeless residents disagreed and said they've experienced or witnessed harassment up close.
"We had problems with the police before all this happened -- but not as bad as it is now. You really ain't got nowhere," explained Mike, 54, who declined to give his last name, speaking at Trinity. "They told us to come from downtown up this way. We come up this way, we still ain't got nowhere to sleep." You just have to keep moving, he said.
Three homeless men who had come to Tampa from Ohio looking for work told HuffPost that they were stalked Tuesday morning by more than 10 cops when they went to a CVS store downtown. They had money, they said. They just wanted to buy a stick of deodorant and a pack of cigarettes. They said the officers followed them from aisle to aisle -- one at each end with a group of cops clustered at the store's entrance. "We're not doing anything wrong," said Matt, 30, who was afraid to give his last name.
"There are certain sections [of Tampa] we can't get into," said Delwin Cole, 57.
The convention has cost the homeless not just regular sleeping spots and peace of mind. In some cases, it has cost them their belongings. The homeless used to squat near Trinity Cafe along the street. The police recently put a stop to it.
Cole said that just prior to the convention, city garbage collectors showed up with a police escort. They moved down the street throwing away any belongings left unattended. In one instance, he said, a woman claimed her possessions but the city workers tossed them anyway. The workers seized a lot of stuff. Cole wasn't the only person who registered this complaint.
Deputy Donaldson said he isn't familiar with the incident, but he noted there is precedent for such police actions. "You are living on someone else's property whether that's public property [or not]," he said. "You can't accumulate belongings on a sidewalk and leave them there. The consequences are unfortunate, but that's the reality."
Cole said police intimidation has had one unintended effect: It hasn't just cleared out people's possessions. It has kept away support services and outreach workers who would normally visit to offer aid.
According to the Homeless Coalition of Hillsborough County, the 2011 census counted 17,755 homeless residents. Although the local government has received millions in public money to host the convention, Cole suggested that none of it has trickled down to the residents who need it most. Tampa, the largest city in the county, had promised to hand out 10-day vouchers to stay at the Good Samaritan Inn, several blocks from Trinity, during the convention, Cole said. But he hasn't seen them.
John Watson, the Good Samaritan Inn's owner, told HuffPost that there were no vouchers. A man and his pregnant girlfriend had shown up recently with a voucher, Watson said. But soon after, county officials called to cancel it. He offered the boyfriend a room anyway. The girlfriend was able to sleep on a couch across the street at a small women's shelter known as the Annex.
Phyllis Brown, 58, the assistant house mother at the Annex, said the woman appeared to be four months pregnant. She stayed just one night.
From what she's observed, Brown said, city officials do not want the homeless anywhere near the Republican convention-goers. "I know they don't want them downtown," she said. "We've seen a lot of people we don't normally see. It's not even wise to go downtown. It's not a good idea. They will flat run you out."
Support HuffPost
The Stakes Have Never Been Higher
Before You Go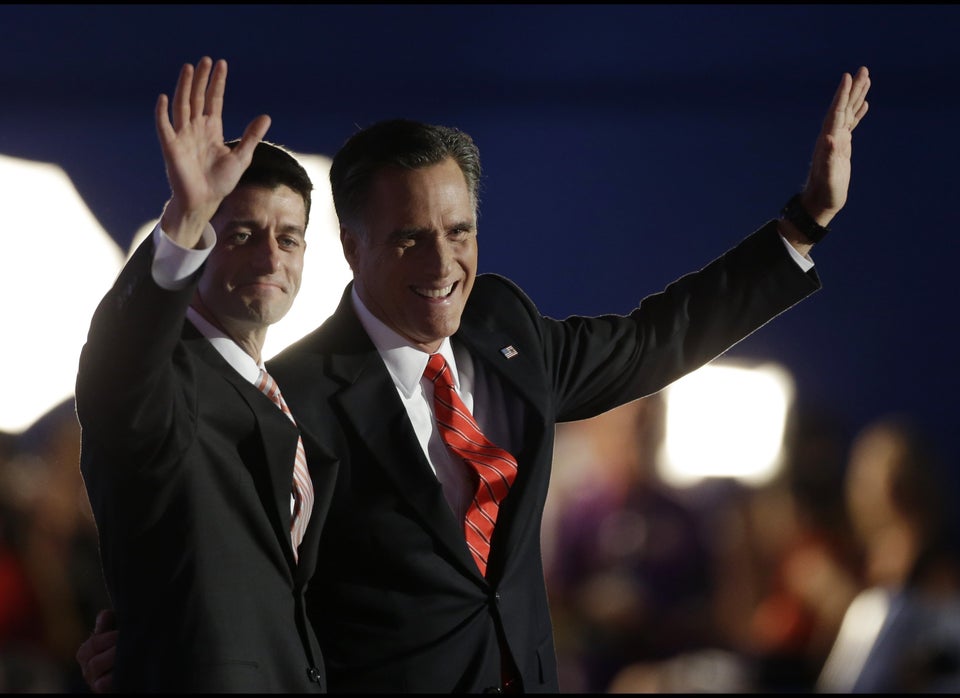 Republican National Convention 2012
Popular in the Community