As the Gulf Coast waited for Tropical Storm Isaac to make landfall Monday, strip club owners and "exotic" dancers in Tampa anticipated a windfall of 'stimulus' spending as the Republican National Convention gets underway.
Extra strippers have been hired. Delegate discounts have been offered. And patriotic decorations, like the GOP elephant logo posted at the entrance of the 2001 Odyssey strip joint, have been put in place. (HuffPost first reported on the efforts of Tampa strip clubs to get ready for the convention in 2011.)
"We're amping up for it," Todd Trause, manager of the 2001 Odyssey club, told the New York Daily News. "We've got extra girls coming in. We've made sure to have everything in the best condition."
Despite predictions that baudy business would be triple that of Super Bowl weekend, though, by Monday Tampa's 20 or so "gentleman's clubs" reported no bump in business.
"I'm sure it's the hurricane," said Vicki Baham, manager at Tampa's most famous strip joint, Mons Venus, where owner Joe Redner introduced the lap dance. "People are freaking out about it."
Still, strip club owners have placed ads encouraging Republican delegates "to party like a liberal," says CNN.com. Not that that would be good for business.
According to the Association of Club Executives, which represents 4,000 strip clubs, when it comes to national political conventions, Republicans outspend Democrats three-to-one. The group says members of the so-called family values party -- whose platform calls for vigorous enforcement of anti-pornography and obscenity laws -- plunk down on average $150 per person compared to $50 for Democrats.
Many exotic dancers can expect to clear $1,000 a night or more during the convention, double their usual take, the Daily Mail reported.
With those kinds of spenders coming to town, it's no wonder Tampa sex businesses are sprucing up.
One high-end escort who charges $500 an hour told WUSF that she redid her website to appeal to Republican clientele.
One strip club, Thee Dollhouse, just finished a $1.5 million renovation and has outfitted its waitresses in red, white and blue Wonder Woman corsets. But its biggest attraction is a Sarah Palin lookalike who has made career out of impersonating the former Alaska governor in the buff. While the 2008 vice presidential nominee is notably absent from this year's convention roster, porn start Lisa Ann, aka Serra Paylin, will strut her stuff for Republicans this week.
'We live in a pretty recession-proof business,' the adult film star told the Daily Mail.
Related
Before You Go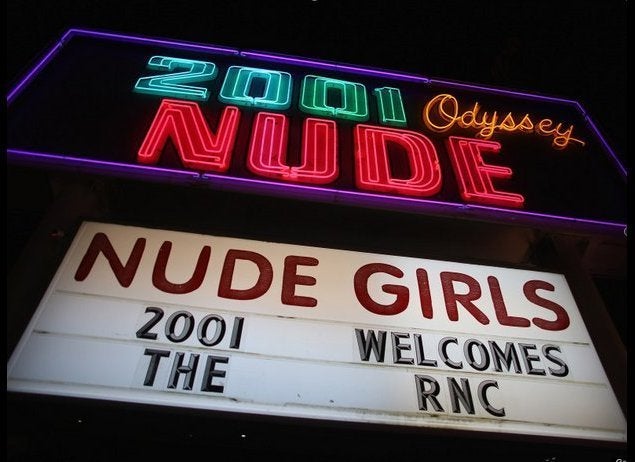 Tampa Strip Clubs Welcome RNC
Popular in the Community