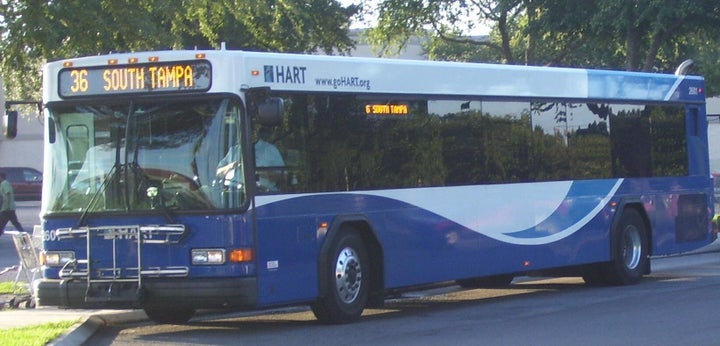 THONOTOSASSA, Fla. -- Having spent most of his life in a low-income neighborhood on the outskirts of Tampa, Raymond Smith has long recognized that being poor in the suburbs is quite a bit different from being poor downtown.
"It would be good if we had a bus that run out here," the 51-year-old Smith lamented as Hurricane Isaac blew past town on Monday, spitting rain on his neighbors who had to bike to the store or to work. "There's no transportation, and it's a lot of people out here. Things are tight."
Smith's freelance work for the afternoon underscored the economic challenges of living in a place like Thonotosassa. He had enlisted a friend with a pickup truck to help him haul another friend's broken-down Geo Storm to the shop. If all went well, the latter friend would be able to get to work once again, and Smith, for his part, would earn a few much-needed dollars to supplement his part-time gig as a fry cook down the road.
"There are no jobs out here," Smith said, tying a rope to the well-aged Geo and echoing a lament offered by many of his neighbors. "But there's a lot of people willing to work. A lot of people got laid off."
Just 15 miles from downtown Tampa, Thonotosassa seems a couple of worlds away from the festivities surrounding the Republican National Convention this week. As the delegates tap Mitt Romney as their official nominee, the GOP ratified a party platform that addresses poverty primarily by tying work requirements to public assistance.
But residents in the grittier pockets of Thonotosassa said the problem isn't a supposed dependency engendered by welfare and food stamps -- there simply aren't enough jobs to go around. The city has a 9.1 percent unemployment rate, the county 8.4 percent -- both above the national average. And for many without cars outside the city, the jobs that are there are inaccessible, thanks in part to a lack of public investment in local transportation -- a catch-22 bedeviling the unemployed in metro areas across the country, as municipal belt-tightening isolates the less fortunate.
And for some people north of the highway running through town here, life has been getting more difficult. As the Tampa Bay Times reported last year, the neighborhood's poverty rate leaped from 15 percent in 2000 to 40 percent a decade later, adding it to a class that the Brookings Institution classifies as "extreme poverty." Although Americans still think of stark poverty as a mostly urban problem, poverty rates have been growing much faster in suburbs such as Thonotosassa, worsened by the housing bust and Great Recession, as HuffPost has reported.
"Particularly in the Sun Belt metro areas, in Florida after the housing collapse, we saw big increases in unemployment and poverty rates the last few years of the decade," said Elizabeth Kneebone, a senior researcher at Brookings. "Poverty in the suburbs was already growing, but then after 2007, it really pushed upward, with almost a five percentage point increase in [Tampa's] suburbs."
Although it includes solidly middle-class subdivisions, parts of Thonotosassa were poor before the downturn, only to become worse off. Many residents live in a handful of trailer parks, deemed "RV resorts," where a full trailer and a lot can be rented for just a few hundred bucks a month.
But aside from a few gas stations, the spare auto shop and a nearby Winn Dixie and Dollar General, there aren't many jobs within the immediate area. Those that are here tend to be lower-paying service industry positions. A lot of residents say they do odd jobs like yard work to get by.
Chino Moran, 40, said a cheap trailer was one of the main draws to Thonotosassa. He moved to the area about five years ago and does freelance handyman work. The past couple of years have been hard, he said. On Monday afternoon, he and a friend, who was on temporary leave from his painting job while Isaac rolled through, were clearing junk out of a trailer yard that the owner was prepping for a short sale. Asked if there was much good work to be found in the area, Moran laughed and said, "Look at what we're doing."
"I'm a mechanic, I put myself on Craigslist," Moran said. "It's hard. Not many people wanna spend a lot of money on working on a car. I'll give you a discount. I'll cut you a good deal. Instead of doing $60 dollar brakes, I'll do $40 brakes."
Plenty of residents in the area don't have a car to begin with, exacerbating whatever employment problems they may have. Several residents, when quizzed about the local economy, immediately cited the lack of a nearby bus line as one of their woes. The city's closest route stops running about four miles away, meaning anyone who's carless and works in the city would have to hitch a ride or bike to the city's transportation network.
Even then, a long commute may lie ahead. Another Brookings study, released last month, found that in major metro areas, only about a quarter of residents can reach the typical job within 90 minutes riding public transit. The sprawling "suburbanization" of jobs across regions, the report noted, was making it harder for lower-income workers to get to where the jobs are. (Tampa, in fact, has better transit coverage than most other southern cities.)
"They really do need a bus system out here. If they just came a little further, it would mean a lot to folks around here," said the office manager at one of the trailer parks in Thonotosassa, who declined to give her name. "A lot of them ride their bikes to get around. This area is pretty low-income as it is."
Even though Thonotosassa lies just a few miles outside of a major city, a lot of locals like to say they live "out in the country," and they sound a note of self-reliance when they talk about the down economy. That includes Cindy Bishop, 47, who's among what she describes as a small group of homeless in the area.
"There's nothing out here -- people willing to work, but there's no work," Bishop said. "It's getting worse. Gas prices are too high, food prices are too high. If you're only going to make $7 an hour, it won't go nowhere. By the time you pay rent and put groceries on the table, it's gone."
Despite all that, "You find a way," she added. "We're just all trying to survive."
Raymond Smith said he's been getting by on odd jobs here and there. He's grateful to have his cook job at a flea market he bikes to down the road, but the position is only part time and doesn't offer health coverage. Still, he, too, prefers living "out in the country," rather than in more job-rich confines, in part because out here you can find a friend to lend a pickup when you need to haul a busted Geo to the garage.
"One hand washes the other," Smith said. "We have to help each other out here -- that's our best means -- or we don't get anything accomplished."
Calling all HuffPost superfans!
Sign up for membership to become a founding member and help shape HuffPost's next chapter
BEFORE YOU GO
PHOTO GALLERY
Republican National Convention 2012