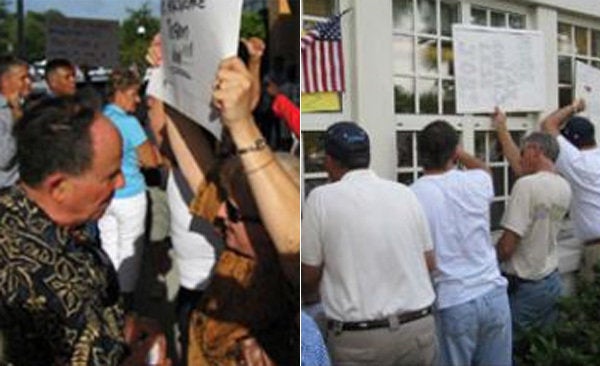 Note: Several hours after this story was posted on Thursday night, the Tampa Tribune removed a reference to protesters carrying signs that depicted President Obama as the Joker. Yet one conservative blogger who attended the event reports seeing several people "with signs depicting President Obama as the Joker."
Police officers were called to calm down an unruly crowd outside a health care reform town hall meeting in downtown Tampa, Florida on Thursday evening, according to local news reports.
Angry protesters screamed, yelled and banged on windows as officers hurried to guard the entrances to the facility, where U.S. Rep. Kathy Castor was trying to discuss the various health care reform proposals being debated in Congress. One photojournalist said that a fistfight broke out inside the building, reports WTSP.
Many of the hundreds of protesters said that they had been inspired by a conservative activist group promoted by Fox News host Glenn Beck and some received emails from the county Republican party, according to the St. Petersburg Times:
Instead, hundreds of vocal critics turned out, many of them saying they had been spurred on through the Tampa 912 activist group promoted by conservative radio and television personality Glenn Beck. Others had received e-mails from the Hillsborough Republican party that urged people to speak out against the plan and offered talking points to challenge supporters.
The spectacle at the Children's Board in Ybor City sounded more like a wrestling cage match than a panel discussion on national policy, and it was just the latest example of a health care meeting disrupted by livid protesters.
The Tampa Tribune reports that some protesters carried racist caricatures of President Obama and added details of more fights and scuffles:
Several of the protesters' signs bore an image of Obama with his face painted as the Joker, an image that drew protests of racism locally when it appeared on a Web site thought to be associated with the Pinellas Republican party.

There were at least two scuffles between protesters trying to enter and organizers manning the doors.

One of those involved in a scuffle, Randy Arthur, of Oldsmar said he was injured by those manning the doors and said he would file a police report... Randy Arthur, who owns an air conditioning service company, later talked to police officers, his knit shirt ripped and a few scratches visible on his chest. "They slammed him into the wall,'' Kathy Arthur said.
Watch this video shot inside the raucous forum:
Watch this video report from the local Fox affiliate:
Popular in the Community