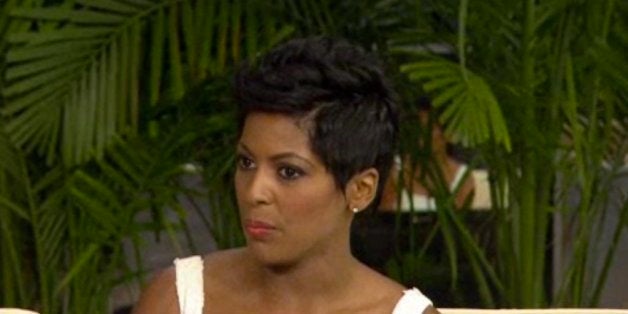 Audience members reported that Tamron Hall exhibited "total grace" when she was hit with a journalist's insensitive response to the details of her sister's murder.
During a Television Critics Association panel Thursday morning in Pasadena, Calif., Hall was reportedly opening up about her memories of the 2004 tragedy when a reporter responded, "That's all nice, but can you answer my question?"
Details: Tamron just detailed the murder of her sister and a journalist responded "that's all nice but can you answer my question"

— AJ Marechal (@Variety_AJM) January 9, 2014
The Wrap reported that during the panel, Tamron was speaking about her regrets for not acting sooner against her sister's attacker.
"I should have hugged my sister, and I should have found help for her," she said.
The Wrap's Tim Molloy identified the reporter as television critic Jonathan Storm. Hall spoke out about her sister's murder in August while discussing her new show, "Deadline: Crime with Tamron Hall," which is set to debut in September on Investigation Discovery.
Those who witnessed the panel said that although the moment was difficult to watch, Hall remained calm:
I really want to explain to you guys how bizarre and awkward this incident with Tamron at #TCA14 is right now but I am at a loss....

— AJ Marechal (@Variety_AJM) January 9, 2014
extreme praise for @tamronhall who not only gets up at an ungodly hour every day but handled that horrendous #TCA14 moment with total grace.

— AJ Marechal (@Variety_AJM) January 9, 2014
@TVjstorm's response as Tamron Hall talks about her sister being murdered: "That's all very nice." But she keeps it together. #TCA2014

— Tim Molloy (@TimAMolloy) January 9, 2014
After a journalist treated @tamronhall so rudely this morning, she should get a show on American Heroes Channel. #TCA14

— Diane Gordon (@thesurfreport) January 9, 2014
Hall took to Twitter after the event to thank her supporters:
UPDATE: January 13, 12:10 p.m. -- Jonathan Storm, the reporter who allegedly made the statement, commented on this article with the following explanation:
"Here's why I was so 'rude' to Tamron Hall: I find it beyond heinous that someone would turn the murder of their relative into a career move, basically saying, 'Watch my show because I have the personal experience that others don't, and because of that I am on a mission to prevent violence and a capture criminals and I am more qualified than other TV personalities to do that.' Hall was pre-programmed to tell that story at the session no matter what question was asked in a calculated, and apparently successful, effort to garner sympathy and publicity from the TV writers in the room. I have the same feeling for John Walsh, the 'America's Most Wanted producer who has made a career out of the death of his child. These people are television personalities. They are making a lot of money. And, in my view, they are prostituting themselves making lurid TV shows that demean the memory of their relatives."
Calling all HuffPost superfans!
Sign up for membership to become a founding member and help shape HuffPost's next chapter
BEFORE YOU GO
PHOTO GALLERY
NBC's New Shows