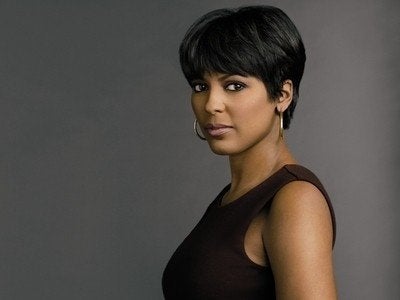 In honor of National Domestic Violence Awareness Month, MSNBC anchor Tamron Hall has opened up about her sister Renate, who was murdered in an apparent domestic violence incident.
"I have heard the stories. I have seen the pain. I have watched a loved one suffer in an abusive relationship, and ultimately die because she just could not bring herself to leave," Hall wrote on TheGrio.com.
Renate, my fun-loving, energetic and streetwise sister is my inspiration for this story. She was found one Sunday morning, facedown in her backyard pool. Her hair had been pulled from the back of her head. Her nails were broken on every finger, indicating that she had fought back. But whom had she been fighting? I will never learn in the form of official charges, but what I can say about her death is that the only person ever considered a suspect or person of interest in the case was the man she loved. She often remarked that they had a "love-hate relationship," and that they would "break up to make up." Sadly, on that day, Renate's view of love ended in struggle and pain. My father always believed that justice would eventually be served, but he passed away only a few years after Renate, and his dream of seeing her killer brought to justice will never be realized.
Hall has a new branded hour, "News Nation with Tamron Hall," on MSNBC at 2PM weekdays.
Popular in the Community