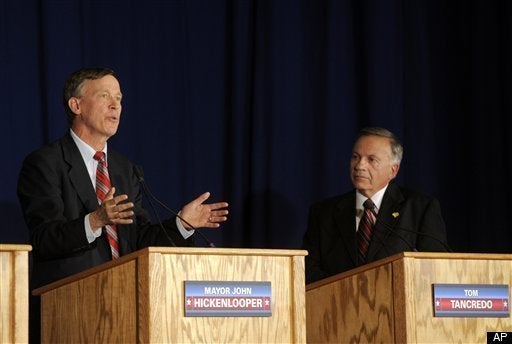 A new poll from Public Policy Polling (PPP) has American Constitution Party Candidate Tom Tancredo trailing Democrat John Hickenlooper by just three points.
The poll, which surveyed 818 likely Colorado voters from October 21st to 23rd, showed Hickenlooper receiving 47% of the vote to Tancredo's 44%, with Republican Dan Maes slipping to just 5%. That's a stark contrast to PPP's poll from earlier this month, which showed Hickenlooper with a comfortable 47-33 lead over Tancredo.
Since that time, Tancredo has continued to benefit from the steady demise of Maes's campaign due to a series of gaffes and distractions. As PPP's Tom Jensen notes, he has also seen his own popularity increase from a 27/50 favorable/unfavorable rating in PPP's August polling to a 45/44 rating in the latest survey.
The poll has a 3.4% margin for error.
On Sunday, the Denver Post and 9News released the results of a Survey USA poll that showed Hickenlooper with a ten-point lead.
PPP also showed Democrat Michael Bennet and Republican Ken Buck tied at 47%. This is the exact same result as the Denver Post/9News poll released on Sunday.
Related
Popular in the Community