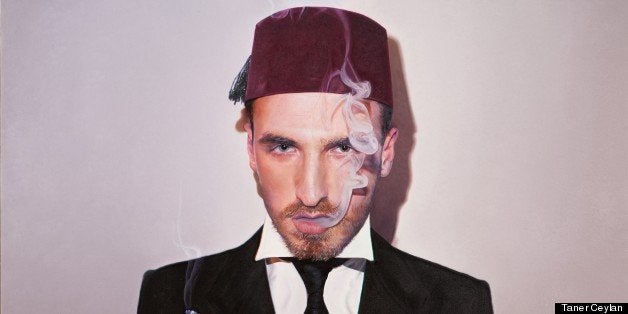 Turkish artist Taner Ceylan wields a paintbrush like the Old Masters, creating light-drenched artworks dripping with color and weighed down by history. His portraits of Ottoman princesses and Turkish paschas create intriguing, quiet narratives from former times.
Yet Ceylan's works are undeniably contemporary, touching on themes of Orientalism, queer culture and Turkish nationalism. Erotic as they are hyperreal, his canvases are dominated by gazing subjects; male lovers and transgressive females who defiantly return the viewer's gaze.
Ceylan will be venturing from his hometown of Istanbul to New York this fall for an exhibit titled "Lost Paintings" at Paul Kasmin Gallery. In anticipation of his show, we spoke with the artist via Skype, who was eager to discuss the current state of affairs in Taksim Square. Scroll down to read Ceylan's views on art, politics and more.
PHOTO GALLERY
Lost Paintings (NSFW)
What types of activities have you been involved with in Gezi Park?
Everyday we are simply on the streets protesting the government. Yesterday was Pride Day so we were on the streets for that too. The crowd had 50,000 people. It was incredible. The protests are getting bigger and bigger. And the protesting styles are changing. Last week a man stood in front of Taksim Square from morning to evening to the late night. He was only one man -- we call him the Standing Man. But the next day, more people started to stand still. And the government can't do anything to them, because the protesters are so against violence in every way.
How would you describe the general political atmosphere in Turkey?
It is very electric now. There is a whole new generation in Turkey who were born in the late 1980s and '90s. They have nothing to do with politics really, instead they are the internet youth. It is the same in New York, Berlin, Tokyo. The youth there are all speaking the same language. In Gezi Park there are LGBT, there are New Muslims, New Muslim Youth. There is a group calling themselves the Anti-Capitalist Muslims. And they are there all together in peace. It is just amazing. Normally in Turkey this was nearly impossible.
What is the artist's role in the protests?
Actors and actresses, opera singers, classical musicians are very involved in the protests. Because in the last few years many theaters and historical cinemas were closed. The biggest cultural center -- closed. Which meant a lot of artists were without jobs, so they are standing in front of the protests. But the government and the press that is near to the government are targeting artists. They are trying to say that these artists are against us. That they are spies within us. But they are just innocent artists. Artists like me -- painters, sculptors, video artists, conceptual artists -- they are also on the streets, trying to be a voice.
Do you feel like, as an artist, you have a certain obligation to take on political issues in your work?
In the last five years the intellectual climate has really changed. It became conservative and therefore all artists, or most, began to censor themselves. I myself received death threats. It's not easy to paint and produce art here because there is not enough freedom of expression. To exhibit in Turkey is nearly impossible. I can't imagine that I can exhibit paintings like I did 10 years ago. Then I had very successful exhibits, but now that is nearly impossible. I lived for three months with bodyguards.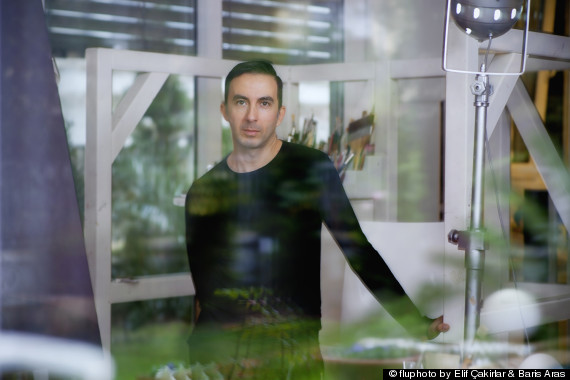 In the biography for your upcoming exhibit at Paul Kasmin you're described as being the first artist to introduce overtly erotic imagery in modern day Turkey. Why is this the case, in your mind?
Erotic images were painted, but homoerotic images were not done before me. Homosexuality it is a difficult thing in Turkey. It is not forbidden, but you must know where the spaces that it is acceptable are. As an artist there are very little communities of collectors and galleries, and they are mostly very conservative. When I came here and started to paint like this, they were shocked. I was a lecturer at a university and they fired me for my paintings. But the market of collectors started to like me because this type of imagery was not seen before.
What draws you as an individual to this imagery?
I was a young gay man and... I painted like this because it was so easy for me. I started at university, at the fine arts academy here. I was a beloved student, my professors loved me. Until the last year. I tried to paint what I wanted -- homoerotic imagery; erotic but in a classical way. They thought I was a perverse guy for painting like this.
Do you have a favorite painting that will be on view at Paul Kasmin?
I guess the first painting, "1881," is one of my favorite paintings. It is of a pascha smoking and wearing a fez on his head. Perhaps you've seen this?
Yes, in the painting the man is gazing powerfully at the viewer.
Yes, this painting is very important. All of the series began with this. See, up to this day, the Ottoman aristocrats were painted in a very clear way. They were very straight guys. But in my painting you can see a very dirty man, looking directly at the viewer, saying, "I can do anything for money. I can sell even my country for money." The date, 1881, is when Ataturk was born -- the builder of the modern Turkish republic. But this kind of guy, the aristocrat, still exists today. They will still do anything for money. I created this painting in the style of Nan Goldin or Terry Richardson or Wolfgang Tillmans. The subject is historical but the light is contemporary.
These are artists who certainly emphasize the subject's gaze in their work. Are there any other contemporary artists who inspire you?
My gurus are the Old Masters, like [Johannes] Vermeer. I also like Balthus and Paul Delvaux. And Turkish artists. Nur Kocak was one of the first hyperrealists from the '60s. Also Mahmut Cuda. I really like contemporary photographers like Goldin, Richardson and Tillmans, but also Helmut Lang, and painters like Jenny Saville or John Currin or Elizabeth Peyton.
Taner Ceylan's "Lost Paintings" will go on view from September 18 - October 26, 2013 at Paul Kasmin Gallery.
Calling all HuffPost superfans!
Sign up for membership to become a founding member and help shape HuffPost's next chapter