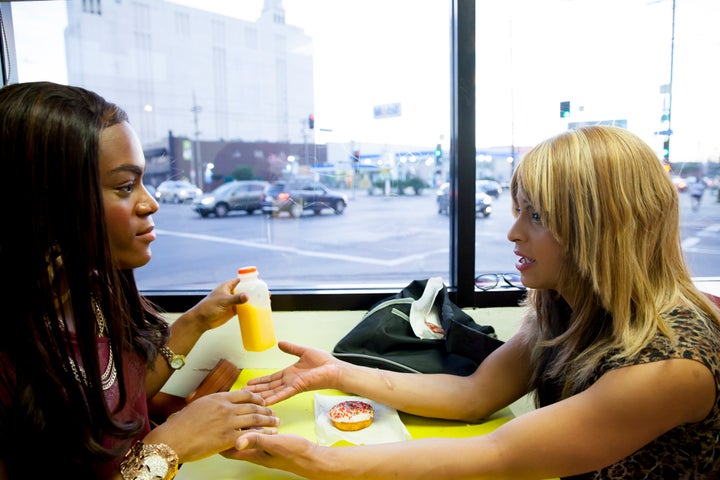 "Tangerine" takes its name from the hyper-saturated orange hues that define the film, a kinetic thrill ride that unspools over the course of a single day through the seedier streets of Hollywood. The colors are some of the few post-production effects the movie boasts, seeing as it was shot solely on iPhones using a Steadicam, an $8 filmmaking app and not a whole lot else.
But that's hardly the most interesting thing about "Tangerine." That superlative belongs to its central duo: transgender sex workers who reign over the intersection of Highland Avenue and Santa Monica Boulevard. Sin-Dee Rella has just been released from a 28-day jail stint when her best friend Alexandra reveals that Sin-Dee's pimp boyfriend, Chester, has been unfaithful during her absence. When Alexandra says Chester slept with a woman born with a vagina, Sin-Dee bolts out of the doughnut shop where the two are celebrating her freedom. Alexandra urges her to bypass the dramatics, but with no such luck: So begins a foot chase for Chester and Dinah, the "fish" -- slang for a cisgender female -- with whom he cavorted.
"Tangerine" is part buddy comedy, part revenge quest and part identity-politics lark. Sean Baker, the co-creator of Fox's "Greg the Bunny" and director of celebrated indies like "Take Out" and "Prince of Broadway," set out to make a film about a part of Los Angeles not defined by picturesque palm trees and the magisterial Hollywood sign. Baker was fascinated by this particular intersection, which for years has been a hotbed for trans sex work. As straight, white, cisgender men, he and frequent writing partner Chris Bergoch knew they needed a collaborator familiar with the area's culture. Approaching people on the street proved futile, so they wandered over to a nearby LGBT center. There, Baker instantly "gravitated" toward a transgender woman named Mya Taylor, an aspiring entertainer who had never acted before, but was game for whatever Baker and Bergoch wanted.
Taylor has never been a sex worker, but she is friends with plenty of women stationed along the very streets Baker and Bergoch sought to depict. The trio would meet at a nearby fast-food joint and hear anecdotes about Taylor's life, which the Texas native told The Huffington Post is full of "dark-ass shit." One day, she brought along Kitana Kiki Rodriguez, another transgender woman who had never acted, and Baker knew he'd found the movie's leads, as well as its main plotline, when Rodriguez recounted a story of a trans woman who wanted to hunt down the fish who'd slept with her man and tell him to "fuck her in front of me." Two weeks later, Baker and Bergoch brought the ladies a treatment, and except for amendments to the characters' vernacular, they were off to the races, with Taylor playing Alexandra and Rodriguez portraying Sin-Dee.
At that point, the project had secured a microbudget through Mark and Jay Duplass' production company, which supports inexpensively made films. Baker couldn't find additional financing elsewhere, so he was left with less than half the budget of his previous feature, "Starlet," which cost a paltry $235,000. Knowing he wanted to pay the actors properly, he decided to substitute professional cameras for three iPhone 5s's. Instead of dollies, Baker rode his bike around to capture sweeping shots of the neighborhood. And to avoid costume changes, the story had to take place over one day (Christmas Eve, as it turns out).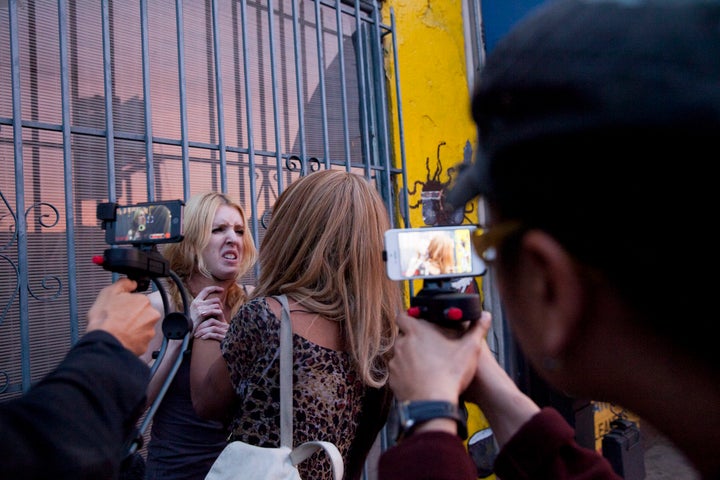 Baker happening upon Taylor at the LGBT center was a windfall for the actress, who told HuffPost that she'd applied for 186 jobs in one month and couldn't find employment with any of them. "Tangerine" gave her a paycheck, but it also provided a channel for her to showcase why her friends drift toward sex work.
"What were Alexandra and Sin-Dee doing out in the streets? It could be because of that same situation," Taylor said. "Translate those characters to the actual girls that are on Santa Monica and Highland in real life. They're actually going through the same shit that I went through, except instead of keep applying, keep applying and not giving up, they have to live, so they go out to the streets where the money is fast and easy: suck a dick, get $200 right there."
It's in this hybrid of rawness and farce that "Tangerine" becomes a revelation. With the exception of Laverne Cox's role on "Orange is the New Black," most breakout transgender characters in pop culture have been white, and almost all of them have been part of stories where their transition is at the fore: Jeffrey Tambor in "Transparent," Felicity Huffman in "Transamerica," Jared Leto in "Dallas Buyers Club," Chris Sarandon in "Dog Day Afternoon," John Lithgow in "The World According to Garp," the list goes on. Instead, Alexandra and Sin-Dee, both African-American, are acclimated to the gender politics and professional struggles of the microcosm they inhabit, which allows "Tangerine" to accentuate the humor within their complicated situations. There's a sort of wink and nod at the ridiculousness of traversing Los Angeles on foot to avenge adulterers. There's a heartbreak, too: While Sin-Dee continues her trek, Alexandra, who longs to be an entertainer of a different kind, branches off to distribute fliers for a poorly attended open-mic night where she'll sing later that evening. (It's her "Sasha Fierce" moment, Taylor told us, because Alexandra comes alive on stage.) In order to make the performance in time, Sin-Dee strong-arms Chester's strung-out sidepiece, forcing Dinah to follow along so they can confront him at the same doughnut shop, which doubles as headquarters for Chester's pimping operation.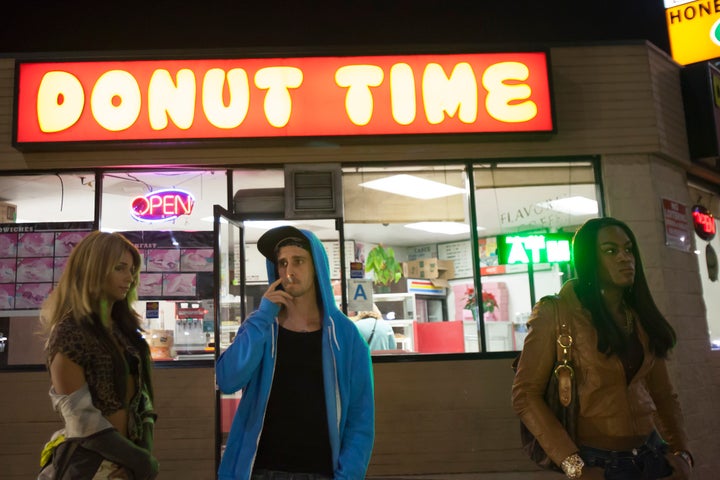 Even before he'd pinpointed the story, Baker always knew his characters would converge at the doughnut shop in the third act. That coming together, he said, is where his filmmaking influences -- most specifically, Mike Leigh's "High Hopes" and "Secrets & Lies" -- become transparent. Because the movie was filmed in the same area it depicts, some of the women who flit through Alexandra and Sin-Dee's lives are actual sex workers recruited to participate in the shoot. It's a fictionalization of their lives that Baker is chronicling, and by the time Sin-Dee, Alexandra, Dinah and Chester congregate, we've gleaned the politics of the neighborhood's transgender sex workers and their unlikely clients, particularly one Armenian cabdriver who would rather visit these women than dine with his family on Christmas Eve.
"The story we told is strictly about Santa Monica and Highland, and I know a lot of those girls appreciate this movie being made," Taylor said. "I've had many conversations with them, especially talking about trying to get work and everything. And there's not enough services for the homeless youth, so there's a lot of youth on the streets or sleeping in front of churches or having to go to the beach at night to sleep, where it's cold as fuck because of the water, but they sleep on the beach to stay away from the police because they'd be harassed just because they're trans."
That pop culture tends to favor more outwardly empowering stories of navigating adversity makes "Tangerine" all the more important. Sin-Dee and Alexandra are each other's family. Their relationship is built on emotional and physical support, the kind their families will not give them. (Alexandra's phone has been cut off because she had to cover Sin-Dee's rent while she was in jail, for example.) It took the same qualities to get "Tangerine" made, and those efforts paid off: The film had a rapturous premiere and lofty distribution bidding war at the Sundance Film Festival in January, and Magnolia Pictures now has a steady nationwide rollout planned for July and August -- all for a film with a shoestring budget and an aesthetic achieved on cellphones.
Just don't assume Baker has become an iPhone convert. In fact, "quite the opposite," he said. "It does disappoint people to hear that, I think, but I can't deny it. I'm not going to say I'm an iPhone guy now because next time, I want to shoot on 35mm and I want a budget way in the millions."
"Tangerine" opens in limited release on July 10.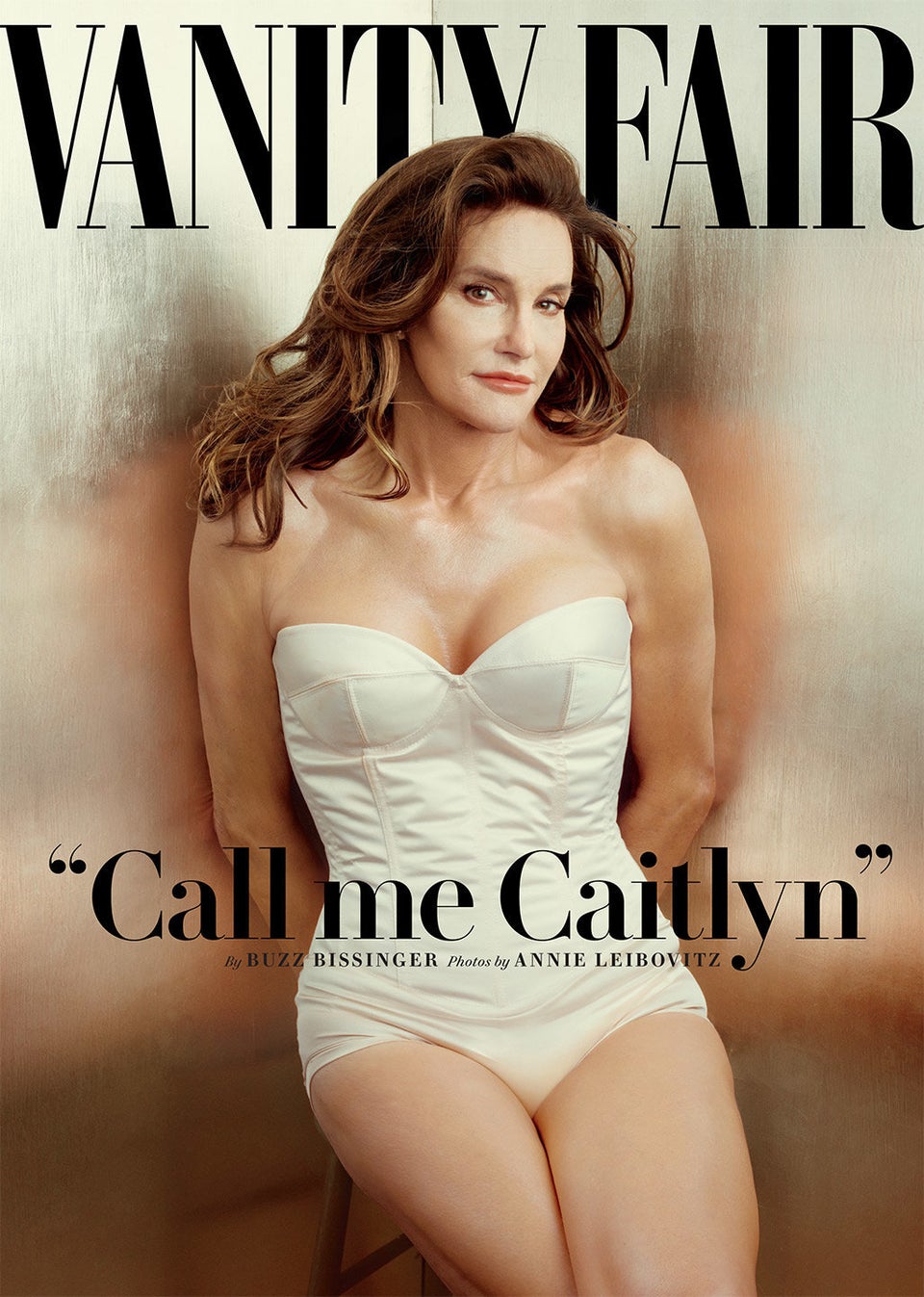 Iconic Transgender Moments
To subscribe to our HuffPost Entertainment WhatsApp account:
1. Download WhatsApp on your phone.
2. Save this number, 347-334-1794, in your phone's contacts.
3. Text "POP" to that number via your WhatsApp account.
You can unsubscribe at any time by texting "STOP" to the same number.
Popular in the Community