Despite it's flaws, I urge everyone with an interest in either trangender issues or prostitution issues or both to see the movie Tangerine. Things I find wrong with a movie usually provide many more talking points than one that bowls me over as a work of genius. So, go and be stimulated.
For the frenetic initial ten minutes of the movie, I was uncomfortable, even annoyed. Billed as "transgender buddy comedy,"
Tangerine
follows the lives of two transwomen who trade in sex on a particular strip in Los Angeles. Besides a focus on the transgender theme which is so in the public eye,
Tangerine
has garnered particular attention because director Sean Baker made the movie on the iPhone 5s, three of them. The choice of cameras was ultra modern, but the two main characters, trans women, Sin-Dee (Kitana Kiki Rodriquez) and Alexandra (Mya Taylor) feel like anachronisms. It was a farce, after all, so the characters are expected to be over the top. But as I watched Sin-Dee and Alexandra dash across the screen, trash-talking with an incessant stream of bitch this and bitch that, I felt like a community was being short-changed. I know this was not the director's intention.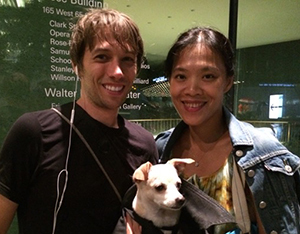 Sean Baker & Shih-Ching Tsou
As Baker explained the process in the Q &A that followed the screening at the Film Society of Lincoln Center,
Tangerine
was very much of collaboration with Kiki and Alex having a big say in the storyline. If he'd been left to his own devices according to the director,
Tangerine
would have been more downbeat, but he said Mya and Kiki, both clients and mentors at the
center, agreed they would get involved only if he gave his word the movie would give unvarnished truth and would be funny. He kept his commitment, for the most part. The movie is a comedy. It wasn't what was in the story that made me uncomfortable, it was what was left out.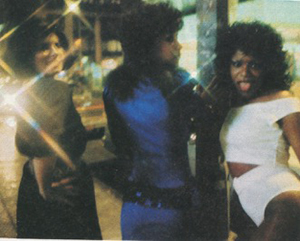 Kitty & Queen Bee - Photo by Annie Sprinkle
My early days writing about the sex life of New York in the 80's, I documented the lives of trans women who worked in the sex trade, on the streets, in peep shows and in bars. The characters Sin-Dee and Alexandra seem a throw back to that earlier time because they are not politicized. There is one brief mention of "the Center" in an early conversation and Baker during Q and A mentioned Mya, Kiki and other performers in
Tangerine
were clients of the Center. Many youths who runaway from home or are thrown away by their parents, receive services through
Centers or social work agencies. Before there were Centers trans youth found each other and formed families like those presented in the movie
. There was the House of
, the House of Pendavis, the House of Cory and more. They survived doing sex work, shoplifting food and clothing and performing in clubs. They were fierce then, and they are fierce now. These outlaws are among the roots of trans culture and a cornerstone of what is now a movement. Here in NYC a collaboration by three outreach groups: The
and
(SAS)...has produced "Say What" a media guide
to promote the use of more inclusive and transformative language when addressing issues that relate to our most vulnerable community members' experiences of discriminatory policing.
It would be easy to shrug off Sin-Dee and Alexandra because they are characters in a farce. The strength of Sean Baker's Tangerine is that it calls our attention to a much bigger issue: how prostitution laws ghettoize and disempower those who most need help. Many youths runaway or are thrown away because they are different or queer. Many work in the sex trade as a means of survival. Decriminalize sex work and we help decriminalize difference.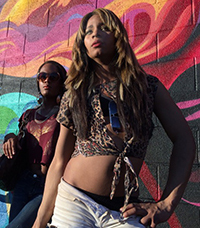 Before long, I got pulled into the story of Alexandra and Sin-Dee. There were the tender moments of Alexandra's lovely song; the sexiest car wash since the one in
Cool Hand Luke
, and the smart final homage to classic drag finales. The humorous scenes that involved the taxi driver Ramzik (Karren Karagulian), who was enthralled with Sin-Dee, are accurate portrayals of the admirer, a man who has a heterosexual family life, while being most attracted to trans women with male genitalia.
With trans people in control of their own narrative, body parts have been considered off limits for discussion. Tangerine presents some trans women of color who not only have male genitalia but who are still diamonds in the rough, not polished gems like Laverne Cox or Janet Mock. Alexandra and Sin-Dee push the limits of acceptance of trans people not only by non trans, cis society, but by other trans people. It's easy to think of them as criminals, first and disposable. They were thrown away once, after all. But don't be confused by Tangerine's entertaining pulp fiction. Trans women have risen up from the streets, though many still work there. They are fierce, juiced, fortified and not to be ignored.
Calling all HuffPost superfans!
Sign up for membership to become a founding member and help shape HuffPost's next chapter