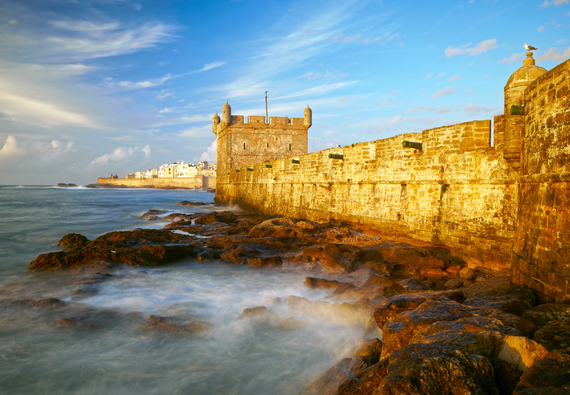 KIT: We're not tourists. We're travelers.

TUNNER: Oh. What's the difference?

PORT: A tourist is someone who thinks about going home the moment they arrive, Tunner.

KIT: Whereas a traveler might not come back at all?
Though the aforementioned dialogue is from Bernardo Bertolucci's Sheltering Sky, its ominous tone is indicative of the trepidation many Westerns still feel when embarking upon journeys to Muslim countries. Little wonder then that Paul Bowles - the renowned author whose work inspired the film - originated from Jamaica Queens. That Bowles spent years in Morocco living in relative tranquility is a less-known fact.
For a large number of my friends, North Africa continues to yield a battery of images that vary from terrorist attacks to beheadings to hostage situations to abductions. Even before our daily news became inundated with stories about abducted women being sold off to sheiks and others with acid poured on their faces, I -- like countless others -- had been spoon-fed fears about the Arab world since childhood. My earliest association being, the 1001 Nights where the fictional harem girl, Sheherezade, warns the reader that should King Shahryar not be amused by any of her bedtime stories, she will fare no better than the 3000 beheaded virgin brides before her.
And so, Morocco -the first nation to recognize the US back in 1777 (an opening gesture that nine years later led to the Moroccan-American Treaty of Friendship) -- remains the subject of our unwarranted fears. In reality, Moroccans are primarily Berbers -- many of whom adopted Muslim religion only after a history of invasions. During the time of the Spanish Inquisition, the country had, in fact, been a haven for Jews. Phoenicians, Carthaginians, Romans, Vandals, Moors, and French -- colonialist and refugee alike -- deposited traces of their respective cultures between the packed red mud walls that make up the 12th century fortress town of Marrakech.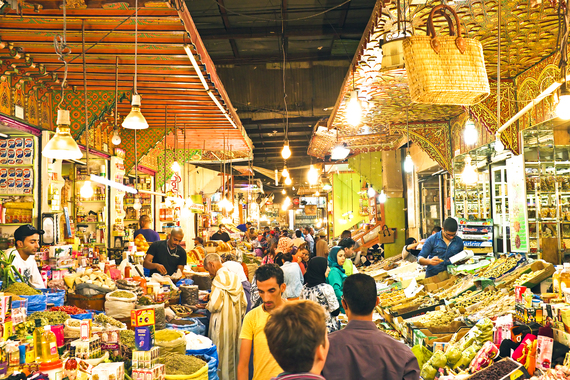 Here, between maize-like alleyways scattered with markets (souks), resides the 70-metre minaret of Koutoubia, the Place Djemma el Fna City Square and the El Badi Palace. Each site boasts a horde of magicians, acrobats, dancers and (of course) storytellers. Symbolically taking my place amongst the lot of raconteurs, I humbly begin:

On the outskirts of a steamy Marrakech, by glowing fields of corn, and barley, I watch the Atlas Mountains, its frosty mane encircled by a lemon sky. This is Africa's highest range. Between here and the breezy seaside town of Essaouira -- with its Portugese forts, its blue-daubed doors, and its colorful fish carts intended to distract evil spirits -- stands Amanjena. Like a mirage reflecting the blushing walls of the city we had left behind, Amaniena is an oasis of emerald-clay roofs, double oak doors, hand-cut tiles, and marble fountains set amidst palm and olive trees. Moorish and Berber constructions surround a large pool with finely groomed vines that stand like sentries.
Skiing in Morocco...? Although the odd juxtaposition of Alp-like slopes and tropical valleys reminiscent of New Mexico make for a dazzling site, I opt, instead, for a swim in a pool wreathed by hibiscus flowers. A dinner later, and I find myself stirring from a deep slumber. In a sleeping bag, beneath the star-lit skies, I return to dreams drabber than the reality surrounding me.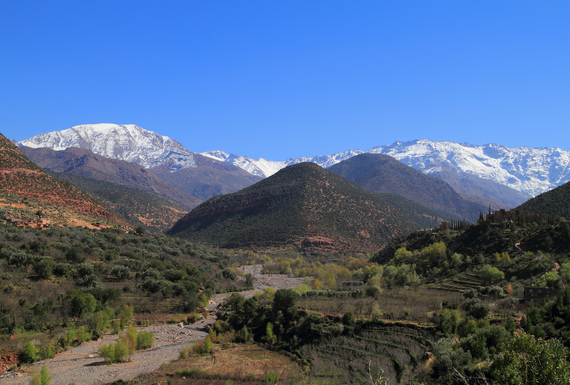 Morning. Roads carom off foothills, the sun gamboling about in odd patterns as we drive. Time overtakes our vehicle, the sun bouncing one step ahead of us as we rapidly turn corners in an effort to keep up. A glaring light leaves diffracted colors in its wake.
Ourika valley - somewhere between a town called Imlil and one called Asni. That is as much as we know while entering the imposing gates of a labyrinthine city where an auburn Kasbah looms in the distance. They call it, Tamadot; and they tell me that the name of the sultan here is none other than Sir Richard Branson. Magnificently camp, the site recalls a set by Busby Berkeley. As a guide asks, 'Would you like to fly in my beautiful balloon', I am reminded that even the most hackneyed expressions have their proper place. Though I am no Rudolph Valentino, I feel as if I've been cast as a lead in an early Hollywood extravaganza.
Sand Castles
Crossing summits caked in snow, we suddenly find ourselves standing on sand dunes. Here, in the Sahara, the snowy peaks become no more than a remote mirage.
The square-towered Kasbah of Kanz Erremal is a mud-straw enclave, an oasis in what seems like thousands of miles of desert. Cooled by clay vases that yield precious water, this is Bedouin country - a place where mineral quarries, cave paintings, and the remains of a nomadic settlements ensure that all sense of time is lost.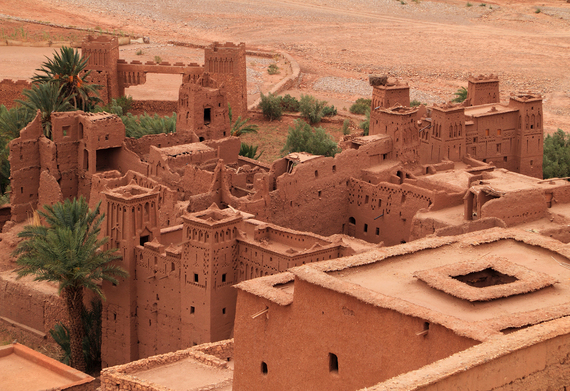 Moving on to the renowned monument of Fès el Jedid and Bali, we travel across an endless plain of sand and rock. The ivory city of Fès spreads across the horizon like a fairy tale's white proscenium. Blue zellij mosaics, finely carved cedar-wood doors, stained glass windows and wrought iron grilles all collude to make one feel like a character in a tale from the Arabian Nights. Having been welcomed with a bowl of orange-blossom scented milk and dates stuffed with almonds, it does not take long to understand the hypnotic biblical quality of the region.
Returning to Marrakech, we slalom our way down parched sandal-beaten paths of old Médina. There we see Riad Kniza - a recherché work of restoration evoking the 18th century. Having hosted VIP's that included former US Presidents and dignitaries alike, this Moorish masterpiece boasts some of the finest cuisine to be had in the country. In close proximity to many of the city's most exciting sites yet cloistered enough to allow for silent reflection, Riad Kniza offers local culinary masterpieces at an affordable price - even for those, like myself, who could never afford staying overnight at her property.
Settled on a comfortable pillow and sipping tea in the courtyard, I realize the absurdity in the both the preconceptions of tourists as well as the smug relativism of seasoned travelers. Morocco is neither more or less threatening than anywhere else, nor are the people "just like you and me" since - as Paul Bowles is quoted saying -- "If people and their manner of living were alike everywhere, there would not be much point in moving from one place to another."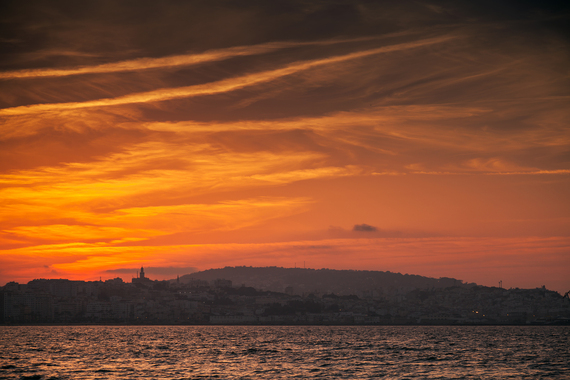 Witnessing my final Moroccan dusk, I look up at the tangerine sky hovering precariously overhead and wonder whether the resplendent clouds are part of a radiant orange veil intent upon sheltering us from a dark and cold universe or part of a bloodstained shroud covering our world moments before an eternal night descends. The Moroccan sky is a hijab, a veil, a shroud or anything else we make of it. Its mystery remains part of its beauty, and its beauty -- as the 1001 Nights should have taught us - lies in how it is seen by cultures like and unlike our own.

Rory Winston is a published author/poet/playwright/TV comedy writer/columnist who serves as the Feature & Art Editor for the NY Resident Magazine and writes for See Places on Huffington Post.