 Very few of us are able to ascend to a world-class level in the arts. For every heralded artist, hundreds of others -- thousands -- labor in the fields with little to celebrate when the opportunity for harvest arrives.
When you meet such a gifted person (or, in the case of Argentine tango, such a gifted couple) you marvel at the seeming ease with which they perform their art, forgetting for the moment the very real truth that discipline, single-mindedness, excruciatingly hard work and the trusting surrender to one's nascent creativity are all necessary to what they do.
One such couple in California has prepared themselves admirably for the effort.
Every year, the Official U.S.A. Argentine Tango Championship is held in late March. It is the only such championship in the United States to be sanctioned by the Ministry of Culture of the City of Buenos Aires, which is tango's home. If you and your partner win the U.S.A. championship, you can number yourselves among the best dancers of Argentine tango in this country. Also, you are automatically seeded to the semi-finals of the Buenos Aires Tango Dance World Cup, held every August in Buenos Aires itself.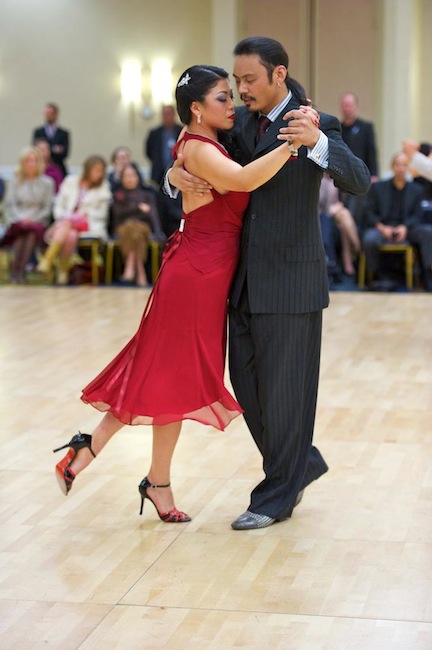 Photo: Courtesy of Yumiko and Ramada. Used with permission.
This year, J. Ramada Salieri and Yumiko Krupenina won the U.S.A. Championship in the Salon Tango competition, in which improvised tango is the rule. Unlike in a Stage Tango competition, in which all dance routines are choreographed, the Salon Tango competition requires the dancers to perform extemporaneously. To do this well, in a dance form as complicated as tango, is the goal sought by most tangueros. Doing it superbly can get you to the Buenos Aires competition.
Yumiko, who was born and raised in a suburb of Tokyo, has lived in the United States for many years. Like Ramada, she began dancing tango less than ten years ago, and as with everyone when they first encounter the form, she was unsure of herself, feeling clumsy and ragged throughout the very early stages.
"But it was clear to me," Nora Olivera says, who has been teaching her from the first lesson, "that this was potentially a major talent."
"When I was a little girl," Yumiko recalls, "I was frequently told that I was clumsy, that I always dropped things. But I had a teacher in primary school that told me that I had real athletic talent, and he got me playing soccer and running. He said, 'Yumi, you can do this.' And he was right. I could do it."
After several months of study with Nora and her husband Ed Neale, Yumiko joined a practice group made up of a number of the maestros' students. "We practiced very hard, and Nora and Ed would work with each couple individually," Yumiko says. "They helped us with the beautiful tango music, its rhythmic intensities and delicacy. They taught us to express ourselves in the dance. Really, they pushed our consciousness to a new level. It was wonderful, the discipline of it."
In the meantime Yumiko had met Ramada. A professional musician in many genres, he had been dancing salsa for some time. A friend of his had asked him to join her for a basic tango lesson, and Ramada misplaced the information about the location of the lesson. Not able to contact his friend on the day of their planned meeting, he went to the internet and, by complete chance, found the name of Nora Olivera.
Ramada did not realize at the time that Nora is one of the stellar maestros of Argentine tango in the United States. She is the founder of Nora's Tango Week, held every year in San Francisco in July, which is the most prestigious Argentine tango teaching festival in this country. Nora spent many years in the highest professional ranks of tangueros in Argentina before embarking on an international dancing career. For the last twenty years, she has taught beginning to advanced classes in tango at The Mission Cultural Center for The Latino Arts in San Francisco.
The large dance studio in which she teaches is on the third floor of The Cultural Center, and when you climb the stairs to the room, you hear the sound of tango music filtering down. "Every time I go up those stairs," Ramada says, "I hear that music, and I remember the first time I climbed them. I love those stairs and that sound to this day."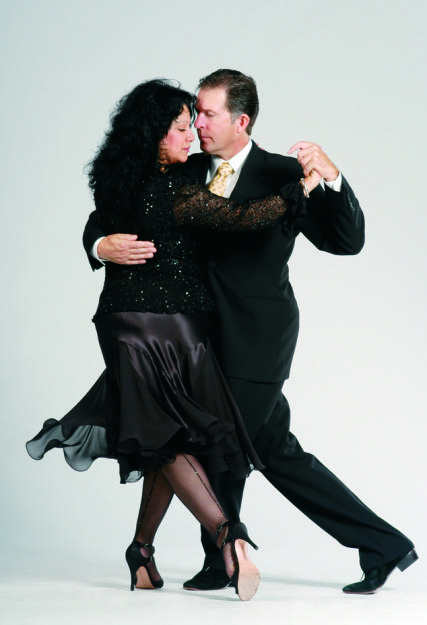 Nora Olivera and Ed Neale. Photo: Courtesy of Nora's Tango Week. Used with permission.
Nora's husband Ed Neale is an American who indeed began his own study of tango with Nora. He became so quickly an exceptional dancer that some years ago Nora asked him to assist in her classes. When Ed met Ramada, he realized right away that this fellow was something different. "He walked in. We showed him some things, elementary things, and he was immediately interested. There was an instant connection. He was hungry. I could see it in him right away."
Tango is an impossibility if you don't understand the great traditions of its music, and Ramada's background as a musician had prepared him for the dance. "It's profound, what he knows," Ed says. "That ability alone really has helped him with his dancing."
Ed is reflective about his own learning when he thinks of Ramada. "Yes, I see myself in him, when I first started with Nora. The exuberance. I want to do this. I want to do that. Ramada's intensity was infectious. The truth is, he gave me a shot in the arm as a dancer and as a teacher."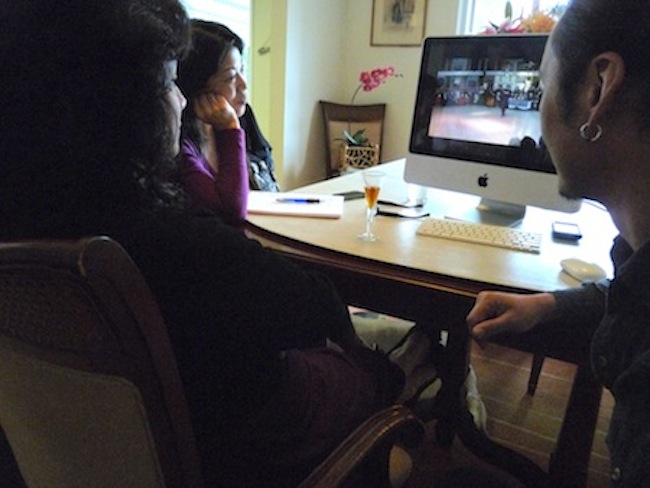 A planning session. L. to R.: Nora Olivera, Yumiko Krupenina, J. Ramada Salieri. Photo: Terence Clarke
The World Cup competition will be held during the next few weeks in August in Buenos Aires. Nora explains the meaning of the event to any dancer involved. "They'll be competing at the highest level," she says. "The best in the world." She muses a moment, clearly seeking the correct words to describe Yumiko and Ramada's situation. "I gave them what I know. Ed too. And they really responded." She smiles broadly. "They're tough, and besides talent and soul, that's what you need at this level. The fact is, I'm probably more nervous than they are!"
Novelist Terence Clarke's latest story "Ernesto & Julietta", about tangueros in New York City, is available at Amazon.
Popular in the Community