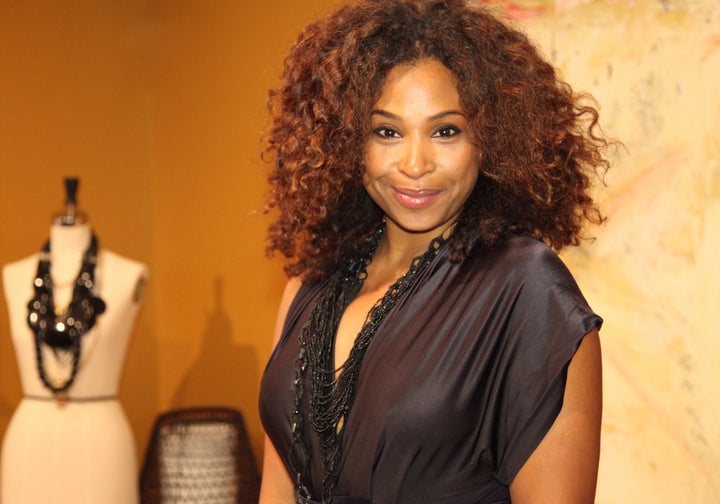 Tanika Ray knows how to work a red carpet. But after spending years as a TV personality and entertainment correspondent on shows such as "Extra!" and CW Network's pop culture series "CW Now," she's finding pleasure in a different kind of red carpet -- the Persian-style one in her Los Angeles home.
"I am a total, utter design geek," Ray says, describing how her latest project and passion came to pass, when she was brought in by HGTV to host its reality competition "Design Star" and makeover show "HGTV'd."
Although interviewing celebrities gave her close proximity to many creative types, Ray says she knew she needed to do something more creative herself one day. Preparation met opportunity when a former colleague became an executive at HGTV and called on her to pursue the passion for design that he remembered from years prior.
"I know it sounds crazy, almost like being discovered on the street or something, but it's the most beautiful alignment of planets," she says. "['Design Star'] was like a creative thunderstorm, and to be right in the middle of that was such a pleasure and it really put me on the right path."
RAY'S ROAD TO DESIGN STARDOM
"My mother wanted to keep a very pristine house, so I wasn't allowed to be creative in her kitchen. I was allowed do to that in my bedroom. My fantasy world and my dream sort of went wild in that room. My walls had magazine pictures all over them, I painted my phone with nail polish. Because I was confined to my bedroom, I think that I was really able to dream big and design out loud, if you will."
Designing out loud is not only a motto that Ray has adopted for her forthcoming blog and novice design projects, it's also the way she lives her life, she says, which has meant ditching unfulfilling jobs and opening up a space for opportunities like the one she says recently fell into her lap.
WATCH
:
After the show wrapped, Ray headed back to LA and got to work redecorating her home, channeling all of the ideas she took from the show into design moments of her own.
"When I'm super busy and I have no time for myself, the best way that I've found that I can reconnect with Tanika is by doing little projects around my house, sprucing up my space or, as I like to call it, 'jujing,'" she says.
TANIKA'S CROWNING DESIGN MOMENT
Ray, a self-professed "project chica," believes that small details are what really transform a space. "I might get inspired in the middle of the night to make pillows, to repaint a bathroom, to recover an ottoman. I could switch around my curtains, and I have a new home. It's cheap and easy, it's in my sanctuary and I found that I was gaining so much emotionally and mentally from redecorating my space," she says.
Ray also frequents local antique stores and rummage sales, where she found a set of chairs that would become her proudest design moment to date.
"There were these old, English wood-carved chairs that were very stately, but they were piled on top of each other with spider webs and dirt and crud. They were literally the most decaying, gray-green color I've ever seen, [but] I just knew they could be my dining room chairs," she says.
After having them professionally stained hot pink, Ray covered the seats in a matching ostrich fabric. "They are the biggest conversation starters in my house," she says. "And they were all of $10 per chair."
With LA's abundance of design shops at her disposal (including her favorite, Kelly Wearstler's Hollywood boutique, around the corner), Ray is mastering the art of remodeling and feeding her brain with beautiful ways to re-imagine a space, she says.
Her weekend routine includes window shopping along La Cienega Boulevard, brainstorming new projects with her hair dresser-turned-design school student, decorating her boyfriend's loft in downtown LA and selling some of her home decor items on eBay in order to make room for more. "I'm constantly redoing something in my house. Someone said, 'When are you going to be done?' Never! I don't think you should ever be done. I think there's always little tweaks along the way that take you through each season," she says.
TANIKA'S TOP TIPS FOR WEEKEND WARRIORS
Embrace the paint. "And if you don't like it, repaint it!" Ray says. It's the cheapest way to transform a large area in your house.
Inform yourself about what you love. If you don't know where to start, take one design magazine with a cover you like and flip through, tearing out pages you like. Ray says not to overanalyze what you like about the image, but to look instead for common denominators among the pages you've pulled. "[Ask yourself]: 'What is it that is linking all of these things? Is it the color turquoise?' It's a way to inform yourself that is so organic, so instinctual -- that is a great place to start."
Make small changes. "I love painting frames or decoupaging them or putting a silver leaf on them," Ray says. "It's a great way to really claim your creative nature and transform something that's really typical." And at the very least, add a colorful pillow to a beige sofa or another accessory that Ray says will be an instant mood booster.
Just do it. "People get really overwhelmed with the big picture. Just take it step by step," Ray suggests. And when in doubt, look for video tutorials online or try out smaller versions of the item you're making over first, such as a smaller version of that ottoman you love.
PHOTOS: At home, "loud living" translates to vibrant colors, warm woods and influences from Morocco, Thailand and India.
Calling all HuffPost superfans!
Sign up for membership to become a founding member and help shape HuffPost's next chapter
BEFORE YOU GO