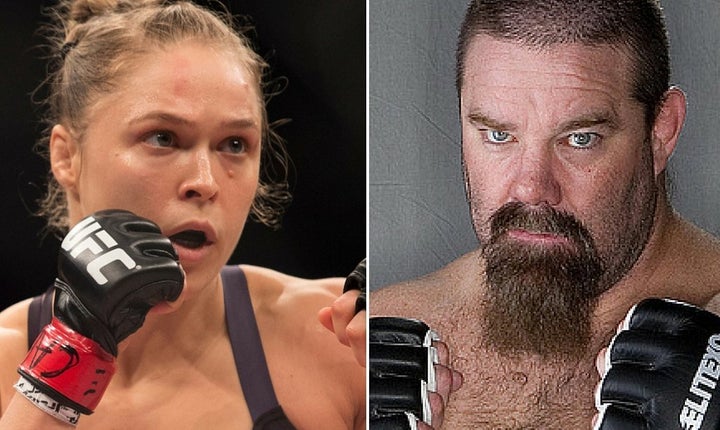 "Former UFC fighter and pro wrestler David "Tank" Abbott says he could easily "bash" up undefeated UFC Women's Bantamweight Champion Ronda Rousey. His reasoning? "She's a girl."
Weighing in on the debate over who would win a fight between Rousey and Floyd Mayweather on "The Proving Ground" podcast this week, Abbott said the boxer would "knock the living stuffing out of Rousey."
"She's a girl. It's all about this emotional stuff," he said.
Abbott, an icon from the early days of UFC, went on to issue a formal challenge to "any woman on this Earth."
"I don't care, I will fight any woman on this Earth for free … I won't even train," he said on his podcast. "I will fight you and if I win, which is going to happen, and you're going to get bashed up good, you have to make me a sandwich. If you win, I'll give you a hundred thousand dollars."
Abbott added a caveat to his offer: "You can't be, like, a tranny … you gotta be a female. Born a female."
Earlier this year, Rousey one-upped Mayweather at the 2015 ESPY Awards, snagging the title of "Best Fighter." At the time, UFC president Dana White said that Rousey would easily crush the boxer in a fight.
During his podcast, Abbott argued that anyone who believed such a thing had to be high on drugs.
"What kind of medical marijuana are people smoking?" he asked.
As Bleacher Report notes, Rousey has "dominated the women's bantamweight division in UFC, winning all 12 of her fights under the banner, 11 of which were inside the opening round." Abbott, on the other hand, has a "meagre 10 wins from 25 bouts."
She's said previously, however, that she doesn't think it would wise for her to fight a man, mainly because of the message it would send.
Listen to Abbott's comments about Rousey in the clip, obtained by TMZ, below:
Popular in the Community