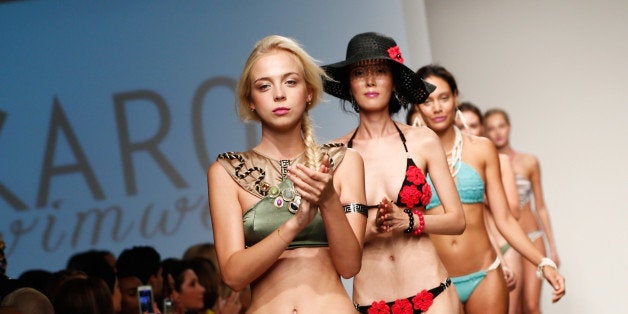 While many a critic has accused the Fashion Week runways of uniform "whitewashing," one city is focusing on a different skintone issue entirely. For Liverpool Fashion Week, which kicks off Monday, the British city has instated a tanning bed ban in order to protect models' skin from cancer and other health risks.
Amanda Moss, Liverpool Fashion Week's organizer, tells the Telegraph that Liverpudlians are the first in the runway world to ban the practice. "We want our models to look their absolute best, which means not putting themselves at risk of skin cancer or premature aging from the sunbeds," she says.
Still, there's little acknowledgement of tanning's dangers on the runways. Moss hopes to change the perception of bronze equaling beauty. As the Telegraph quotes:
"We hope that by showing how gorgeous our models look at this year's Liverpool Fashion Week, we will help sunbed users in the city realise they don't need to get on the beds to look great. Our girls can still have that golden glow, but they'll get it from a bottle, not from the beds."
Perhaps we hear little criticism of tanning in the model community since weight issues prove more pressing. Israel banned the use of underweight models in 2012 and Vogue issued a similar ban regarding the models it features in its pages in hopes of promoting positive body image. We're proud of Liverpool for acknowledging that many factors contribute to a model's overall health, and we hope that these new restrictions will help to keep talent in tip-top shape this Fashion Week and beyond.
Models in Liverpool won't look like this: