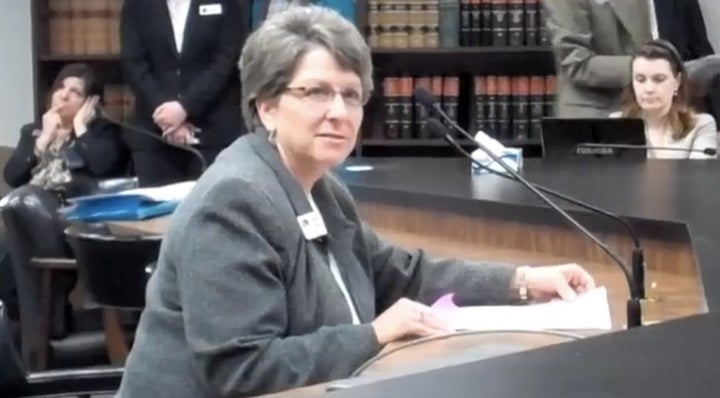 Tanya Ditty, a Georgia teacher and the state director of Concerned Women for America of Georgia, spoke against a Georgia bill this week that would ban discrimination against LGBT state employees -- like public school teachers.
In her testimony, Ditty cited cross dressers potentially using restrooms for the opposite sex as possible place for exploitation:
"There are 23 sexual orientations that fit under this definition and if this bill became law, then what we would be protecting for public employees is not only heterosexuality, bisexuality, pedophilia, transsexuality, transvestitism, I'm not going to read them all. Voyeurism, exhibitionism, feetism, zoophilia, necrophilia, klismaphilia and the list goes on. I teach in the public school system and I wonder if this would impact the public school system. And we have parents who bring their kids to school every day and expect the school to protect them. And what's going to protect our children if someone that is a pedophiliac comes in and gets a teaching job, is a bus driver, is a custodian, and they can be people that just want to prey on people and they will be protected with this law."
The bill was sponsored by Democratic state Rep. Karla Drenner, who was the first openly homosexual legislator to serve in the Georgia General Assembly.
Ditty, the bill's only vocal opposition, said the motion would not protect children's safety.
"There are people that just want to prey on children, and they would have to be given a job," she said, according to the Chronicle.
Although the committee voted 3-2 to table the legislation, Drenner believes it won't be revived.
"We may be able to bring it back [but that's] unlikely," Drenner said, according to Project Q Atlanta. It's dead. That's my guess. To table it means they killed it."
Calling all HuffPost superfans!
Sign up for membership to become a founding member and help shape HuffPost's next chapter