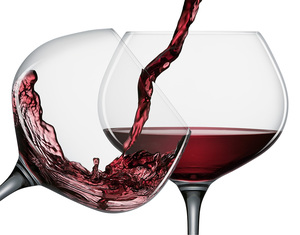 Summer is almost over and it's time for me to replace my refreshing whites with soothing reds; particularly, red-blends. Red-blends have become increasing popular over the past 10 years. They have the reputation of being more affordable and less "edgy" than Cabernet. The red-blends I enjoy most are much smoother and less heavy than Cabs. Still, some red-blends are wonderfully big and bold with high alcohol content, and yet their tannins aren't as bitter and overwhelming as many Cabernets. Depending on the grapes combined, red-blends are often lively, juicy and fruity. On the downside, some are also far too sweet for my liking.

Prisoner has been credited as the first breakout red-blend star in 2001. Prisoner's creator, Dave Phinney, created Prisoner more by accident than anything else. With small quantities of Cabernet, Syrah, and some old-vine Charbono grapes that he didn't know what to do with, he created a new bold, sexy taste that caught on quickly. Prisoner does not make my list because it's priced at $35 and it no longer has the rock star flavor it did years back, but it's still a red-blend to be enjoyed and the "to go to" for many red-blend lovers.
Unlike Mr. Phinney's 2001 Prisoner, today's red-blends are created with painstaking blending artistry. Many wine-makers choose not to list all of the grapes used their wine and this makes me a bit nervous. I tend to shy away from those wines. For the purpose of this review, I've only included red-blends who proudly list the grapes used. All the wines listed can be enjoyed upon opening, but being that they are young reds, by letting them breathe (aeration) for an hour or two, you will fully appreciate their delicious offerings.
Disclaimer: I love red-blends and delicious wines in general. I'm not one who uses winemaker jargon, because frankly, I'm not a winemaker or sommelier. I try to describe the wines as best I can with simple descriptions. Understanding my limitations, I have included the winemaker's notes above my reviews.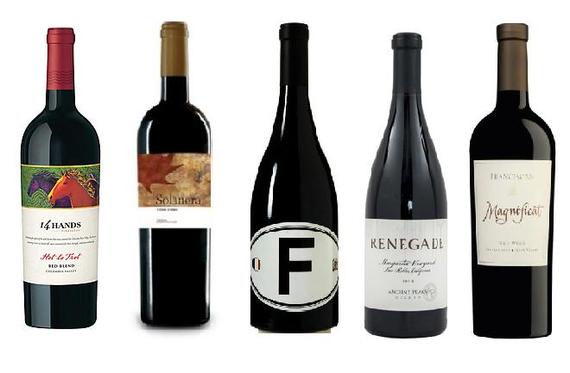 14 Hands Hot to Trot Red Blend 2012 $9
Winemaker's Notes:
This polished red wine offers aromas of cherry, red currant and tea. Flavors of ripe berries and dark stone fruits, supported by a frame of refined tannins, give way to subtle notes of baking spice on a persistent finish. The blend is predominantly Merlot, Syrah and Cabernet Sauvignon.
Tanya's Notes: A tremendous value for $9. You won't be embarrassed to take to a friend's home. The wine is loaded with aromas of blackberry and plum and a hint of spice. After sitting for a bit, it's smooth and fruity. It's a bit sweeter than my other picks, still, this simple red-blend will not disappoint your palette nor your wallet.
Bodegas Castano Solanera 2012 $14 Tanya's BEST WINE FOR THE BUCK
Winemaker's Notes: The 2012 Solanera Vinas Viejas, a blend of 70% Monastrell, 15% Cabernet Sauvignon and 15% Garnacha Tintorera aged 10 months in a combination of French and American oak. Unreal Wine. For champions. For gourmets. For poets and visionaries. With a pure and elegant bouquet of cinnamon, berries, dried fruit and a mineral touch. Silky on the palate, with dried pears and raspberries harmoniously assembled. An aftertaste that defies gravity.
Tanya's Notes: This extra dry red-blend is the BEST BLEND FOR THE BUCK on this list. It could easily cost three times its asking price. This wine's wonderful aroma meets you boldly as you raise your glass to drink. It's full-bodied and complex, yet it has a velvety feel that makes you want to hold on to each sit a second longer. I let this wine breathe for two hours and I was rewarded for my patience.
Orin Swift 'F-2' French Red Blend 2012 $15
Winemaker 's notes: The non-vintage Locations F-2 is all from the 2012 vintage and is a blend of Grenache from the Roussillon, Syrah from the Rhone Valley and assorted Bordeaux varieties. A dense ruby/purple color is followed by a big, sweet kiss of licorice, black currants and camphor. Deep, full-bodied and ripe (but not over-ripe), it possesses good freshness, vibrancy and delineation as well as a juicy, in-your-face style. These wines are all meant to be drunk upon release, but enough stuffing is present that they should evolve for 4-5 years. Robert Parker, the Wine Advocate
Tanya's Notes: This red-blend reminds me most of a Cabernet that I enjoy. It is bold with a fruity aroma that becomes very spirited when you first taste. Flavors of strawberry, licorice and mocha take turns teasing your tongue. It's not as smooth as the others listed but I don't think that was the winemakers purpose. You are forced to taste and engage with this wine from start to finish. I find it a fun experience.
Ancient Peaks Renegade 2012 $19
Winemaker's Notes: The 2012 Renegade comes from our estate Margarita Vineyard on the historic Santa Margarita Ranch. From missionaries to gunslingers, roughriders to outlaws, a colorful cast of characters has traversed the ranch's rugged terrain since the 18th century. In that spirit, we have made an intensely flavored blend that pushes the envelope and resists conformity, adding an adventurous twist to our family of wines. Defiantly bold and daringly elegant--this is Renegade. This red blend, combines 71% Syrah, 24% Malbec, and 5% Petit Verdot from the ancient seabed-based vineyards just south of the town of Paso Robles.
Tanya's Notes: This blend feels like a masculine wine. Not only for men to drink, of course, but because its licorice, cocoa, and berry aroma gives it a confident, edgy sensation. This blend is not for the faint of heart, hold on to your socks and enjoy!
'La Fraternité' Red Wine 2011, $20
Winemaker's Notes: La Fraternité pronounces bright red fruit from the moment you pull the cork. This Grenache, Mourvèdre, and Syrah blend is a lively wine with layered aromas and flavors of strawberries, raspberries, kirsch, violets and spice. On the palate, these flavors wrap around a silky medium body with a smooth, fresh and lingering finish.
Tanya's Notes: I was on the island of St. Martin and a local sommelier told me to try GMS (Grenache, Mourvèdre, Syrah). I'd never heard of the blend so I tried a few. Soon I learned that the Grenache, Mouvedre and Syrah blend was somewhat of a hit or miss with me. But when I find a hit - it's a homerun. 'La Fraternité', at $20 is definitely a triple. Washington again proves why it is a leader in producing domestic red-blends. This is a fruit-packed wine loaded with aromas and flavors of cherries and plums. The subtle spice mellows out the fruitiness to create a smooth and nicely complex finish.
Franciscan Magificat Meritage $40
Tanya's Notes: I feel compelled to throw in my new favorite red-blend. It is not under $25 but if you want to treat yourself to something special, go for the 2012 Franciscan Estate Napa Valley Magnificat. The aroma is so beautiful that you are forced to take it in more than once. The fruity flavor is bold yet delicate. After breathing for two hours, its velvety nature intensifies. My only regret about this wine is that I wasn't sharing it with a friend.
Winemaker's Notes: 73% Cabernet Sauvignon, 19% Merlot, 3% Petit Verdot, 3% Malbec, and 2% Cabernet Franc. Deep garnet in color, with a very complex nose laden with dark fruit. Rich with the flavors of plum, dried cherry, clove, cardamom, and cassis with hints of peppercorn and cocoa. Smooth entry with ripe berries and cherry. The mouthfeel is full, yet seamless, showing well-knit tannins woven into a supple and full palate. On the mid-palate, notes of cassis and sage lead to a long finish of dark fruit, toasty vanilla notes, and savory hints of tobacco and black olive. Rich and inviting.