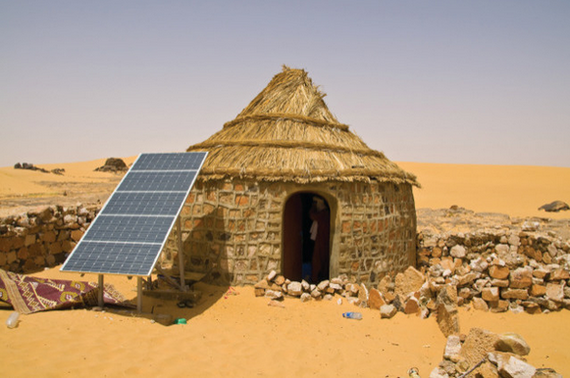 Photo courtesy of Cleantech Finance
India's Prime Minister Modi is dreaming big on solar, aiming to use this clean resource to bring electricity to the 300 million Indians currently living without it. Ambitious as that is, it turns out he's not the only national leader turning to solar to power development.
Today, Tanzania's President Jakaya Kikwete announced a goal of providing one million Tanzanian households with reliable solar electricity by 2017. The initiative, "One Million Solar Homes," will be implemented by leading beyond-the-grid startup Off-Grid Electric. Achieving this goal would be a milestone on the way to President Kikwete's longer-term goal of achieving universal energy access for Tanzania by 2030.
Tanzania's announcement fits nicely into President Obama's Power Africa goals. In fact, it was in Tanzania in June 2013 when Obama announced the Power Africa initiative, a U.S. government initiative that aims to double energy access in sub-Saharan Africa. Tanzania is one of the six focus countries of Power Africa.
Most importantly though, Tanzania's announcement cements the importance of beyond-the-grid solutions -- distributed clean energy options like solar home systems for those living beyond the reach of the centralized grid. In a country like Tanzania where the vast majority of those without power live in rural areas and where 86 percent rely on kerosene and candles for light, these solutions offer the cheapest, fastest most direct way of putting power directly in the hands of people. Tanzania's new announcement shows that political leadership now understands the transformative power of these solutions.
That's really important because, when Power Africa was first established, only 2 percent of all funds were explicitly committed to beyond-the-grid solutions. But thanks to a rapid increase in investment from the private sector and exciting start ups like Off-Grid Electric, the initiative quickly changed course establishing the "Beyond the Grid" initiative and driving over $1 billion into this rapidly growing market.
Perhaps Tanzania's leadership will help Power Africa focus its resources where they can have the most direct impact today -- beyond-the-grid energy access solutions.
REAL LIFE. REAL NEWS. REAL VOICES.
Help us tell more of the stories that matter from voices that too often remain unheard.