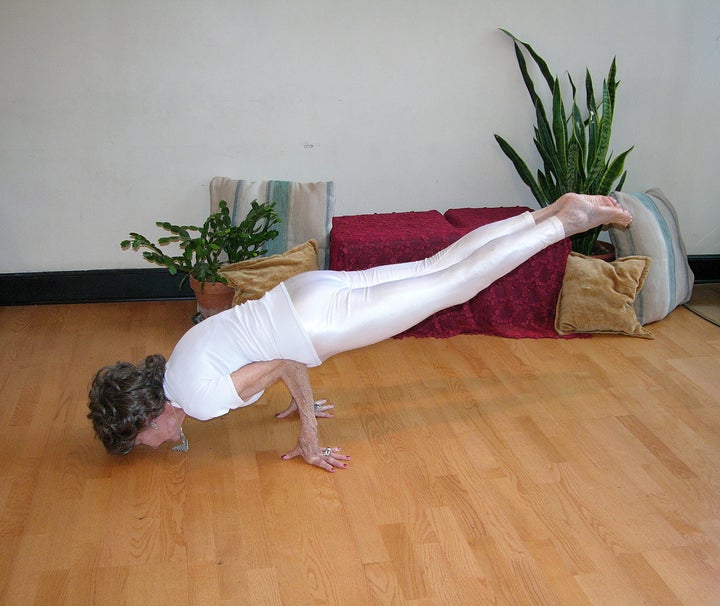 To say Tao Porchon-Lynch is an extraordinary yoga teacher isn't a stretch, considering she has fans all over the world.
But what makes her truly amazing is the fact that she can support her whole body on her hands -- even though she's 93.
Now she has another accolade to add to her list: Guinness World Records has just declared her the world's oldest yoga teacher.
Porchon-Lynch started practicing yoga when she was eight after seeing some boys doing the exercises on the beach of her hometown of Pondicherry, a French colony in India on the Bay of Bengal.
"As a child with a zest for physical activity, I wanted to do the amazing things that they were doing with their bodies," she told Guinness.
But Porchon-Lynch only started teaching 45 years ago after a show business career whose highlights include winning a "Best Legs in Europe" contest, working as a cabaret dancer in London during World War II and as a model in Paris, then moving to America to act in films like "The Last Time I Saw Paris" with Elizabeth Taylor.
At an age where some people start slowing down, Porchon-Lynch still has 400 students at the the Westchester Institute of Yoga in Westchester, N.Y., which she founded in 1982.
Porchon-Lynch replaces the former world's oldest yoga teacher, Berniece Bates, who received that title last November.
"Anyone that can beat the record is fine," Bates said. "I'm sure there's a 100-year-old guy in India who can probably beat me."
GUINNESS WORLD RECORDS GALLERY (Story continues below)
But Porchon-Lynch isn't the only older woman setting incredible records this month.
Guinness World Records has also declared a 77-year-old woman in Denver, Colo., the "Oldest Living Female Bodybuilder."
Connor entered her first competition on her 65th birthday and she won first place at the Grand Masters in Las Vegas. The victory motivated her to pursue a career as a certified personal trainer with emphasis on training the mature body.
Despite being 77, Connor works out a minimum of three times per week and does not strictly "diet" but prefers to follow nutritional guidelines that she's developed over time for her body.
"Start with setting reasonable goals and educating yourself on what foods cause an increase in body fat," she told Guinness. "Remove the word 'diet' from your vocabulary."
In order to get the record, Connor beat out previous record holder Ernestine Shepherd, 75, of Maryland, who held the record for the oldest competitive female bodybuilder in the world in 2010 and 2011.
Related
Popular in the Community