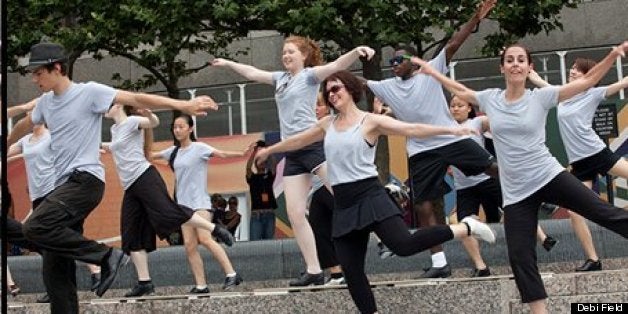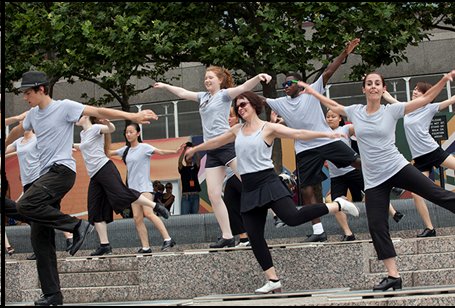 Tap it Out - 2012 Photo: Debi Field
What better way to celebrate America this July than with fireworks and a week of tap dance?

Tap, that most American of dance forms, will be celebrated in New York City this summer at Tap City, July 6-13, with awards, showcases, presentations and 300 tapping feet in a blow out extravaganza right in the middle of Times Square!
Tap dance reflects America's melting pot. It was developed and identified as "tap dance" right in New York City, in the "5 Points District" of lower Manhattan. Freed African slaves and Irish immigrants lived there together, and danced publicly and socially, often in competition.
"Tap parallels American history and had to overcome the same prejudices and social issues we've all had to acknowledge," said Tony Waag, Artistic/Executive Director of the American Tap Dance Foundation (ATDF) and producer of the Tap City Festival. "Studying tap dance is like studying the country's history. We learn by studying America's own native dance form," he said.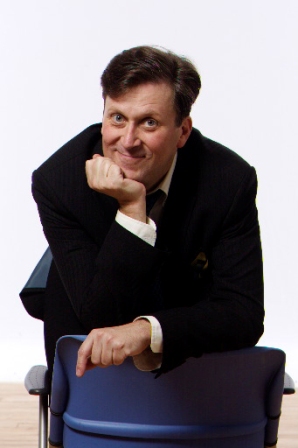 Tony Waag, Artistic/Executive Director - American Tap Dance Foundation
Tap City attracts participants from around the country and from around the world. Festival events include the Tap Awards at the New York Public Library on July 9, honoring those who have advanced and preserved the art form. It will also name the late Paul Draper and the late James "Buster" Brown into the Tap Dance Hall of Fame . With a collection of photographs, biographies and videos, the Hall of Fame is a colorful and diverse retrospective of America's seminal tap dance personalities.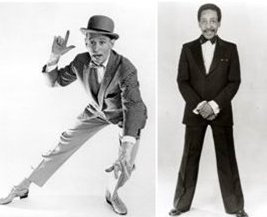 The late Paul Draper and the late James "Buster" Brown, 2013 Tap Dance Hall of Fame Inductees
Tap Internationals at Symphony Space on July 11 will present top tappers from the US, Brazil, Japan, Canada, Australia, Germany and Cuba, performing new choreography in a tap dance global mix. Tap City will culminate on July 13 with Tap it Out, a free public event at noon, 1 and 2pm in the middle of Times Square. One hundred fifty dancers and students of all ages and levels will join together to create a thunderous chorus of tapping feet in a pre-choreographed orchestral collage of a cappella unison rhythms, contrapuntal sequences, individual riffs, movements and grooves.
It's been said tap dance is the closest thing to singing you can do with your body. Honesty and passion for tap dance, and a commitment to its preservation and future, is what Tap City is all about. This July, let our bodies sing! Let's start tapping!
Tap Awards - Tuesday, July 9 at 7:30pm - NY Public Library for the Performing Arts/Bruno Walter Auditorium (Enter at 111 Amsterdam Avenue - 65th Street)
Tickets: $15 - Advanced purchase required!
Contact ATDF at 646-230-9564
Tap it Out - Saturday, July 13 noon, 1 & 2pm - Father Duffy Square/Times Square Between 45th and 47th Streets, Broadway and Seventh Avenue

About the American Tap Dance Foundation
ADTF was founded in 1986 by tap master Charles "Honi" Coles, his protégée Brenda Bufalino, and the Foundation's current artistic and executive director, Tony Waag. Called the American Tap Dance Orchestra until 2001, the organization was directed and choreographed by Ms. Bufalino and presented hundreds of stage performances and films from 1986 through 1999. From 1989 to 1995, it also operated Woodpeckers Tap Dance Center, where tappers from all over the world gathered for classes, workshops, jam session and performances. In 2002 with a new generation of tap dancers and enthusiasts, the Orchestra was renamed under the artistic direction and leadership of Tony Waag.
Adria Rolnik is helping promote The American Tap Dance Foundation.
REAL LIFE. REAL NEWS. REAL VOICES.
Help us tell more of the stories that matter from voices that too often remain unheard.