Tap is jazz, tap is Broadway, tap is culture blending at its best -- the history of tap is rich, the dancing electric. We should pay attention.
For more than a century, tap has fought for its place on the legitimate stage. Appropriate venues where tap dancers, both aspiring and professional, can perfect their craft are limited. The American Tap Dance Foundation (ATDF) is one of only a handful of dance companies committed to ensuring that tap and its family of performers receives recognition alongside the masters of ballet, modern and jazz.
ATDF has recently embarked on a new collaboration with Jazz at Lincoln Center, bringing talented young musicians and dancers together to share their musical and rhythmic ideas and explore jazz culture. ATDF has spearheaded the development of The Gregory Hines Collection of American Tap Dance Archives at the New York Public Library for the Performing Arts. Education and preservation go hand in hand and are the cornerstones of the Foundation's mission.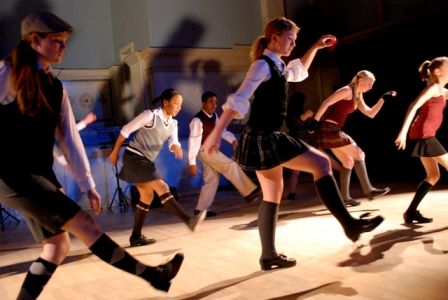 The Tap City Youth Ensemble -- Photo: Carolina Kroon
Two new productions, blending the history of tap as well as new, contemporary work will open March 19 in New York City. Top tappers Brenda Bufalino, Michelle Dorrance, Derick K. Grant and Savion Glover's protégé, Cartier Williams are participating. There is a lot going on.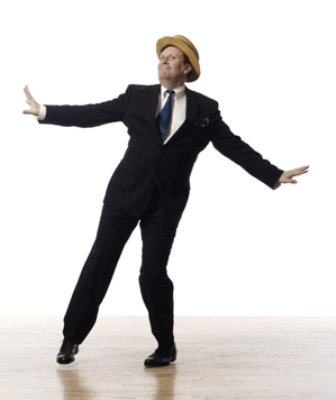 Tony Waag -- American Tap Dance Foundation. Photo: Lois Greenfield
In a sit-down with Tony Waag, artistic and executive director, we learned more about the American Tap Dance Foundation mission and how they continue to stretch the boundaries of the form:
Tell us about the beginnings of tap. How did it become part of the American culture?
Well, it actually was born and became what we know as Tap Dance right here in NYC. In fact, it was primarily developed and identified as tap dance in what was called the "5 Points District" in lower Manhattan. Freed African slaves and Irish immigrants lived there together, and danced publicly and socially, often in competition.
Why is preservation so important to ATDF?
Because so much of its history has already been lost. Only so much could be handed down through stories. The general public knows very little about it, and how amazing that history is! Tap parallels American history, and had to overcome the same prejudices and social issues we've all had to acknowledge.
Tap is ultimately a performance art. How do you integrate performance and preservation?
There are several ways. We showcase vintage video footage, such as in Rhythm is Our Business, one of our upcoming shows in March. Then, of course, we also videotape the shows. We also add "Meet the Artists" discussions before our shows, so we can put everything in context.
How will the upcoming performances showcase past and present?
Rhythm is Our Business is using swing as the theme of the evening. The band, the vocals, the choreography, the dancing, the costumes are all in the swing style. Rhythm in Motion is using contemporary music and much of the choreography is hot off the presses. Each piece has a different point of view and has been created and/or inspired by contemporary issues.
What is the future of tap? What can we look forward to in the long term?
I think we will see much more mixed media in productions, experimental use of site-specific venues and new surfaces to tap on. We will also see much more from the international community, with different musical influences from other cultures... everything is cyclical, you know. Personally, I'm going back to basics and experimenting with Busby Berkley motifs like in Tap It Out, a piece I did this summer at NYC's World Financial Center. We had 151 dancers do a modern take on orchestral unison percussion and movement, out of doors, right next to the Hudson River!
Adria Rolnik is helping promote the American Tap Dance Foundation.
REAL LIFE. REAL NEWS. REAL VOICES.
Help us tell more of the stories that matter from voices that too often remain unheard.